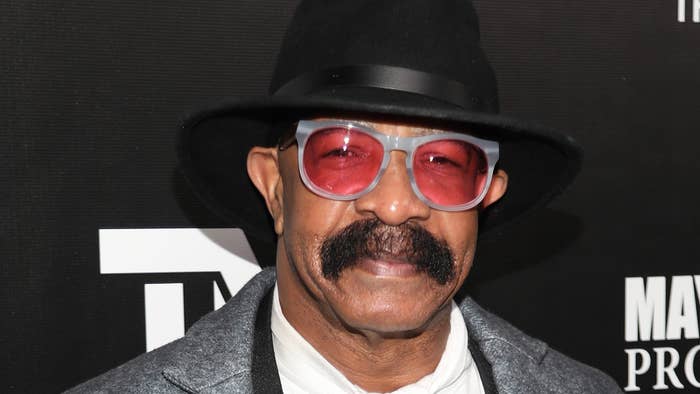 During a brief interaction with a fan, Drake's father Dennis Graham offered some sound advice for anyone looking to start a family.
In a video uploaded by TikTok user Harry Daniels, he was asked a question as he walked inside his hotel. "Do you think I'm pretty enough to have a child one day?" Daniels asked Graham, who appeared confused at first. "Do you think that I could have a child one day, too?" Daniels repeated.
"Keep fucking," Graham said before disappearing inside. It should be noted that the hotel is the same one Drake has been staying at for his shows in New York City.
Drake's It's All a Blur tour has provided a number of memorable moments so far, but there was also a scarier one for the Canadian superstar when a fan attempted to rush the 6 God outside of the same hotel. In a video initially shared on TikTok, a woman jumped a hotel barricade un an effort to get closer to Drake. When he exited his SUV to enter the hotel, she screamed his name multiple times. "Yo, shorty, chill!" a bystander told her. "It's not that serious."
There's also been a number of much less serious incidents at his shows in the city, including when a woman threw her bra at Drizzy. "Damn, 36G?" he said upon seeing the size. "Locate this woman immediately!" In a follow-up video, the woman identified herself as Veronica Correia and said she was shocked when he picked it up and made the comment.
"I went to Drake's concert with no intention of really throwing my bra," Veronica told the outlet. "I had mentioned it but I was like, 'No, this is the one I'm gonna wear for the night. I'm gonna keep it on. Then I was having a little fun and he came past me and walked to the DJ booth where he was really singing right in front of me, and I was like, 'You know what? Yeah I'm gonna do it.'" She's noted that she's since received an offer from Playboy.
In less exciting objects thrown onstage, someone also threw their vape at Drizzy. "Did you throw a vape over here?" asked Drizzy between songs. "Come on. Who threw this? Who threw the vape? There's no way you're taking life serious if you think I'm gonna pick this vape up and vape with you at the fucking Barclays Center. You got some real life evaluating to do. Throwing this fucking, lemon mint vape up here. Thinkin' I'm about to vape with you at the Barclays."