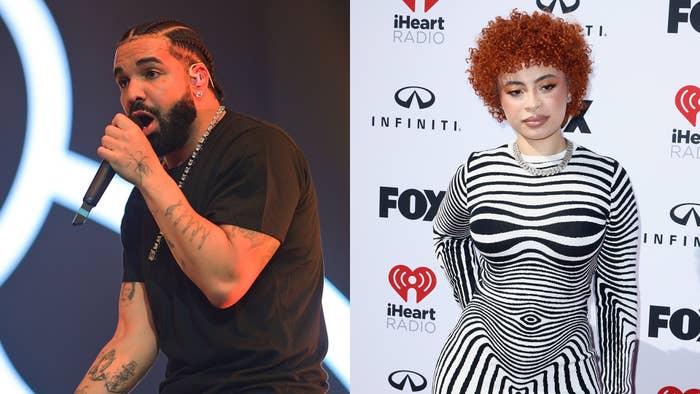 Drake has shared his thoughts on a viral clip of an AI-generated version of his voice rapping Ice Spice's "Munch."
"This is the final straw AI," wrote Drizzy in a post on his Instagram Stories alongside a repost of the clip. The original post, as shared by The Shade Room, also highlights the recent report from the Financial Times that Universal Music has asked major streaming services to block companies from training their artificial intelligence using music on their respective platforms.
The post also included AI-generated versions of Rihanna singing Beyoncé's "Cuff It," Travis Scott rapping Pop Smoke's "For the Night," and Kanye West singing Justin Bieber's "Love Yourself."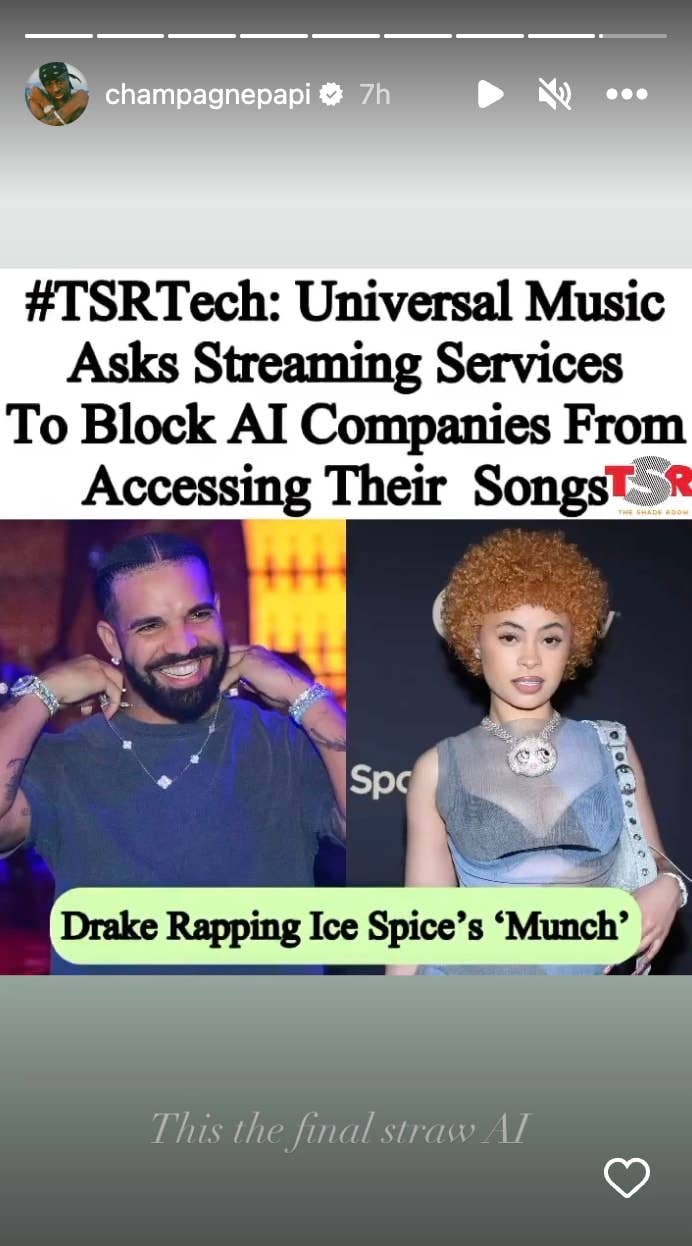 Drake and Ice Spice have a bit of history, as the Canadian rapper was one of the first big stars to show his appreciation for "Munch," her breakthrough song. He later unfollowed her on Instagram, for whatever reason, and fans speculated that he dissed her on his song "BackOutsideBoyz." Whatever was going on between them, he's since refollowed her on Instagram.
Drizzy's post also comes not long after Nicki Minaj hopped on Ice Spice's "Princess Diana."
There's been growing concern over the use of AI to copy people's voices, and prolific audio engineer and producer Young Guru has repeatedly voiced his issues with the worrying power of AI with fake Jay-Z and Kendrick Lamar verses. Meanwhile, Google has developed a project entitled MusLM, which can generate music from a description after it has been trained on over 280,000 hours of music. The company has not released the project, due to the obvious risk of copyright issues.
UMG is working to block these AI models from using copyrighted content to train their algorithms without any compensation, which is something that has worried creators both small and big for quite some time. "We have a moral and commercial responsibility to our artists to work to prevent the unauthorized use of their music and to stop platforms from ingesting content that violates the rights of artists and other creators," said a UMG spokesperson. "We expect our platform partners will want to prevent their services from being used in ways that harm artists."