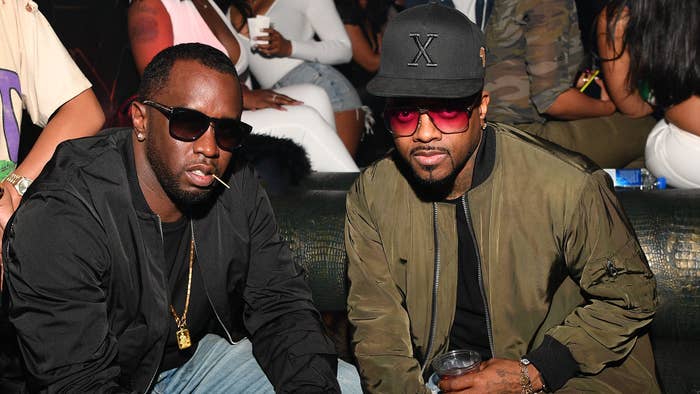 Diddy and Jermaine Dupri have agreed to go head-to-head in a "hit for hit" battle after suggesting it wasn't going to happen earlier this year. The rappers and Dupri's business partner Bryan-Michael Cox went live on Instagram this week to announce the event, which will not be a Verzuz battle.
"Since we ain't fucking with Verzuz no more since they're fucking around with our boys, we don't need to be going against each other," Diddy said in the clip below. "Let's come together and do that Bad Boy, So So Def in Atlanta. It ain't no Verzuz, it's just hit for hit."
In response, Dupri simply added, "Let's do it."
"Earlier today when we were having a conversation…when me and JD were talking about Verzuz, I mistakenly said Verzuz instead of Triller," Diddy explained in a follow-up video posted to Instagram. "So to clarify it: We're not fucking with Triller until they take care of Timb and Swizz for Verzuz."
Swizz Beatz and Timbaland, who created Verzuz during the early days of the COVID-19 pandemic, filed a $28 million lawsuit against Triller this week. The company acquired the series in January 2021, and while the amount was undisclosed, Triller has allegedly failed to pay the two producers what they're owed. The company quickly denied the allegations revealed plans to file a countersuit.
Dupri and Diddy have been publicly hinting at a potential Verzuz-style battle for quite some time, although earlier this year the former intimated that it wasn't likely.
"I feel like it's a performance-based thing now and the majority of Puff's records, who's gonna perform?," Dupri said on an episode of the New Rory & Mal podcast. "Yeah, [you can bring out] The LOX, but you can't have nobody do Big's verses! And I don't know that Mase would come out with him no more, so I don't think that it would happen based on that. All my people, we rockin' and we coming' with a whole lot of energy!"