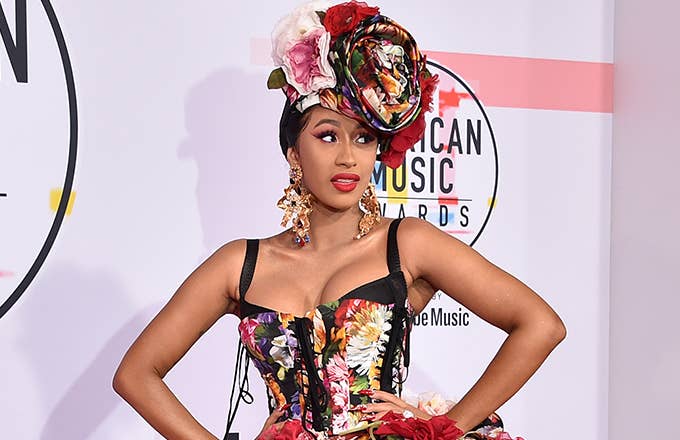 The last year or so might have been huge for Cardi B and Post Malone, two artists that stormed the charts and had both No. 1 singles and albums, but the Associated Press reports they won't be going face-to-face for the Best New Artist at the 2019 Grammy Awards.
As noted by AP, the Grammys have changed the rules of the Best New Artist category, stating that "any artist with a previous Grammy nomination as a performer" could not qualify for nomination. Since Cardi received two nominations at the 2018 ceremony for her No. 1 single "Bodak Yellow," she unfortunately won't be eligible for the award. 
Cardi B was allegedly submitted for Best New Artist at the 2018 Grammys, but she didn't earn a nomination. Alessia Cara took away the award, while SZA, Khalid, Lil Uzi Vert, and Julia Michaels received nominations. Post Malone, meanwhile, also submitted for the same category for 2018, and he actually did meet the criteria. Despite this, he lost in a vote when nominations were being picked, as the people behind these choices believed he had already become too successful with songs like "Congratulations" and "White Iverson" to truly be eligible. 

In a report by The Hollywood Reporter, a source noted that Malone's Beerbongs & Bentleys was kicked out of the rap category and placed in the pop category instead.
Best rap album nominees must contain 51 percent or more of rap music, and the Grammys rap committee felt Beerbongs leaned more toward the pop genre with its production, sound and melodies...The person said the larger Grammys committee listened to the entire 18-track album — which includes the No. 1 hits "Rockstar" and "Psycho" as well as "Better Now," currently No. 4 on Billboard's Hot 100 chart — and voted that it would compete in pop instead of rap.
The nominees for the 2019 Grammys will be revealed on Dec. 5, with the first round of voting for nominees taking place on Oct. 17. The Best New Artist category is expected to be expanded for the 2019 show, with space for eight nominees instead of the usual five. The ceremony will air live Feb. 10.