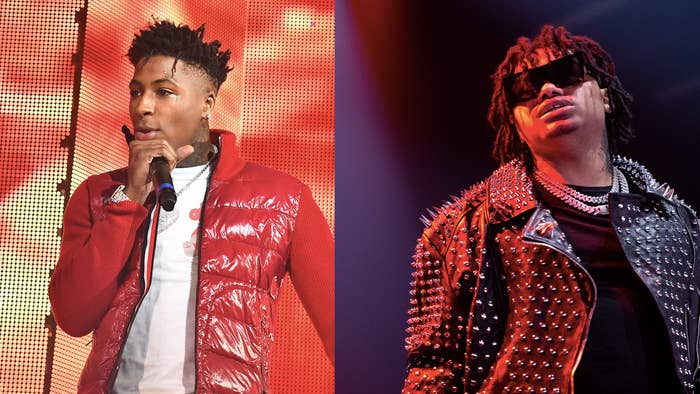 YoungBoy Never Broke Again and NoCap are going at it on Instagram.
On Friday, YoungBoy took to the platform to express his frustration over a fellow artist whom he no longer trusts. Though the rapper didn't include any names in his initial post, he suggested that the unidentified individual was signed to his Never Broke Again label.
"I pay attention to all that slick ass shit you be doing and saying," read the post on the imprint's official Instagram account. "You a bitch ass n***a. What I call a real rapper? We don't do music 'cause I don't [fuck with you]. Stop speaking on me to these people. You my daddy artist. You a fucking worker bitch, you ain't my brother. Fuck you. Pay me." 
NBA signee NoCap was immediately convinced the message was directed at him. Shortly after YoungBoy's post, the Alabama rapper hit up Instagram with his own lengthy response, insisting he was unaware of any debt.
"I see it's my turn dis week huh? I never did u nun bad. I screamed free you before and after every venue/club," NoCap wrote. "I carried dis shit when u was gone. I stop fuckin with n***as who would've did whateva to see me win to stay loyal to yo hatin ass. & let me know what I owe u. I don't recall u giving shit." 
He went on to say that the real reason they no longer collaborate is because YoungBoy is scared NoCap will become a bigger artist. He then accused YoungBoy of requesting payment for "Flags to the Sky," a YoungBoy-assisted track off NoCap's 2022 debut album, Mr. Crawford.
"I took the blame for why we don't do music cus I was tryna keep yo hater card clean, but nah. We really don't do music cus he probably [scared] I'll be bigger on some on some baby shit," NoCap continued. "Bru told Atlantic he wanted money for the feature on 'Mr. Crawford.' U never supported me. U posted my shit once, I been sign to NBA for 3 years, but I'm raw so I kept dis shit goin on my own."
YoungBoy fired back by claiming his issue had nothing to do with music. He boldly declared himself a better rapper than Jay-Z, and proceeded to accuse NoCap of riding his coattails.
"Jay-Z can't out rap me boy, this ain't bout no music. You just a scary bitch," he wrote. I wanted revenged on the labels n***a. I'm holding over here. You ain't even got 300k for yo tax bill clown. Just project yourself pussy. You play industry chess but just don't know this game ain't got no loyalty. These rapper gone kill yo pussy ass."
He continued: "You ran with me because I was popping at the moment. Shit hit the fan you couldn't even take a picture with Quando. You a bitch. Fuck you, n***a. Let yo mama love you. Go make a song bout it bitch, make me some money. The show must go on."
NoCap denied YoungBoy's allegations, and claimed he has never "ran away from shit."
You can check out their full back-and-forth in the posts above and below.