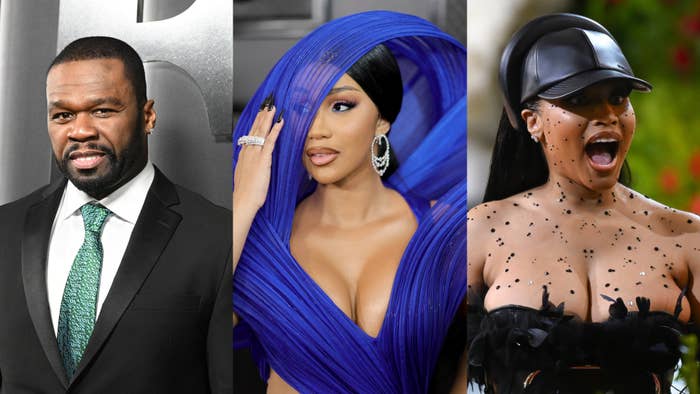 50 Cent has called Cardi B the encapsulation of "the American dream" and took a moment to reflect on her past issues with Nicki Minaj in a sprawling new interview with Billboard.
The Queens legend sat down with Billboard to speak about the cultural impact of his seminal debut Get Rich Or Die Tryin', which celebrated its 20th anniversary on Feb. 6. 50 Cent spoke on watching young promising rappers rise over the years, and took a moment to especially shout out Cardi B for her hustle.
"When Cardi B came, I thought she was dope," 50 Cent said. "She's from the bottom. She was in Club Lust in Brooklyn. [Going] from that and actually making a hit record and turning into who she did? I don't know why anybody wouldn't like to see that. It felt like she got everything — married, the baby — it came really fast. That's the American dream right there."
Elsewhere in the interview, 50 said hip-hop culture forces young artists to be competitive and pointed to Nicki Minaj's previous outbursts against Cardi B as evidence of that.
"The way I had competitive energy: Hip-hop culture makes you battle. I love Nicki Minaj, but the funny shit is, I like watching her when she's upset. I like that because she has something that comes from the experience of living in South Jamaica. I'm looking at it like, 'Yo, I know they think she's nuts, but they only think that because they don't understand.' I get it. She thinks you're trying to play her."
He continued, "When her and Nicki clash, I go, 'Oh shit, it's going to be interesting to watch how it plays out.' Lyrically, I won't say anything competitively about the two of them, but I love Nicki. I don't have anything against Cardi. I think anyone who comes now, she is going to check their temperature. Nicki is going to check if this bitch is friendly or looking to take over the shit." 
Get Rich or Die Tryin' dropped on Feb. 6, 2003 via Interscope, Dr. Dre's Aftermath and Eminem's Shady Records in conjunction with 50's own G-Unit Records. The album debuted at No. 1 on the Billboard 200, selling over 872,000 copies in its first week, and has since been certified 9-times platinum by the Recording Industry Association of America (RIAA). 
To commemorate his debut's 20th birthday, Fiddy announced that for one week only, fans can purchase a "personally autographed" vinyl of Get Rich or Die Tryin'via his website. The unique offer also ties in with hip-hop's ongoing 50th anniversary celebrations.
"20 years ago today, I dropped the largest debuting hip hop album of all time," 50 wrote on Instagram. "Here's Your chance to Own a piece of History! Get your Autographed Get Rich or Die Tryin' Albums Today. Available for the next 7 Days."
The limited edition vinyls are on sale for $399 and are expected to ship in the first week of March.