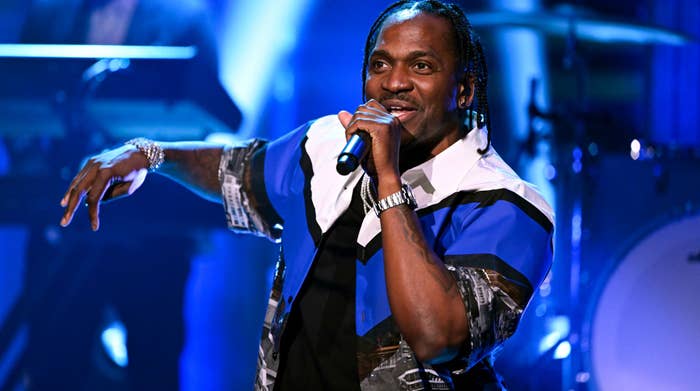 Pusha-T is extending some knowledge to his fellow DMV artists. 
The Virginia spitter—who recently declared his latest LP It's Almost Dry as the rap album of the year—took to Instagram to share a message apparently in response to a top-10 DMV artists list, per HotNewHipHop. 
 "Appreciate the love but let me speak on something: if you are from anywhere in va, Maryland, or DC:you need to be familiar with, collaborating, connecting, networking, and sharing fan bases with each other so you can compete on a National/Internation level in this industry," Push shared about artists from DC, Maryland, and Virginia. "We are a very small region in comparison to where our peers are from in this Industry. We need to be more united so we can consistently accumulate the numbers that will make the labels notice or to be successful independent artists. Dividing up 300 miles, being insultated within just your hometown, and arguing over local boundaries when we trying to takeover the world is not going to help create the explosion that we need within this region."
Push continued, writing that "to be a force" and to have more breakout talent on a consistent basis in the DMV, artists should "stand a bit more united."
"This shit is all numbers and math," Push wrote. 
And the math is adding up for Push, too. The MC's album, which he declared as "rap album of the motherfucking year" at the Novo in Los Angeles last week, was ranked at No. 2 on Complex's The Best Albums of 2022 (So Far) list, sitting only behind one project. The list also includes entries from Kendrick Lamar, Ella Mai, redveil, and more. 
"It's funny, because I come under a lot of scrutiny for the term 'coke rap'," Push said of the album in an interview with Complex earlier this year. "Either they're knocking it or they're finding ways to cheapen it. Like, I drop an album, I go through a cycle and by the time the album cycle is done, then it's back to, 'Oh, it's only this, it's only that.' And then I watch the same people who shoot down the genre when I'm at it, they'll sit back. Then, in my absence, it turns into, 'Oh man, this is great lyricism.'"