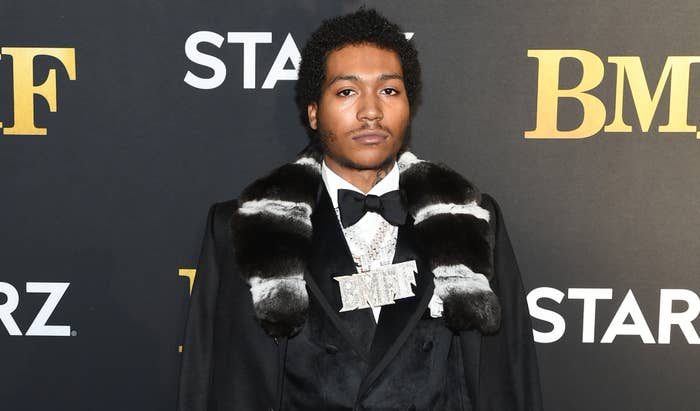 Lil Meech, the BMF actor and son of Big Meech, has been arrested for grand theft after allegedly stealing a $250,000 Richard Mille watch.
TMZ reports the alleged robbery took place in February, when Lil Meech put down his $80,000 platinum Rolex toward a payment on the new watch at Miami's Haimov Jewelers. He's accused of not paying the remaining balance and has since been booked on two counts of first-degree grand theft and a separate count of organized fraud on March 14.
Police also accused Meech of trying to swap the watch for another Richard Millie at a different store, despite not owning it in full. He was reportedly released on bond the day he was arrested. 
Meech stars in BMF as his father and Black Mafia Family founder Big Meech, and for the second season, showrunner 50 Cent has some big plans. He previously announced Mo'Nique as a new addition to the ensemble, after urging Oprah Winfrey and Tyler Perry to apologize for allegedly "blackballing" her in the past. 
"I talk to Tyler today he told me he never told anyone not to hire @therealmoworldwide and he is happy i decided to work with her," 50 wrote on Instagram. "He said he couldn't speak for Oprah but he is sure she is fine with monique and has even brought her up for things monique has no idea about. I'm so happy for Mo right now!"
Earlier this year, Fif joked around about Lil Meech over a video of a woman saying the actor smells "musty" and like a "pound of onions." Meech said the woman was "lying straight thru her teeth feigning for a picture."
"@llimeechbmf getting so fly the hating is starting," Fif wrote on Instagram. "She said you smelled like a bag of onion's LMAO Nah dat's Creed baby the gold bottle. LOL."