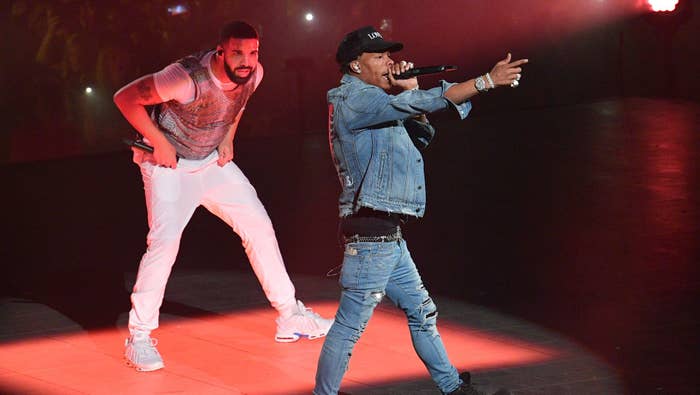 Of course, Drizzy's appearance came as a total surprise to the crowd, who certainly weren't expecting to see the Canadian royalty touch down on stage. Videos from the night show Drake floating through a few different songs besides the Baby collab, including 2018 hit "Nonstop" off Scorpion. 
But of course, what would a Baby x Drizzy mini-set be without 2021's "Wants and Needs," and what would any Drake show be without "Headlines?"
This isn't the first time Drake has surprised a crowd, but it is likely one of the better times. Back in 2019, Drake's surprise appearance at Tyler, The Creator's Camp Flog Gnaw festival didn't go over very well, with fans booing the MC off stage after expecting a surprise performance by Frank Ocean. Drake handled himself well that night, cutting the set short after asking the crowd if they wanted him to continue—but none of that happened in Canada this past weekend. 
A video showing last night's performance highlights just how it went down. Drizzy came out during "Wants and Needs," before he played through "Girls Want Girls," "Laugh Now Cry Later," "Nonstop," "Headlines," "Knife Talk," and more, as he gave an impromptu speech as part of the festivities. 
"I haven't been to Montreal in like six fucking years," Drizzy said. "And I've been waiting to get back here. So I was wondering if you'd be so kind to let me repo this set for a second and do some songs for my peoples?"
Besides heating things up on stage, Baby is promising some heat this summer as well. On Sunday, the Atlanta spitter promised fans—in a somewhat cryptic tweet—that something will be happening in July. He tossed in some flame emojis as well, so one can only hope it'll be as hot as he says.
Baby released his last solo studio album, My Turn, back in February of 2020, and has since promised fans a "nastyyyyy summer" before releasing cuts "In a Minute" and "Right On"—which one can only hope eventually have an album to back them.