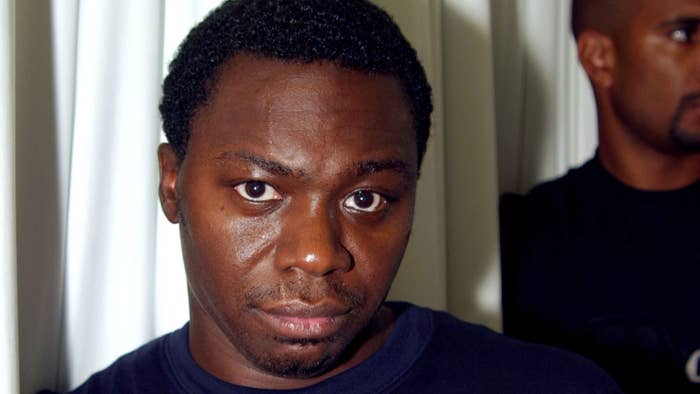 Former music mogul James "Jimmy Henchmen" Rosemond, who is currently serving multiple life sentences, could be released as early as next month after a potential legal win, per AllHipHop. 
The exec first filed a writ of habeas corpus in October—arguing that former President Donald Trump stated in public that he was willing to free him, so remaining in jail should be deemed unconstitutional, the publication reports. Rosemond—who Michael K. Williams was apparently working on a project about at the time of his death—is in jail for drug dealing and allegedly putting a hit on G-Unit affiliate Lowell "Lodi Mack" Fletcher, who was killed in 2009.
Rosemond's freedom was a topic of discussion when NFL star Jim Brown and his wife Monique Brown visited the former president, when they say Trump commuted him. The couple submitted sworn court declarations, sharing that Trump "looked at everything" and said he'd be home by late 2021. Rosemond's name was not on the list of people Trump had decided to pardon at the end of his presidency. 
"Rosemond is serving a sentence that no longer exists," his attorneys reportedly wrote in an earlier 20-page petition. "This exact situation is unprecedented—it does not appear to have happened in the history of the United States. It's clear to me that Jimmy doesn't belong in prison for another day."
A ruling by United States Magistrate Judge James W. Mazzone, obtained by the publication, was dated Jan. 19 and shows that Henchman's Warden now has 28 days to "show cause why the writ should not be granted." If he is granted a writ of habeas corpus, he will then have to let a judge decide the fate of his sentence. 
"Summary dismissal of the same is not warranted. Therefore, the Warden shall have twenty-eight (28) days from the date of this Order to show cause why the writ should not be granted," Mazzone reportedly wrote.