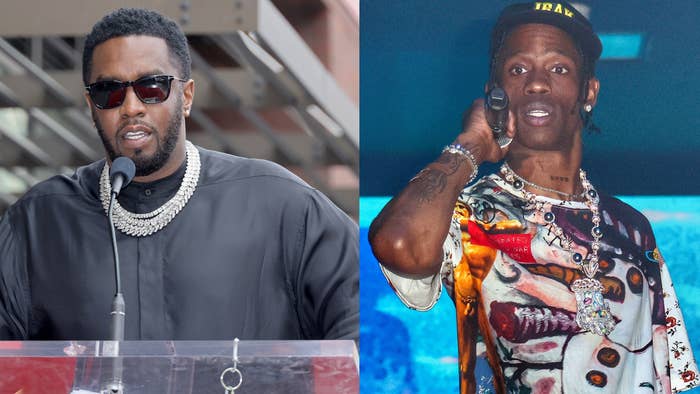 Diddy is taking credit for helping arrange Travis Scott's first televised performance since the Astroworld fest tragedy. 
Scott, who was announced Monday as a performer at the Billboard Music Awards later this week, hasn't appeared on a televised performance since the November 2021 crowd-crush incident that took the lives of 10 fans—and injured hundreds of others—at his Astroworld Festival in Houston. 
"This just in," Diddy said in an Instagram video. "For the Billboard Music Awards this Sunday I made a request, I made a demand. I said 'My brother Travis Scott has to perform. I'm executive producing, he has to perform,' and NBC said 'yes.' It's going down Sunday, Travis Scott will be performing… now that's love."
In an interview with REVOLT Black News, Diddy reiterated his statement, and said that "I am uncanceling the canceled."
"There will be no canceling on my watch," Diddy said. "Love is about forgiveness… so that was why it was important for me to have Travis Scott perform. It's going to be a great night."
While the show will be Scott's first televised performance since the festival, it won't be his first public performance. Scott recently hit the stage at Miami's E11EVEN night club for a 45-minute set, and has performed at private affairs as well.
But even with performances coming up, Scott still faces potential legal repercussions over the deadly festival, with lawyers accusing him of violating a gag order in relation to their lawsuits. 
Lawyers for Astroworld victims claimed in March that Scott's Project HEAL initiative announcement and donation pledge could potentially help his reputation and sway possible jurors in a certain direction. Bob Hilliard, a lawyer representing the family of 9-year-old victim Ezra Blount, said that Scott's public discussion of concert safety "did affect and dent the power" of District Judge Kristen Hawkins's gag order, while Scott spokesperson Stephanie Rawlings-Blake claimed Hilliard's "bogus allegations fly in the face of logic."
The Billboard Music Awards will also feature performers like Silk Sonic, Ed Sheeran, Megan Thee Stallion, and more. They air May 15 on NBC.