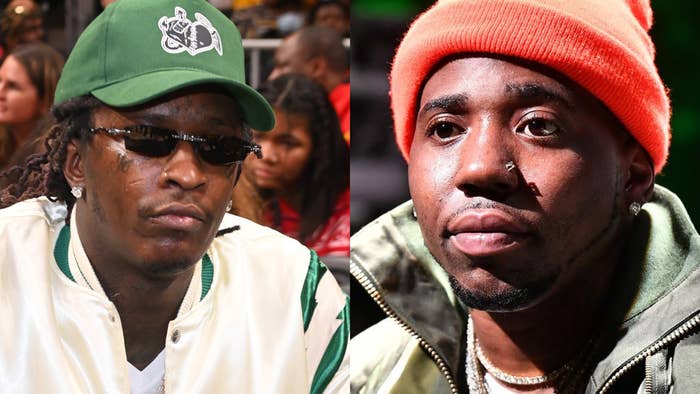 YFN Lucci's lawyer has filed an emergency bond hearing with Fulton County, Atlanta, per documents obtained by the Shade Room. 
The motion, filed Friday and first revealed on Wednesday, reportedly points to YSL and Young Thug's recent Racketeer Influenced and Corrupt Organizations (RICO) Act charges earlier this month. It claims Lucci was a victim based on the indictment, which he's mentioned it, after he was allegedly "stabbed with a shank, repeatedly, inside the Fulton County Jail." 
Lucci's legal team is now requesting he be released on "reasonable conditions" and an "emergency bond hearing," per TSR, and assert that "despite being a named victim in a sprawling and high-profile criminal case, the Fulton County District Attorney's Office, nor any Victim's Advocate from their office has reached out to Mr. [Rayshawn] Bennett or his counsel."
Also on Friday, Fulton County District Attorney Fani Willis shared more insight on YSL and Young Thug's RICO indictment. In an interview with local Atlanta station WSB-TV, Willis explained the 2015 murder of Donovan Thomas was "extremely significant" in leading to the other alleged crimes mentioned in the case. The 26-year-old, a YFN affiliate, was shot and killed outside of a barbershop in Atlanta. Thug is accused of renting an Infiniti Q50 sedan used in the killing.
"It occurred back in 2015," Willis said. "And what myself and any law enforcement member can tell you as a result of that the back-and-forth gun violence and murders that have occurred, have probably been in excess of 50 since 2015—triggered by that in the back-and-forth between that [YSL] gang and other gangs."
As previously reported, 28 people were named in the 56-count indictment including Thugger, Gunna, YSL Duke, Yak Gotti, and Unfoonk. Their charges include conspiracy to violate RICO, murder, armed robbery, aggravated assault with a deadly weapon, and more. Thug himself faces charges of conspiracy to violate the RICO as well as participating in criminal street gang activity. 
"The response to any allegation is Mr. Williams committed no crime whatsoeve​r and we will fight to my last drop of blood to clear him," Thug's lawyer Brian Steel has said.