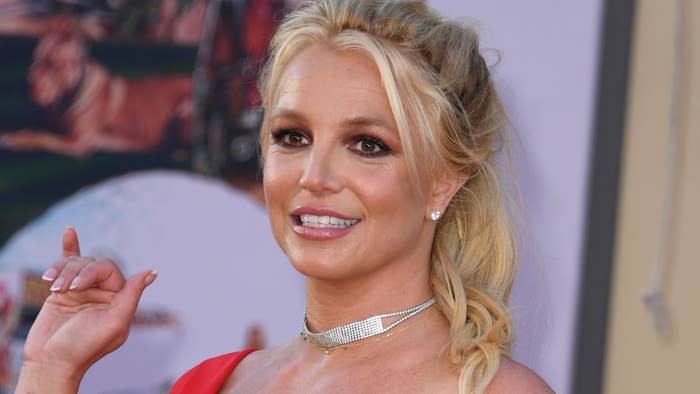 If you think HBO's Euphoria is "too good," a certain pop icon agrees. 
Britney Spears took to Instagram on Friday, revealing to her fans that she began watching the show on Mental Health Awareness Week— a few months back. Needless to say, she thought it was "insane," as she shared some intense dialogue from Zendaya herself. As she recalls, it's even helped her with her anxiety.
"Good God it's too good," Britney wrote. "I'm a little behind anyways 🤷🏼‍♀️ !!!! Watching this and being entertained by these crazy plots I suddenly felt all my anxiety go away … the show was like meditation !!!! It put a HUGE grin on my face … and if you want to be zen … there's sound therapy 👂🏼 … stillness … yoga 🧘🏼‍♀️ … monk retreats … but last but definitely not least, train your thoughts to think things that make you SMILE … YES you know THOSE 👍👍👍 !!!! YOU GOT IT ???? KEEP SMILING 😄 !!!!!"
Spears has been smiling a lot lately after the termination of her 13-year conservatorship last year, from home visits from Donatella Versace, to reportedly signing massive book deals, to finally learning "what it means to live" when she goes to Las Vegas without having to put on her Piece of Me residency.
Last week, she took to the app to let fans know that Vegas is a lot different when you don't have to treat thousands of fans every night. 
"The only thing I've known when I used to go to Vegas was hour long meet and greets with 40 people every night getting the worst pics of me 😬 and then a two hour show 💃🏼," Spears wrote. "Let's just say THIS TIME visiting it gave me a whole new perspective on what it means to live !!!! Being able to go to the spa 🧖🏼‍♀️ was a highlight as well … and you know what ??? Don't ever pity me like my masseuse does …. "People do love you!" …. Huh ???? Huh ???? I don't want to be loved … I want to be feared !!! Being loved and being nice got me taken advantage of …… so take your pity and go fuck yourselves 🖕🏻🤷🏼‍♀️😂 !!!!"