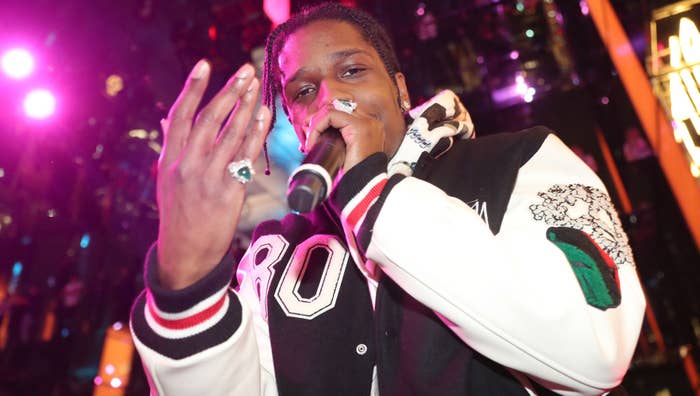 ASAP Rocky's follow-up to 2018's Testing is in the works, but he's seemingly still testing out what to call it.
The new father chopped it up with Dazed for a new cover story, telling journalist Suzy Exposito that his new album is underway and is not going by the previously assumed titled All Smiles.
"One thing I can tell you is that the name isn't gonna be All Smiles—you know, I never publicly said that my album was called All Smiles," Rocky said. (Indeed, the title was casually "announced" in late 2019 via a release by Selfridges relating to an AWGE t-shirt collab of the same name.) "That one is more of a concept project, it's music and more. I'm wrapping up the new album now; I've been shooting so many visuals for it. I don't want to be cliche or sound like a salesman, but I've pushed myself to the limit on everything. Going from that industrial, subversive sound from Testing and then graduating with a more polished sound…I just like where it is."
Rocky also touched on his relationship with Rihanna, as well as how the two manage to match each other so often when it comes to fashion. As ASAP explains, it's very rarely intentional.
"I think it's just natural. We happen to look good together naturally," he said. "You know, it would take a lot of work to have us forcefully match before we leave the house. Sometimes we match to a T, or we just wear the same clothes. If I buy a shirt that she likes, I expect to get it stolen…but then I gotta steal it back."
This past year the world of fashion took a major loss with the unexpected passing of legend Virgil Abloh, who directed Rocky's music video for "Fashion Killa" starring Riri in 2013. Rocky explained that the team wanted the visual to "feel like a love story, a fairytale with a street twist," and that Virgil's assistance made the clip a "no-brainer" success. 
"Virgil was an oracle for a lot of us Black kids and young creatives," Rocky reflected. "Even if you take ethnicity or nationality out of it, he influenced so much culture, whether hip hop, fashion or Louis Vuitton. You can't really distinguish streetwear from high fashion at this point. Look at Balenciaga, look at Hood By Air. He pushed all of us creatives to just get our ideas out there into the world—and [to not] take time for granted. Because if you left it up to me, I would be working on one project for as long as it takes, whether it's months or years. We all assume time is a given, but it's really not promised. You've got to get your creative thoughts and urges out immediately—A-S-A-P, no pun intended. We needed someone like Virgil."
As for the lessons he wants to teach his own children—like the baby boy he and Riri welcomed on May 13 in the Los Angeles area—Rocky has big plans for what he wants to instill in his firstborn.
"I will always remind my children to never lose their imagination, even as adults, no matter what," he told the mag. "I actually love to watch cartoons—I've watched like, Teletubbies, Blue's Clues, Yo Gabba Gabba, Peppa Pig and Baby Shark. I hope to raise open-minded children. Not people who discriminate. And I'm not trying to describe a saint, but realistically, I just want a cool child with cool parents."