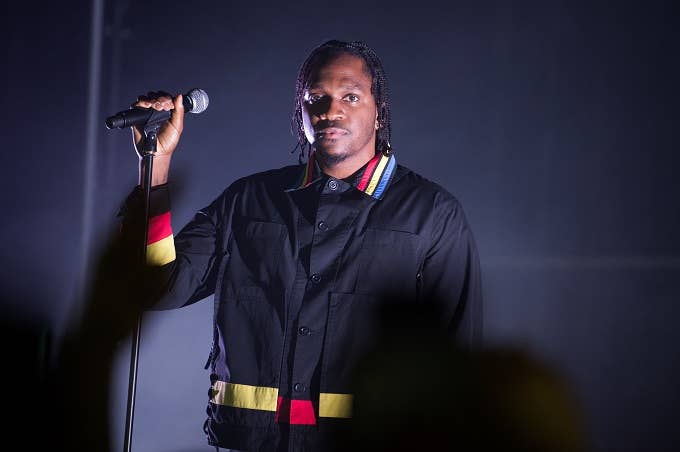 You don't need to be told that Pusha-T is gassed up. Going and re-listening to DAYTONA still makes it obvious the 41-year-old rapper is firing on all cylinders. Push has been rapping for sheer love of the craft for ages, clearly relishing every time he gets to record over a beat that sounds as nasty as he does.
But that's not to say Push doesn't like a little outside recognition. In a new interview with Rolling Stone, the artist shared his joy over being nominated for the Best Rap Album of the Year Grammy. Push said he believes his LP is the first of its kind (namely, gritty rap albums that aren't chasing radio play) to be in the discussion for hip-hop's biggest prize. "I think that's the thing that has me the most proud about the nomination. I don't think that there's ever been a rap artist who's been nominated for their work and it's such a raw level," he said. "I look at DAYTONA, it has the same raw feel to me as my first album, ever. It has all of the same anger, all of the same ambition, it has all of the same energy as my earlier works. To me, I've never seen that really happen." 
Pusha-T feels like most nominees have big pop hits, something that the insular and quick DAYTONA avoided. "I feel like every time anybody's ever been nominated it's always been, especially for rap categories, always been they had a stellar year, big single, the record crosses over to pop land and so on and so forth," he said. "I can't say that I've seen this happen before."
He added that he was proud to be listed alongside Mac Miller's final record and that it stands on its own as worthy of being among the best albums, regardless of the circumstances of its nomination. "I thought it was good. I didn't look [at] Mac as a charity case, at all, because I thought Mac's album was fire and I felt like people did. And people thought it was fire," he said. "I was sort of happy, like 'Damn, to me this is the best of the best in a lot of different ways.' I listen to every last one of those albums, every last one of 'em."
Push thinks the whole category is full of albums that can make a case for being the best. He told the magazine he believes a truly contested category makes for a better ceremony. "You look at it and it wasn't anything that was off base in those nominations and I felt that's like a really good thing," he said. "'Cause now when you have a category that's strong like that it makes you want to watch."