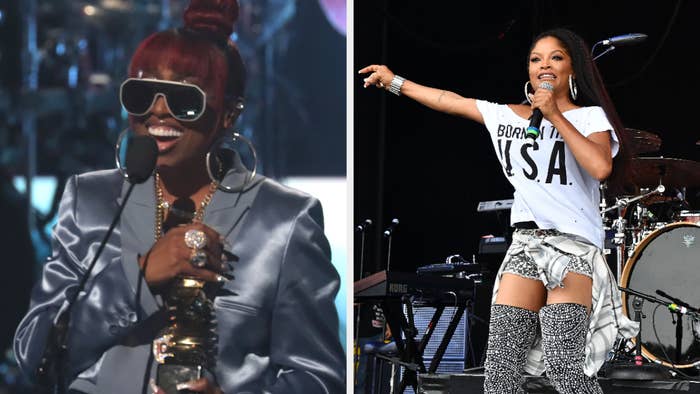 Irish Grinstead, one of the founding members of R&B group 702, has died of an undisclosed illness. She had just turned 43 earlier this summer.
Her sister and fellow bandmate, LeMisha, broke the news on Instagram. "It is with great sadness that I have to let you know that my beautiful sister and friend has passed away this evening. She has had a long battle and she is finally at peace. That girl was as bright as the stars! She was not only beautiful on the outside, but also within. Sharing the stage with her was a joy I will cherish for the rest of my life! We, the family ask for prayers and respect for our privacy as we grieve an outstanding loss to our family."
Their fellow bandmate Meelah Williams also took to social media to eulogize the singer. "Devastated & heartbroken 💔 I struggled with this post because to me this isn't real. ❤️‍🩹 There's a lot I want to say, but there's no way to say what your heart hasn't fully accepted. It's hard to acknowledge this is even happening. I know you're feeling better now and hugging your twin Orish which makes me smile 🥹 cus I know how much you missed her."
She continued, "You & I have known each other since we were kids and we've laughed, cried, celebrated, and everything in between which is why I just don't want to believe this. You'll always be my "IBG" & I still love you my forever lil sis!!! Rest easy #Irish"
Irish's twin sister and original founding 702 member, Orish Grinstead, had died of kidney failure in 2008 at 27 years old.
News of Irish's passing quickly spread on social media with fellow artists chiming in to tribute the late singer.
"Irish May your beautiful soul Rest Peacefully in the arms of the Lord🕊️ A Multitude of prayers for the entire Grinstead family," wrote Missy Elliott, who collaborated with the group on her 1997 LP Supa Dupa Fly.
"Irish you will be missed RIH," wrote former Destiny's Child member LaTavia Roberson. Roberson crossed paths with 702 member Meelah Williams on the third season of the reality show R&B Divas.
Danity Kane member Aubrey O'Day also took to Instagram to remember Irish with a series of Instagram Story messages, "I've never spoke on the show [BET Presents: The Encore] we met on.. but Misha & Irish..Man, those were my fucking sisters. They protected me in ways no one did. Irish and 1 kept in touch long after.. and man could we converse about the ugly we had seen in this industry. I never had a sister from another girl group that understood me like her.. my heart is absolutely broken. @ she spent a lot of time in pain and I saw how hard she struggled so I pray now that she finally has peace. @lemisha the gemini I'm so sorry sis. I know how much you loved her. I love you. I'm here if you need anything."
O'Day continued, "I grew up wanting to be her. I looked at her at an age when I didn't even know she was paving my way... I've never experienced a situation where we were truly brought together for good, instead of | divided for more power driven agendas.. but even with that said, Irish made a lasting impression on my heart.. and if it took a silly show to receive her brilliance in this lifetime then I'd do it a million times again. The way she saw people, but more importantly wanted to be seen.. was as a relentless fighter that wouldnt except less than she deserved! She never gave up on being a better stronger version of her f and man could she cut up harder than me with | the things she witnessed. I wish she had gotten a book out. #ripirishgrinstead"
Named after their Las Vegas area code, 702 rose to prominence in the late 90s with hits like "Get It Together" and "Where My Girls At." Their single "Steelo" off their 1996 debut album, No Doubt, was reworked as the theme song for Nickelodeon's Cousin Skeeter. The group entered a hiatus in 2006.
In May 2021, Irish and LeMisha joined BET Presents: The Encore, a limited series that brought together members of legacy girl groups including Total, 3LW, Blaque, Cherish, and Danity Kane to former a supergroup.
Last December, the group announced via Instagram that Irish would be taking a medical leave of absence to address "serious medical issues." The group continued to perform as two members in Irish's absence.