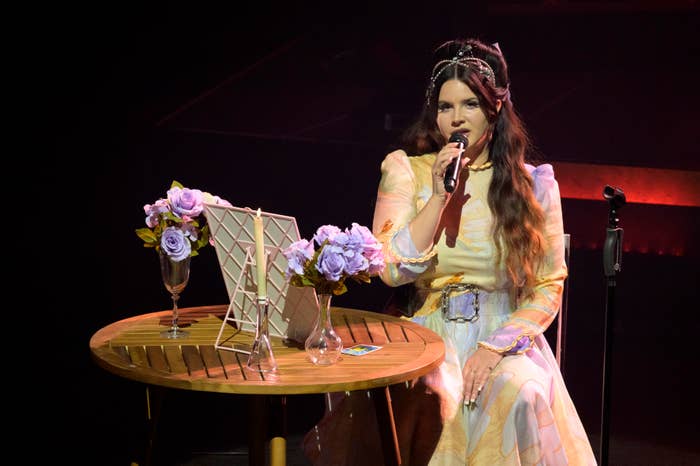 Lana Del Rey ifinally acknowledged those viral photos of her working a shift at Waffle House.
In July, Del Rey was photographed waiting tables at a Waffle House location in Florence, Alabama and it inspired countless commentary, memes, and speculation about the singer's unexpected side hustle.
The 38-year-old songstress told The Hollywood Reporter that she ended up working at the Waffle House while visiting family in Alabama. She said she was handed a uniform and a name tag while chatting it up with staff. A short video of Del Rey in her uniform taken by the restaurant's manager went viral and left many wondering if it was a publicity stunt, for a music video, if she was leaving the industry, or something in between. Del Rey insisted she merely enjoys spending time with her family.
"I wish my album had gone as viral. I woke up to, like, 10,000 texts the next morning — some from folks I had not heard from for 10 years. 'Saw your picture at the Waffle House!.'" she said to THR. "I was like, 'Did you hear the new album?'" Del Rey's latest album Did You Know That There's a Tunnel Under Ocean Blvd was released in March.
One experience from her turn as a Waffle House waitress definitely left her amused. "This guy, a regular, comes in every day and orders two things, so they were like 'Just go get it for him!' I brought him a Coke. No ice. And an empty cup." The empty cup, says Del Rey, was for dipping tobacco.
During the interview, Del Rey also reflected on serving as inspiration for a new crop of singers such as Olivia Rodrigo and Billie Eilish. The latter told Billboard that Del Rey's 2012 debut album Born to Die "changed music."
"Because Billie and Olivia are such good people, it's fucking awesome. I love them and their music. It's not like you have to be nice to be good [in music]. But, if you happen to be nice and a great singer, it makes me happy for the culture," Del Rey said. "I always had girls telling me [things like] that. Maybe not the critics or anybody else — but singers I knew, no matter how big or small, would write me letters. I always felt like the older sister to pretty much everyone I ever met."