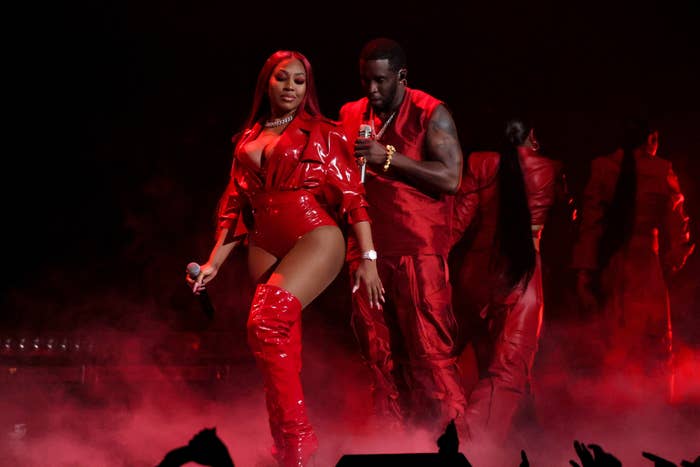 Diddy and Yung Miami are giving fans insight on their relationship.
In celebration of his new LP The Love Album: Off the Grid, the music mogul took over Apple Music 1 to chat with hosts Ebro Darden and Nadeska Alexis about his new R&B album. In theme with the new music, the conversation took a more intimate turn.
During the conversation, the City Girls rapper, 29, asked Diddy, 53, about their favorite "off the grid" moment. Diddy enthusiastically mentions a yacht trip to the Bahamas, where they spent an exhilarating 48 hours together and praised Miami's energy during that time. "You did not 'Buenas Noches' that night. You made papi, proud," he said before adding that his new album was intentionally created as "the R&B album to fuck to."
In a clip uploaded to Instagram, Caresha engaged Diddy in a playful exchange about their bedroom activities. "So how many rounds you be going?" she asks. "You know," Diddy replies coyly. "I know, the people don't, I'm asking for the people," she counters before laughing and revealing it all.
"Baby, let me tell you all something. This n**** don't go to sleep, I be like 'god damn.'" she laughed.
She continued, "I really thought that I was gonna make him tap out. Like I really thought he was gonna be 'buenas noches,' this n**** don't go to sleep. You gotta be energized, you gotta be charged up like a Tesla."
"When you go off the grid, it means you've got to go to sleep for a week," Diddy chimed in. "It's definitely giving no sleep," said Miami.
During another moment of their conversation, Diddy recalled how growing up in poverty inspired him to become successful. "I tell this story. People think it's a joke. I grew up in Harlem. My aunt would babysit me and I would get babysat in Patterson projects. One day we woke up and there was so many roaches on my face and I was like no I'm not going to do that. I'm going to get out of here. I'm going to be somebody. I'm going to own something and be able to take care of my family. I don't want to live in these conditions no more."
The mogul was definitely able to accomplish that and more. When discussing the couple's favorite "off the grid" getaway they took together, Miami revealed the two had gone to Love Island for her birthday.
"I have an island," Diddy laughed. "This is just for inspirational motivation. You don't know a lot of Black men that come from the hood that got an island. I have an island called love island. So when I took you to love island, then you realized that the plane landed and then we had to float to another island. What was going through your head?"
Diddy's The Love Album: Off the Grid is his first solo full-length album since 2006. The album contains 23 tracks, each featuring a collaboration with various artists such as Justin Bieber, Busta Rhymes, Mary J. Blige, and many others. The album also features what The Weeknd claimed to be his final collaboration, unless Daft Punk reunites.