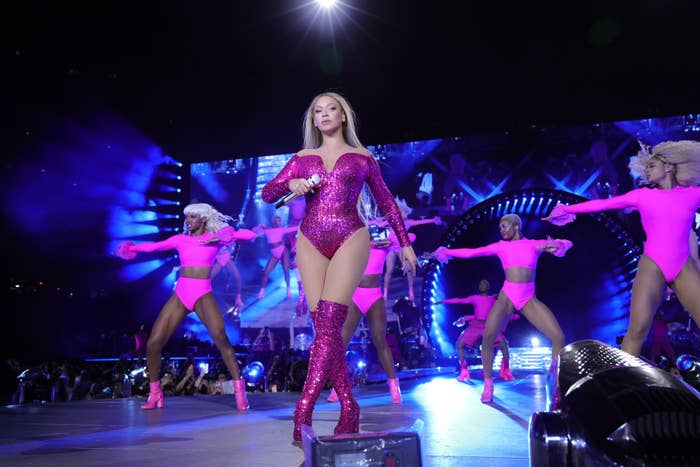 After an airline's mishap made a Beyoncé fan miss a concert, fans of the singer came to his rescue.
34-year-old Jon Hetherington, a lifelong Beyoncé fan with cerebral palsy, was left stranded when an airline couldn't accommodate his electric wheelchair, causing him to miss Bey's concert in Seattle.
"Got to the airport to take my flight and they tell me that my chair is apparently four inches too tall to be loaded onto the plane," Hetherington said in a TikTok video uploaded last Thursday. "They checked every possible flight, every airline, and nothing is available. So after 25 years of waiting, I'm not seeing Beyoncé tonight. Ableism strikes again."
"We have not built our society or this country in a way that is fully inclusive," Jon told The New York Times. "Day to day, we're kind of ignored and invisible," he said in reference to people living with disabilities.
After sharing the ordeal on social media, Hetherington caught the attention of the Bey Hive, who rallied together to find a solution. Fans filled the comments section of Hetherington's social media posts with tags to grab the attention of Beyoncé and Parkwood Entertainment.
Hetherington told Insider that he got offers and saw crowdfunds from fans made to cover a ticket for a different show. As appreciative as he was, he declined. Instead, he wanted to use the situation to show how ableism creates challenges beyond a concert. "I'm sitting here as someone who has been disabled my entire life, saying it's not about the one airline," Hetherington told the outlet. "This is a systemic issue."
Beyoncé's team eventually reached out to Hetherington and offered him a ticket to her Renaissance World Tour concert in Dallas on Sept. 21, and covered all of his transportation arrangements.
"For the past, for Marsha, James, and Bayard. For the present, for O'Shae. For those who are becoming in a time that has yet to exist. We partied, we sang, we danced… HARD. Beyhive, you made this happen, you pushed and tagged like the internet has never seen. Tonight, for the first time ever, I had a seat on the floor for a concert. Welcome to the RENAISSANCE. #beyonce #rwt2023," Jon wrote on Instagram.
Not only did Hetherington get to go to the concert, he also had the opportunity to meet Beyoncé herself along with her mother, Miss Tina Knowles. "Long live the Queen! Forever shall she reign 🐝🖤," he wrote under the caption of a candid photo with the 32-time Grammy-winner.
"To the Queen herself, @beyonce, I will treasure those words you said and the hugs you gave. I meant every word I said. No, for anyone and everyone reading this, I will not ever share with you what was said to me, don't even try it. That moment is between the two of us. #beyonce #rwt2023," he wrote in a separate post.
While Hetherington told the Times he's "really grateful" for the opportunity to finally Beyoncé, he hopes meaningful change will be the real outcome. "I hope people will actually engage with this stuff and not just let it go. That's what's important to me," he said.