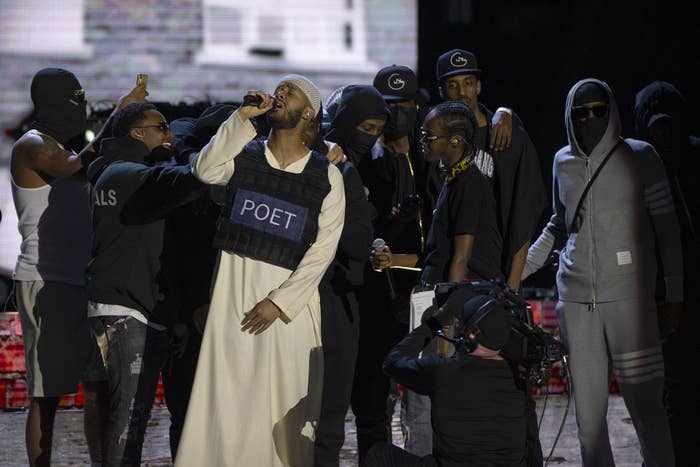 Mustafa's delicate, haunting 2021 debut When Smoke Rises is a meditation on the grief he experienced after losing several friends to gun violence. It's an emotion that's unfortunately much too common in underserved communities around Toronto; communities like the singer-songwriter's own Regent Park, which in many ways—socially, politically, economically—feels isolated from the rest of the city and the country.
At this weekend's Juno Awards, where Mustafa won the award for alternative album of the year, the folk artist made sure to share the national spotlight with his overlooked neighbourhood. "I am because of Regent Park. I am nothing without my community," he told media backstage after accepting the award on opening night. "Every experience, every death, every building that was buried, every argument. It shaped me and it shaped the way that I write, and it's the reason that I write."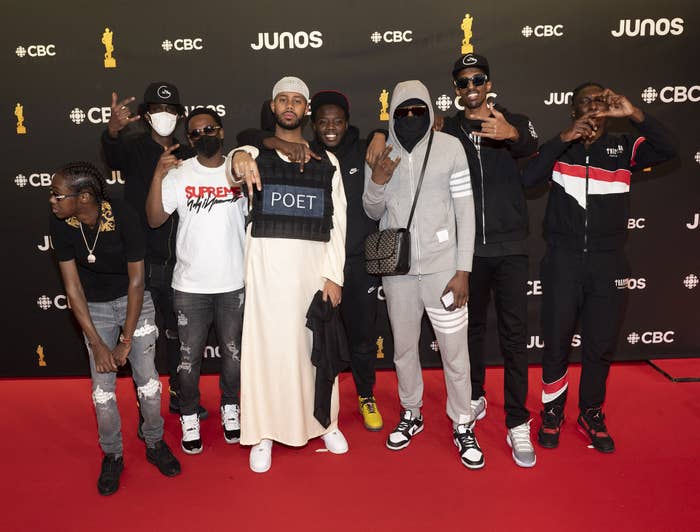 At Sunday's Juno Awards broadcast, he went a step further to bring visibility to Regent Park, pulling up to the red carpet with an entourage of friends from his area, including rapper Lil Berete. Later that evening, for his live rendition of "Stay Alive," those close confidantes joined Mustafa on stage to sing the final chorus of the song with him, smiling and slinging their arms around one another. It was a touching, soul-stirring moment—a moment when Regent Park, and the many communities like it, could feel seen by the rest of Canada.
Speaking backstage, Mustafa shared with us his message to kids who are living in the neglected neighbourhoods of the city and feeling invisible.
"I had to make a decision about what was more important to me: the preservation of the memories of my friends or the ridicule of people that I didn't care about."
"The greatest thing I could tell them is to prioritize and invest in the worlds that they have to make in that isolation," he told Complex Canada. "For me, Regent Park was an island, and I wanted to beautify that island as best I could. And eventually that beauty became a bridge for me; it became a bridge to every other world. And I was starting to carry that universe with me whenever I went."
Mustafa noted that youth in communities like his are often required to have a tough exterior, but he believes there's no shame in shedding that armour and showing your human side. "I know that there's other communities that try to take advantage of the vulnerability of young people in communities like mine, but you should stay steadfast in being vulnerable and be brave in that vulnerability, because it's a thing that's far stronger than that rigidity and that hard coating that people wear. The bulletproof vests that people wear, you know?"
Ironically, Mustafa was wearing some armour of his own on Sunday—a custom-made vest with the word "poet" stitched across the chest. Definitely a bit of a head scratcher, but that was entirely the point. "I think that even the contradiction of these words and this vest is a thing that I want people in communities like mine to think about," he said. "Even when I was writing my record, I thought about the way that rival communities were going to take my vulnerability and try to exploit it and make a mockery out of it. But I had to make a decision about what was more important to me: the preservation of the memories of my friends or the ridicule of people that I didn't care about."
It's obvious which side of the coin he chose, and it's safe to say he made a pretty good call. Complex named When Smoke Rises the best Canadian album of 2021.