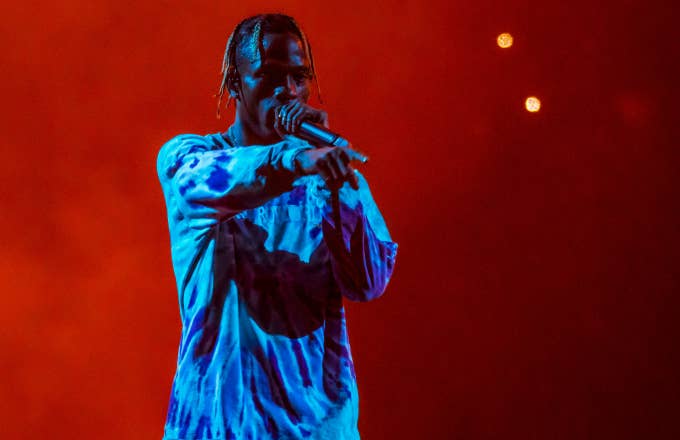 Everyone who has already decided to mute the next Super Bowl halftime show, you might want to reconsider. According to TMZ, Travis Scott is hopping on the bill with Maroon 5 for the Feb. 3 performance in Atlanta. 
Scott has yet to confirm the report, but if it's true things are about to go full "Sicko Mode" at the Mercedes-Benz Stadium. 
TMZ also reported rumors that Cardi B and Big Boi, as well as a few others, might be making special appearances. However, Cardi previously said she'd never perform at the Super Bowl unless the NFL rehired Colin Kaepernick. But a performance with Cardi would make sense, considering she was featured on Maroon 5's No. 1 hit "Girls Like You." Big Boi has also collaborated with Adam Levine in the past for his 2017 single "Mic Jack."
The NFL quickly faced backlash for its decision to have Maroon 5 perform next year's halftime show. In a city like Atlanta, fans were hoping local icons—Gucci Mane, Usher, T.I., etc—might be taking the stage. If Big Boi, who makes up one-half of the iconic ATL duo Outkast, is performing, that might calm some of the previous detractors. 
Meanwhile, Scott's performance comes as sort of a surprise. Maroon 5 and the Houston rapper haven't collaborated on anything, yet, and he's not in the same class of storied artists who typically take the Super Bowl stage, considering his career really only spans about five years. But Scott is definitely one of the biggest artists of 2018, with well-deserved Grammy nods and an incredible live performance, so regardless of how and why, it's probably going to be a good show. 
The Associated Pressalso reported that Scott is close to closing a deal for the halftime show. He's also scheduled to headline Pepsi's pre-Super Bowl concert on Feb. 1 in Atlanta. 
There are still plenty of reasons not to watch the halftime show. Mostly involving the NFL's anthem policy that prohibits players from protesting racial violence and injustice on during the national anthem. That's like why Meek Mill decided to tweet this about Scott's performance: