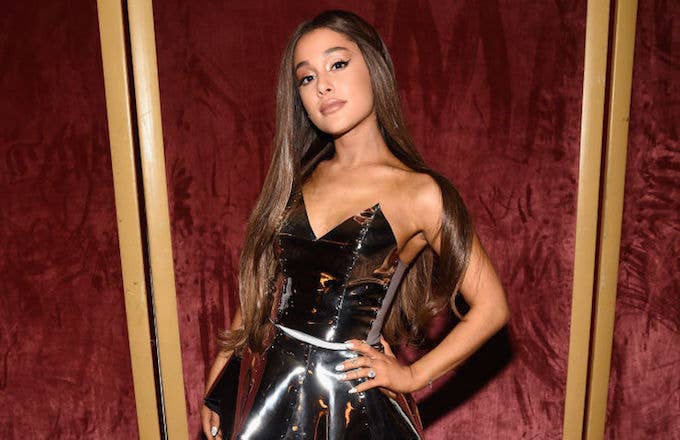 As predicted, Ariana Grande's fourth studio albumSweetener landed in the No. 1 spot on the Billboard 200 this week, bumping Travis Scott'sAstroworldout of its two-week stay at the top. This marks the singer's third No. 1 album on the charts as it moved 231,000 equivalent album units—127,000 from traditional album sales. This beats projections that she would earn 220,000 units in her first week.
Sweetener also earned Grande's best first-week numbers. It beat out her 2016 project Dangerous Woman, which garnered 175,000 album equivalent units. It also marks the most-successful streaming week ever for a woman pop artist, and sits only behind Cardi B's Invasion of Privacy as the biggest release by a woman in 2018.
Yielding the throne, Travis Scott's Astroworld bowed at No. 2, with 110,000 units his second week. While some predictions had Nicki Minaj coming in at No. 4, Queen persevered at No. 3 with 95,000 units. Drake follows at No. 4 with 93,000 units. Post Malone rounds out the top 5 with Beerbongs & Bentleys pushing 57,000 units.
Young Thug's new compilation Slime Language also debuted on the Billboard 200 this week. It landed within the top 10 at No. 8 with 41,000 album equivalent units. It bowed below predictions that it would hit No. 7 with somewhere between 44,000 and 49,000 album equivalent units, and pushed only about 3,000 in traditional album sales.
Grande began teasing her highly anticipated album back in April with the release of its first single "No Tears Left to Cry."  She later released the singles "Bed" featuring Nicki and "God Is a Woman." The new album also includes features from Missy Elliott and Pharrell.