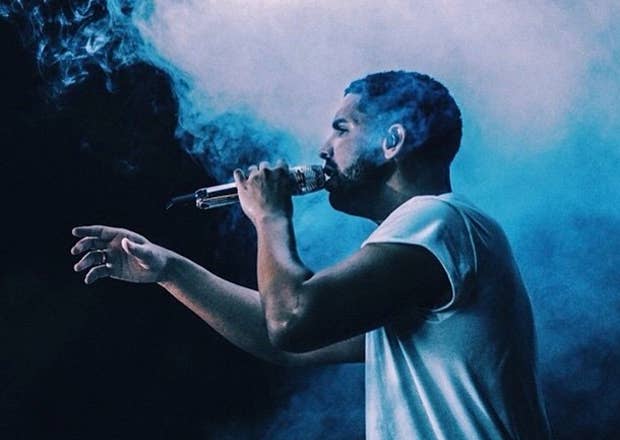 When you're bigger than the game you play, people forget what made you a superstar. In that same vein, Drake's technique often gets overlooked. We hear his music so often, it becomes ingrained in us. But when his journey to dominance first began, Drake stood out for a multitude of reasons. One thing people tend to forget, or even ignore, is the versatility and the creativity of the 6 God's flow. Pick a song from any of his projects, and you're bound to hear the lyrical execution change up more than once or twice. Drake's flow is never shoehorned into one corner, and there's nothing overly repetitive about it. That in mind, here are some of our favorite examples and aspects of the the rapper's ever evolving flow.
By now, even your grandmother has used the Migos flow. Drake made sure to do his part on the "The Language" and "305 To My City," two cuts from Nothing Was The Same. While Quavo popularized and mastered the technique with a sense of urgency, The Migos triplet technique is frequently delivered with a wholly abrasive tone (see: Kanye's turn on "Sanctified"). Normally, the triplet comes in a wave of aggression. Drake's version remained cool, collected, and calculated. Instead of listening to something, at times overwhelming, we were treated to a multitude of swaggered bars. There really isn't a better way to do it—there's simply a different one. Drake expanded the flow just when it was seemingly overplayed.
You could argue that Drake spearheaded a melodic movement that's still going strong today. Thanks to Aubrey's massive success, the style has quickly cemented itself as a staple of modern rap. Recently, rappers like Fetty Wap and Rich Homie Quan have been making bank off of melodious flows. People often talk about the influence of Kanye's 808s & Heartbreak, despite receiving mixed acclaim upon release. Kanye made singing accessible for acolytes like Drake, and even more recently, A$AP Rocky, to croon with more confidence. While there wouldn't be one without the other (at least in the same context) Drake's contribution to hip-hop can be argued, as being larger than that of a project like 808s. While Kanye bravely laid the groundwork, Drake built upon it, and grew melodic rap into something more enduring. Last year, Jezebel spoke with Drake's vocal coach, Dionne Osborne. The Atlanta-based sensei credited his "conversational" and "comfortable" cadence as a key strength. It certainly makes sense, too. The listener is never taken back when Drake sings. We don't dread that portion of the song, the same way some of us do even when Yeezus exercises it. We expect the flow, and we look forward to it each and every time. In a 2012 interview with The Jewish Chronicle, Drake boasted that he "would deem [himself] the first person to successfully rap and sing." In many ways, we have to agree. The transition between soulful warbling and hardline raps is seamless within Drake's discography, and that's why every song sounds like Drake featuring Drake.
It's easy to impress with an endless stream of bars, but sometimes less is more. When rappers unleash a barrage of machine-gun flows, we instinctively turn up despite getting lost amongst it all. Drake's technicality isn't at the same level of, say Tech N9ne, not that we even care. In fact, he does the opposite of machine-gun spitters and still manages to make it interesting. Holding onto a thought and stretching it out, he catches up with himself in the following bar. It's as if Drake is making up for the words he could've just spit in the previous line. There isn't anything overtly impressive about rapping "less." What is impressive, however, is that Drake incorporates this particular style into his melodies as an effective augmentative device, without boring us. This form of accentuation is prominent in the latest project (If You're Reading This It's Too Late), and notably, it's all over 6 God.
We sure do pay attention when dudes like OG Maco get in our face and bark an entire verse at us. It can be successful when done properly, but damn, is it ever a mission when it's not executed well. Drake isn't anywhere near as grating when he wants to make a statement. When "Worst Behavior" dropped, Drake knew which bars we needed to pay extra attention to, and then he let us have it. The same approach is used in shorter bursts on tracks like "Days In The East." It's incredibly simple, yet equally potent, and puts an exclamation mark on the lines that deserve extra attention. Remember?
On "Madonna" (or if you're hearing it live, "Rihanna") Drake plays with a new flow that sounds straight out of a Shy Ronnie sketch. We're not too sure where he got this idea from, but it could be a hat tip to the growing trend put in place by Young Thug. The Barter 6 rapper keeps Rap Genius employed with his mumble-heavy mixtapes, because there's simply no way we can sing "Lifestyle" without a little help from Internet scribes. The difference is, Thugger has had years to hone his craft, while Drizzy has had less than a song to show it off. Regardless, listening to Drake stumble through lines like he's sipping lean in H-Town is trippy enough for us to vibe with. Still, don't expect the style to be utilized often. This type of practice is yet another part of why Drake is increasingly relevant. Pick a rapper who has faded into obscurity—their ultimate irrelevancy is likely due to a failure in trying new things. Drake doesn't have this issue. 
Regardless of how he approaches his cadence, melody, pace or patterning, Drake keeps us on our toes from project to project. That's why his flow is one of the game's most interesting and influential.