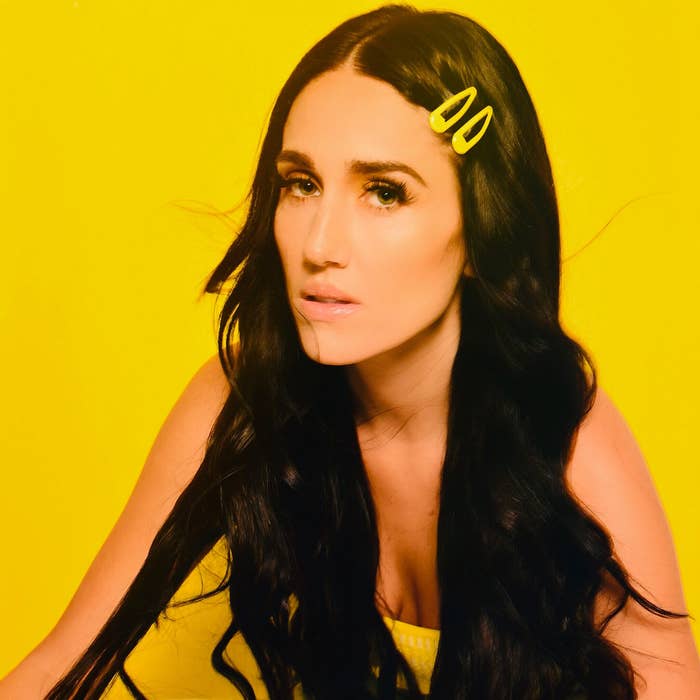 If it takes a village to raise a child, it takes a town to craft a hit song. In fact, the last time an entirely self-written and produced track conquered the Billboard Hot 100 chart, Barack Obama was settling into his second term as president -- for the record, Pharrell's inescapable smash "Happy" gets the abovementioned honour. Since then, every chart-topping anthem we've heard on the radio, added to our streaming library, or witnessed live in-concert, came courtesy of a crack team of songwriters, producers, A&Rs, and publishers. 
And while each of those realms have their own unique power players, Jenna Andrews is one of the very few people who has excelled in every lane. From honing her craft in Canada, to penning songs for some of the biggest artists in music, to now developing her own wave of talent. Andrews has been able to maneuver and excel through it all. We sat down with the acclaimed songwriter-producer earlier this month to chat about her rise from young artist to boss A&R and publishing executive via her Sony/ATV joint venture, TwentySeven Music.
In our conversation, Andrews broke down her current focus behind-the-scenes with young pop phenoms Lennon Stella and Noah Cyrus, and recalled a time in Toronto hanging with a pre-stardom Drake. She was also gracious enough to share some wise words of advice for up-and-coming songwriters and record execs who want to break into a business that often seems like a hoop dream. You can catch the full conversation after the jump.
---
Tell us a bit about your upbringing in Canada. Did you grow up in a musical household?
I didn't grow up in a musical household, but I got a mini piano when I was five and started to teach myself how to play it. I started so young, around five or six. My mom is an avid music lover, especially R&B and soul, so that was a massive influence for what I was drawn to. (I was listening to) Billie Holiday, Donny Hathaway, Ella Fitzgerald. For me, Mariah and Whitney were my first idols, they made me want to sing. They're the top for me.
And when did music seem like a viable career path?
In eleventh grade, I interned at radio stations because I wanted to be in the mix. I would work the midnight shift in high-school just so I could be around it all. Then I was 19, I moved out and got my first production deal. That was the beginnings of making it more professional.
You signed a deal early into your career. Was it a bit of a whirlwind experience for you to jump into the industry so fast?
Most artists, especially pop, start when they're super young, so not really. To be honest, it's even younger now than it was before. I think when I was coming up, 14 or 15 was definitely on the young side. But now, it's really about the right time to grow your craft. Because when you're 19 now, it's full throttle. My production deal was a bit more development... my deal with Island Def Jam was three years later. When I did my deal with Island, it felt like I was ready, more equipped.
What was it like to transition from a front-facing artist to someone working behind the scenes and creating the next wave of stars?
I always loved the idea of creating a sound and a vision, that was always more of a focal point for me. When I left my label, Majid Jordan was really the first project that I dug my teeth into -- in terms of vocal production, songwriting. And I really loved it! It's something that seemed really "me". It really catapulted me, and I just kept doing it with more artists. Now, it's the point where I've made executive production a thing, and started developing my own artists. It just felt natural. It felt easy to understand the artist brain because I am one.
A lot of your current energy has been spent on developing new artists like Noah Cyrus and Lennon Stella. What does A&Ring these new talents look like on a day-to-day basis?
Well, it's all different really. Setting up sessions, arranging. It's a partnership with these artists, we trust each other... especially with Lennon. We've been working together for years, so she really trusts me. I can be like "try adding this, try switching this pre-chorus". An A&R can be a lot of different things. It can be a music fan, or you can be a musician. Like, I can say "try using a Rhodes" or even "let me play this part". It's old school A&Ring, like Quincy Jones. He was an A&R for all of the Michael Jackson stuff, but he was also an executive producer. 
If you're a musician you look at it so differently. At the same time, it's not your art so you also have to be respectful. With Lennon in particular, we're so on the same page. That allows for creativity to be the best it can be. I also signed Little Mix recently to my publishing venture and I'm pretty involved in the A&R process on their next project. We're really just jumping back into material with them which has been really fun.
---
---
Jumping back to Lennon for a second. She has a super interesting career path so far! How did you start working with her?
I started working with her when she was in a duo with her sister (Lennon & Maisy). I wrote with them and we just hit it off, it felt like family immediately. Like even beyond songwriting, it felt like this person was going to be in my life. Even more coincidentally, my lawyer had mentioned them to me way before they even were on Nashville. I want to say Maisy was like 7 and Lennon was 10, and he was telling me about them at this party, saying they're incredible.
From there, a couple of years had gone by and (Lennon) decided that she wanted to go solo and it was a perfect time in my career because I wanted to develop someone on my own. So I spent like a year-and-a-half developing her. I wasn't really intending to be an A&R. I was writing with her and vocal producing, doing everything because I just wanted her to take over the world.
You've been in serious rooms throughout your career and have collaborated with some of the biggest names in music. Is there one sessions in particular that stands out to you?
It's kind of funny because I've been in the room with a ton of amazing people, but I got into music because I love singers. So that being said, those moments for me were with Brandy, Jazmine Sullivan, Kim Burrell -- my favourite singers. It doesn't have to be the big sessions, like with Drake. Working with Jazmine this week, she's an iconic vocalist it was such a moment. The only other singers I would put in her category would be Kim Burrell or Lalah Hathaway. She's another one that I would put into that "insane vocalist category". Obviously, old school Mariah as well. That's the cream of the crop for my personal music taste.
You mentioned Drake, so we have to talk about it. You've known him for years now and contributed to his 2015 mixtape, If You're Reading This It's Too Late. Can you tell us about your relationship with him and his camp? Is it true that you used to record in his bathroom? [laughs]
It was actually Boi-1da's bathroom [laughs]. During that time I was working with 40 and I had met Drake through that. This was ten years ago now, which is crazy! Chris Smith was my manager at the time and he discovered me through MySpace and got me out to Toronto. We all sort of came up at the same time, and I remember when I first got signed, I told everyone "check out my friend Drake on MySpace" which sounds ridiculous now. This was the Trey Songz era, before Wayne. We did our own thing, and then years later 40 calls me to do the Majid Jordan stuff, and Drake ended up sampling a song by them called "Forever" and used it for "You and the 6".
---
Canada, and Toronto in particular seem to be driving culture these last few years. Our producers and songwriters are some of the biggest hitmakers in the world. What's the source of all of this success?
It sometimes feels like the pressure is off (in Canada) so you can really focus on the music. Because when you're in LA or New York, it kind of makes you feel like there are a ton of eyeballs on you or pressure to make a certain thing. I think that's what that really helps in Canada, you're not distracted and can really focus.
What advice would you give to a young songwriter-artist on how to been seen or heard by an executive like yourself?
To have an identity, whether that's the production or songwriting. Don't be cookie-cutter. Just because something is trendy, doesn't mean that's what people are looking for. Also, just being a constant hustler. You have to want it more than anyone else. I get a ton of emails and DMs and I try to respond to everyone -- it may not be on a timely fashion, sometimes it takes longer. There was this one guy that hit me up consistently, like every second day. Finally, I was like ok, I have to listen to this thing... and it was amazing. So I ended up meeting him. You have to be a hustler, you got to be on your shit.
Would you use that same advice for those looking to get into the behind-the-scenes part of the industry (A&Rs, managers, publishers). What advice would you give to those looking to work in those fields?
100%! Obviously there's a fine line between hustling and desperation, but you have to have the tenacity and show what you have to offer. It's about having the perfect pairing of hustle and what you bring to the table. That's across the board too: A&Rs, managers, artists, everything.
Tell us a bit about your new endeavour with Sony ATV. What is your mission statement with TwentySeven and what can we expect from you this year?
I'm really excited about Litte Mix, because I vocal produced on the last album, but now I have an opportunity to set up sessions for them and really get in there and do what I do on the creative side. I mentioned this before to you, yes it's a publishing company, but because I'm a creative, everything that I'm signing I'm passionate about. I also have this girl Gracie Ella from Toronto, she's amazing, people are obsessed with her. Sting came to town and got up on stage with her! To have a boutique publishing company where I actually get to help people out, developing someone... you need to have the patience, you need to put your heart into things.
---
This interview has been edited and condensed for clarity.