The day Jay Z released 4:44, Rolling Stone caught up with the album's producer No I.D. to talk about the creation of the album. At the time, No I.D. said, "There's three more songs that are coming out as bonuses. James Blake came in and joined into the process. There's more coming shortly that's equally revealing." Based on a new finding, it looks like those three songs will be featured on the physical release of 4:44 that hits stores tomorrow (July 7).
First reported by HipHop-N-More, the three tracks are "Adnis" (which was featured in the Mahershala Ali commercial, and is in line with what Young Guru said about the physical release), "MaNyfaCedGod" (which is to feature James Blake and was part of the Lupita Nyong'o-featured commercial), and "Blue's Freestyle / We Family" (there's no word on if Blue Ivy's got bars, yet). The tracklist they confirm shows up on what appears to be a Swiss Universal Music website.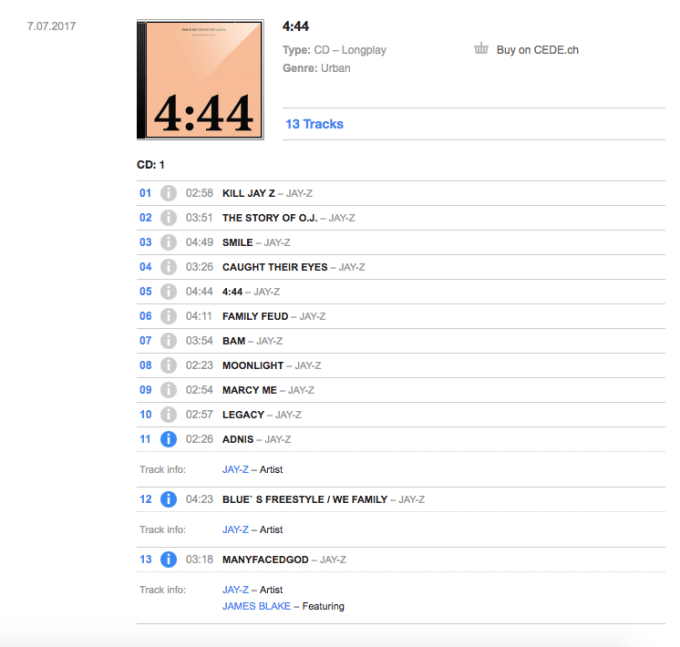 The other interesting thing about HipHop-N-More's report is the idea that TIDAL's seven-day exclusivity on 4:44 ends on July 7. That means the full album will be on Apple Music and other streaming services, but it begs the question: will Apple Music have songs like "Adnis" available before Tidal, considering that Apple normally releases new music ~11 p.m. ET, as opposed to the usual midnight releases that Tidal is doing (and did for 4:44, for example)? Time will tell.