Nicki Minaj has come through with her new track "Yikes"—despite the ongoing backlash.
The Queen rapper teased the cut via Instagram this week, sharing a snippet that included a Rosa Parks name-drop: "All you bitches Rosa Parks, uh-oh, get your ass up," Nicki was heard rapping on the track.
To no one's surprise, this particular line sparked outrage across social media, as some listeners perceived the lyrics as disrespectful toward the civil rights icon. Others were convinced that Nicki wasn't trivializing Park's legacy, but simply commenting on the current wave of faux activism.
Nicki addressed the controversy in an Instagram story, where she disputed reports about her alleged regrets over the song.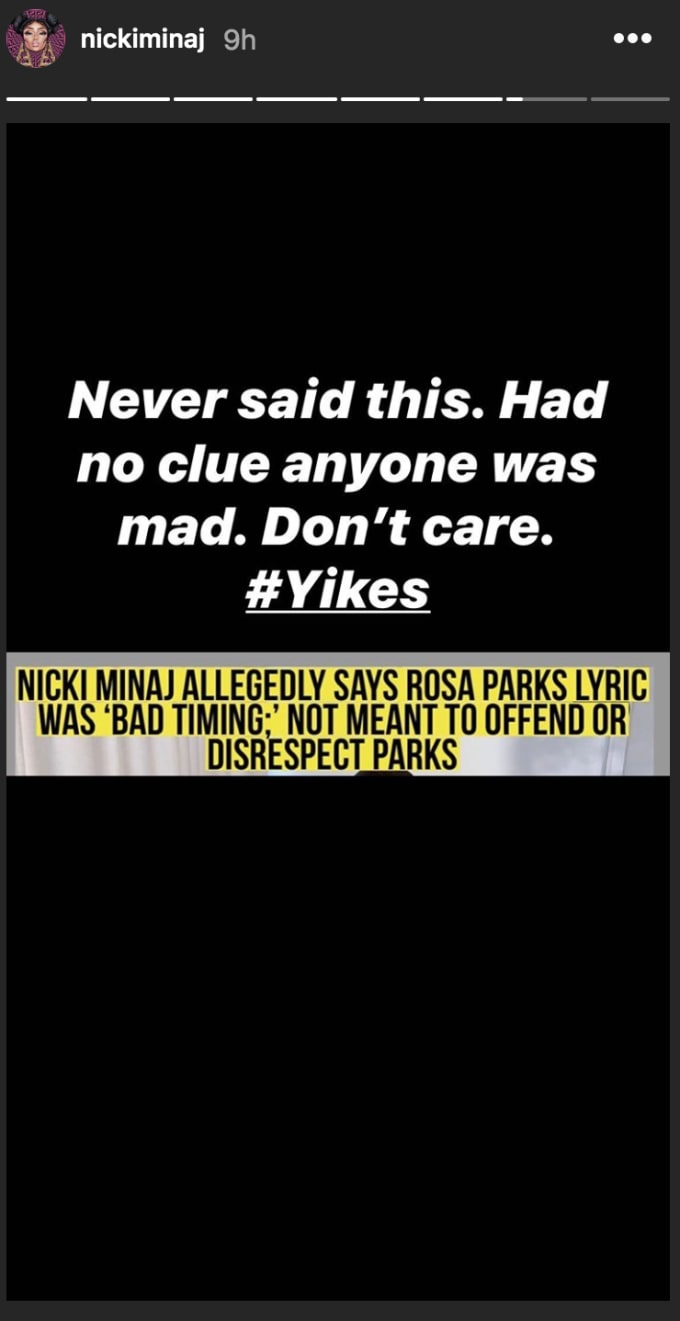 "Had no clue anyone was mad," she wrote. "Don't care. #Yikes."
Nicki also clarified that the song was not a single off upcoming fifth studio album: "It's not my single, because the single will be launched with the visual," she said during a Wednesday night Q&A session with her manager Irving Azoff. "This is a setup song with no video. Please don't kill me, y'all. You guys asked me to put it out—don't forget!"
"Yikes" was initially supposed to arrive at midnight but experienced a slight delay. Nicki took to social media to update fans and even retweeted a post that joked about the backlash around her Rosa Parks lyric.
Time change again. 3am est. go to bed. 😘 https://t.co/Vd1AzEmXsy

— YIKES (@NICKIMINAJ) February 7, 2020
I'm going to bed https://t.co/M9XNrNl6Tx

— YIKES (@NICKIMINAJ) February 7, 2020
You can listen to "Yikes," produced by Pooh Beatz, via YouTube up top.
The track arrives just days after Nicki got into a heated online exchange with rapper and ex-boyfriend Meek Mill, whom she accused of abuse. Meek denied the allegations before bringing up Nicki's brother, Jelani Maraj, who was convicted of raping an 11-year-old girl.
Nicki addressed the feud during her sit-down with Azoff, saying she regretted how she handled the situation.
"I got hacked this morning, guys. Don't believe anything you saw," Nicki jokingly said. "Listen, it never fails. Every time I do it, five minutes later, I'm like, why the fuck did I? Every single time. But it's a good lesson in knowing how to master your anger and emotions. So, every time I do that, I like give myself a talking to in my head, like, 'OK, you played yourself, you shouldn't have did that. You learned your lesson again.'"