Rick Ross and Meek Mill Address Kanye's Trump Fandom on New Songs
Saint JHN teamed up with Meek Mill for a new track entitled "Anything Can Happen" on Friday.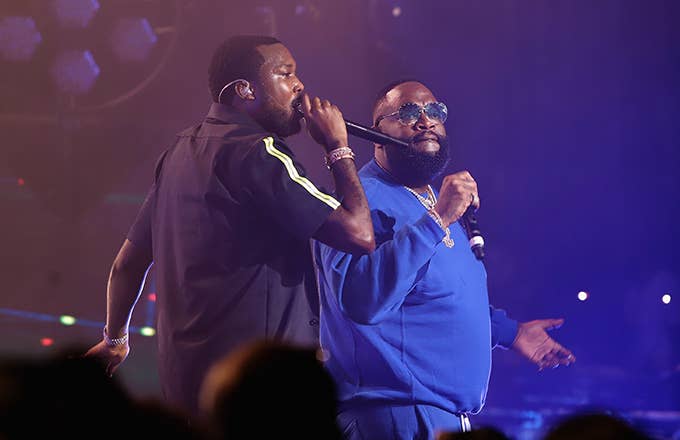 Getty
Image via Getty/John Parra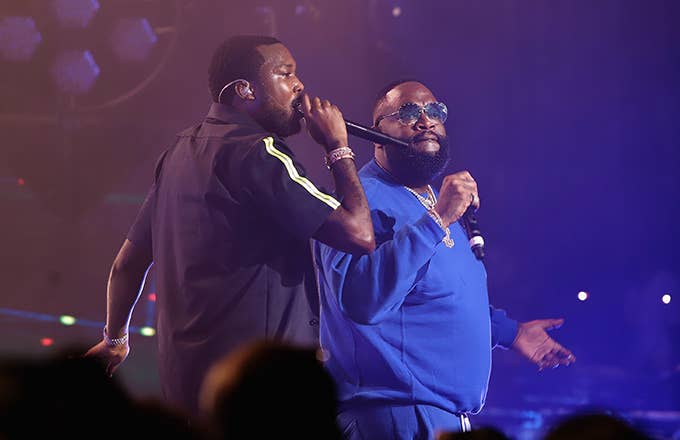 Saint JHN teamed up with Meek Mill for a new track entitled "Anything Can Happen" on Friday. During Meek's verse, the Philly rapper addresses Kanye West's embrace of President Donald Trump.
"I'm watchin' Kanye on the television, talkin' Trump/He's supportin' him (Damn)/I have some n***as with tunnel vision, and a plug / They deported them (Damn)," Meek rapped on "Anything Can Happen."
Meek isn't the only rapper to touch on Yeezy's Trump love, as Rick Ross has addressed the situation on his Port of Miami 2 track "Vegas Residency."
"Yo, watchin' Kanye interview, feel like I wanna cry/For every innocent brother charged with a homicide/Went from battle raps to now we wearin' MAGA hats/Dade County, n***a, mansion up in Tamarac/Never golfin' with the Trumps and I give you my word."
During an interview with Genius, Rick Ross made it clear he didn't want the line to be perceived as him taking shots at his longtime collaborator.
"It was nothing personal," he explained at the 33:30 point of the interview below. "It wasn't in a disrespectful way. It wasn't a diss. It wasn't none of that. It was just facts, me sitting up and I'm seeing, 'Okay, I see what's going on, I see the temperature. I see Kanye standing next to Donald Trump, okay. It's just something I got to address.'"
Explaining himself further, Ross continued, "People are pretty much over that now. I think they get it and see what it was, but I'm talking the first time when, 'Whoa, it's different.'" He added that the song is the oldest record on the album.
Kanye West first announced his love of Donald Trump in 2016. Recently, he and his wife Kim Kardashian encouraged the president to help free ASAP Rocky from a Swedish detention center.