Moby has wisely decided to lay low for a bit and cancel the UK run of his book tour.
On Tuesday, the 53-year-old musician shared an Instagram post that reiterated his apology to Natalie Portman, whom he claimed he dated about two decades ago. Moby addressed the alleged relationship in his newly published memoir, Then It Fell Apart, stating that he had met Portman in 1999 and that she had flirted with him in his dressing room. 
Portman denied his claims in an interview with Harper's Bazaar UK. "I was surprised to hear that he characterized the very short time that I knew him as dating because my recollection is a much older man being creepy with me when I just had graduated high school," she explained. "He said I was 20; I definitely wasn't. I was a teenager. I had just turned 18."
Moby attempted to defend himself by posting an old photo of him and Portman smiling for the camera. That Instagram photo has since been deleted, and the musician has spent the last week apologizing to Portman as well as other people who were unknowingly mentioned in the book.
"I'm going to go away for awhile. But before I do I want to apologize again, and to say clearly that all of this has been my own fault," he wrote Tuesday. 
Hours after the post went up, Moby's official website displayed a message announcing the cancellation of his book tour: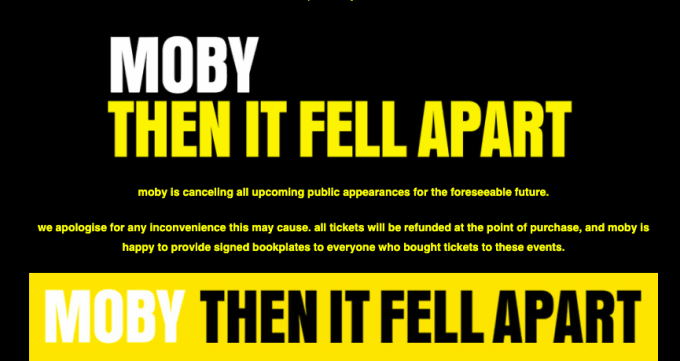 The U.S. leg of the tour wrapped up May 20. The UK run was scheduled to kick off this Saturday.