Some of the biggest names in music have gathered in Los Angeles tonight to pay tribute to the late Mac Miller.
The event, titled Mac Miller: A Celebration of Life, will feature performances by Travis Scott, Chance the Rapper, SZA, Ty Dolla Sign, Schoolboy Q, Anderson .Paak, and many more. Fans can livestream the concert on platforms like Facebook, LiveXLive, TIDAL, Twitter, and WAV, as well as via YouTube above. A Celebration of Life will also benefit the newly launched Mac Miller Circles Fund that supports youth arts and community-building programs through the Pittsburgh Foundation.
You can learn more about the charity, including how to donate, here.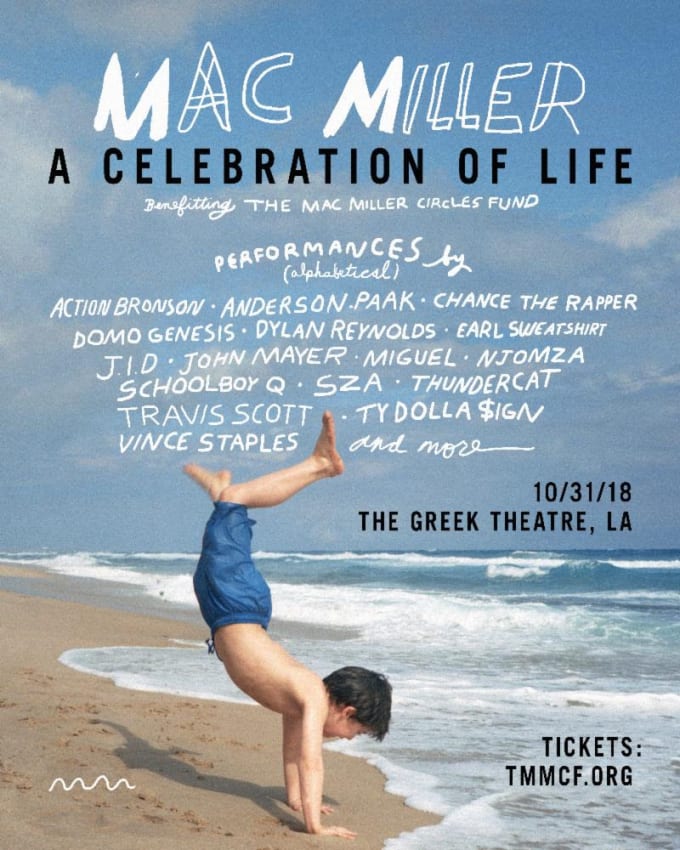 Less than two months ago, Miller died at the age of 26. The tragedy occurred about one month after he released his fifth studio album, Swimming.
Shortly before the project's release, the Pittsburgh-born artist spoke to Vulture about his mental state during the recording process.
"I really wouldn't want just happiness. And I don't want just sadness either. I don't want to be depressed. I want to be able to have good days and bad days. I can't imagine not waking up sometimes and being like, 'I don't feel like doing shit.' And then having days where you wake up and you feel on top of the world."
In related-news, John Mayer linked up with graphic design artist Jeremy Dean to produce merch for Mac Miller: A Celebration of Life. The line includes t-shirts and hoodies. All proceeds from sales of the merch will go to the Mac Miller Circles Fund.
Check out some of clips from the evening below.
.@AndersonPaak going off on the drums at the Mac Miller tribute concert.

WATCH ➡️ https://t.co/Lb4kbwskc2pic.twitter.com/zzUdXGerEG

— Complex (@Complex) November 1, 2018
John Mayer playing "Small Worlds" 💔

WATCH ➡️ https://t.co/Lb4kbwskc2pic.twitter.com/5BgFkFpKgd

— Complex (@Complex) November 1, 2018
"You feeling the feeling, I'm chilling, just living, I'm living away" 🎶

Miguel remembers Mac with "Weekend"pic.twitter.com/WiELkm7OP6

— Complex (@Complex) November 1, 2018
SZA has hit the stage at the Mac Miller tribute concert.

WATCH ➡️ https://t.co/Lb4kbwskc2pic.twitter.com/3cCdOFGyux

— Complex (@Complex) November 1, 2018
Pusha-T remembers his friend (and workout partner) Mac Miller.

WATCH ➡️ https://t.co/Lb4kbwskc2

(via @KarenCivil)pic.twitter.com/XXD5JJ0nZH

— Complex (@Complex) November 1, 2018