On Thursday, it was reported that Manhattan prosecutors were recommending a one- to three-year prison sentence for controversial rapper 6ix9ine. YG, one of 6ix9ine's many foes, was apparently amused by the news.
"Lil nasty ass muhfucka," he wrote in response to the report. "Now go to jail and get your dick sucked. Pedophile ass child molester."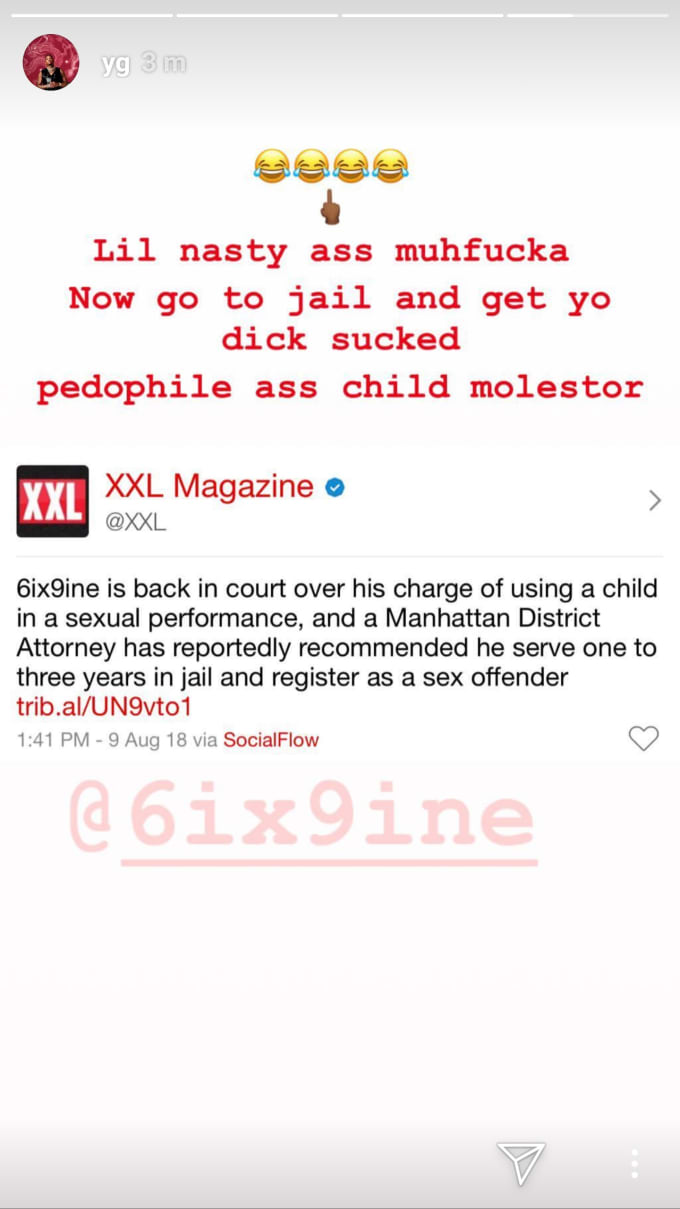 YG also responded to XXL's coverage of 6ix9ine's potential sentence with a series of laughing emojis.
The beef between the rappers was reignited this month, after 6ix9ine blasted the Compton rapper for speaking about him while promoting Stay Dangerous.
"I don't know how more disrespectful can I get. YG, suck my fuckin' dick, stupid," 6ix9ine said in a recent video. "Your last single ['BigBank'] before your album came out had four major artists on it. You had 2 Chainz, you had Big Sean, and you had Nicki Minaj. Yo, bro. You supposed to be blowing me out of the water."
YG responded to the video with a vague threat: "CANT WAIT TILL WE MEET @6ix9ine," he wrote.
Well, it might be a while before YG gets to meet the Brooklyn rapper—that is, if the Manhattan District Attorney's Office gets its way.
As previously reported, prosecutors want 6ix9ine thrown in state prison for violating the terms of his previous plea agreement. In 2015, the now 22-year-old pleaded guilty to the use of a child in a sexual performance in order to avoid jail time. As part of the deal, 6ix9ine—real name Daniel Hernandez—was required to stay out of legal trouble. He failed to do this, as he was arrested twice earlier this year for assault as well as driving without a license.
"Defendant has had over two years to demonstrate to this Court that the role he played in the sexual exploitation of a thirteen-year-old child was an aberration in his otherwise law abiding life. He has failed to do so," prosecutors wrote in a letter to the court.
Sentencing in the child-sex case has been adjourned until Oct. 2.