Jazz Cartier Wants Toronto's Hip-Hop Crown
Rapper Jazz Cartier discusses the burgeoning hip-hop scene in Toronto, his upcoming project 'Fleurever', and the importance of self care.
Toronto is a city with untapped potential and under-appreciated artists. Despite a growing international media spotlight, the focus remains on the multi-million dollar pop culture icons (ahem, Drake) and collectives that have found global success. But within the underbelly of the thriving city, you'll find a fully stocked arsenal of musical talent, which includes the stage-diving, spa-going, Juno-award winning rapper Jazz Cartier.
"This is a first for me, getting my hair done while I do an interview," says Cartier, who's sitting on a concrete block as his hairstylist Keisha braids his locks. The two have clearly done this before, and are all smiles at the Queen Street loft located west of downtown Toronto.
"People ask me how I'm doing. I tell them I'm alive because anything can happen," Jazz relays, while maintaining his perch on the block. "It's 2018, no one's safe. When I wake up and look in the mirror, and I'm alive, that's the celebration within itself."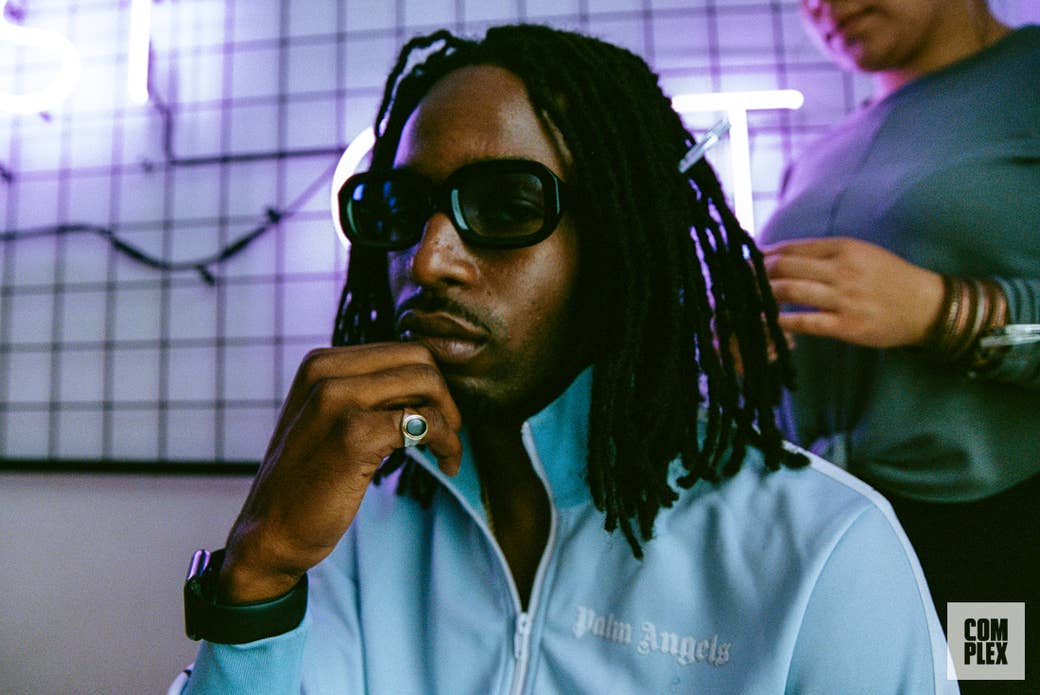 The 25-year old artist, who came up in Toronto's DIY party scene, spent most of his childhood living in different corners of the world. His stepfather was a Canadian diplomat, so Jazz spent time in Houston and Idaho, as well as Kuwait and Barbados, settling down just long enough before moving on to the next adventure. He even attended a boarding school in Connecticut as a teenager. The one constant that followed Jazz wherever he went in his life was—perhaps unexpectedly—tennis.  
"[My mom] always said, 'If you want to stand out, if you want to have a different perspective on things, you gotta do things differently.' She forced me to play tennis, and I didn't like it. I didn't like it at all," Cartier admits. "But then, over time, I'd go to all these tennis tournaments and I'm like the only black person playing tennis—I'd get the stares. I was kinda intimidated, but then I used that fear and projected it [and] put that intimidation on anybody coming up against me."
Jazz's experiences on the tennis court resemble those he faces as a black rapper within Canada's music infrastructure and associated institutions, which are predominantly white and hardly accepting of hip-hop culture. Though he won the prestigious Juno Award in 2017, like many successful Toronto artists, Jazz has found more success outside of the city. The uphill battle to be recognized in Canada, and more importantly, to be paid properly, has created an unwavering competition to be the "next up" in T-Dot—which also translates to being the next out.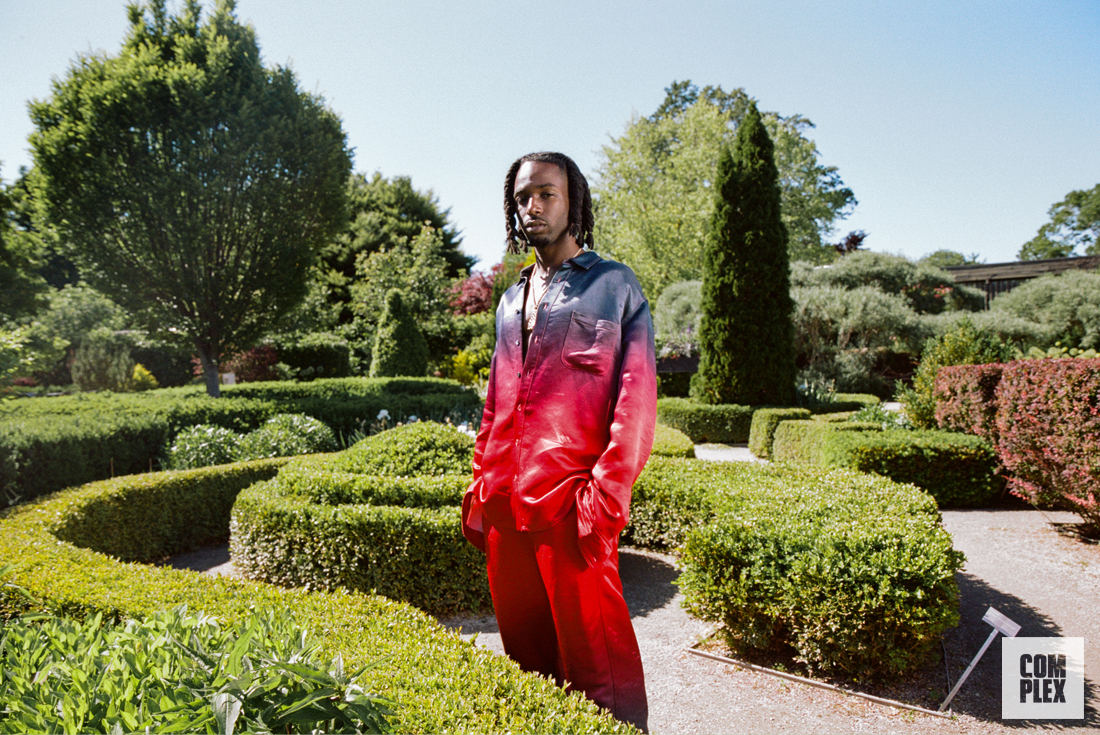 "Winning the Juno [Award] was cool, but no one that voted heard me on the radio before, especially in Toronto," he says. "So what [does] that win really mean to a kid that only wanted to hear himself on the radio? Or get the acknowledgement from not just his peers but the sound or gatekeepers within the city? It's kinda like a double-edged sword."
Despite his grievances, Cartier remains positive. Positivity is what he can control after all, as far as radio play and other behind-the-scenes politicking are concerned.
"I'm learning to appreciate things for what they are and not be so critical. Because in Toronto, we are supercritical over everything."
In many ways, the city where Jazz was born—and where he decided to return to after a childhood filled with relocating—is a musical melting pot. The artist has crafted his melodic rapping sound centered around opulent hooks, hostile aggression, and felicitous ad-libs over signature muddled trap basslines.  
"My biggest inspirations in the city are stemming from the people... the vibe, the energy that comes with Toronto because it's a very different place compared to anywhere else in the world," he says.
"When I wake up and look in the mirror, and I'm alive, that's the celebration within itself."
Noting the mass gentrification of Toronto neighborhoods, including his choice stomping grounds of Kensington Market, Cartier is fully aware of the changes his city is undergoing. He embraces them, realizing the influx of new people and businesses is, again, out of his control, but makes a point of "keeping the spirit [of Toronto] alive."
Since 2015, Cartier has been creating gritty anthems that mimic the coldness of the city, both in weather and collective attitude. "Dead or Alive," "Stick and Move," and "New Religion" are now cult-like classics in The Six. Lighter singles, such as "Tempted," which is a very loose play on Rupee's "Tempted To Touch," reveal the cultural fabrics of the city; namely, the heavy West Indian presence that has shaped its sound and language. But despite making music for his hometown, Cartier has spent the better part of the past two years touring North America and overseas.
"A lot of guys go on tour for a couple weeks, a month, two months, but I went on the road for damn near a year and a half," he explains. "I wasn't really taking care of myself. It's like you want to get on the road, but the aftermath of touring… I didn't prep for getting readjusted to the normalcy of life and doing all that stuff."
This summer, Cartier finds himself with his feet planted firmly on the ground, a familiar bed to go home to at night, and the time to realign his chakras.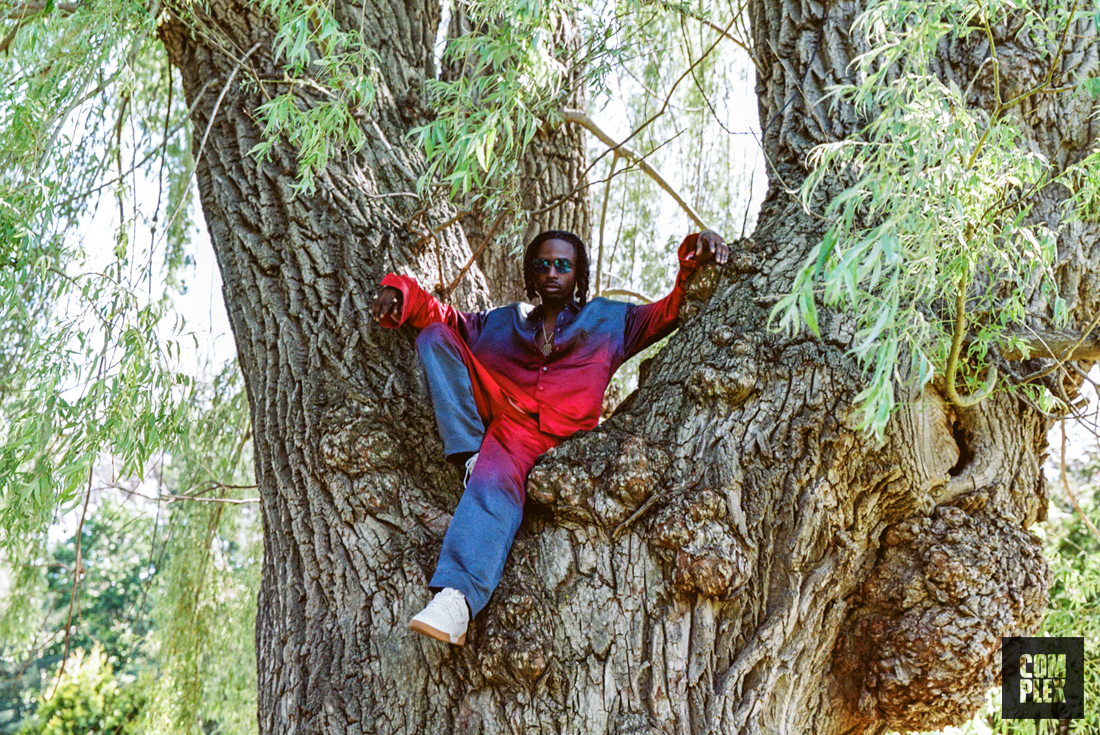 After taking a moment to check out his hair in the mirror and re-adjusting his baby blue tracksuit outfitted by Bobby Bowen, the self-proclaimed "Prince of the City" speaks of the importance of self-care—which he emphasizes via his Instagram-documented "Self-Care Wednesdays." Getting his hair styled by Keisha is a deeply calming ritual for Jazz. Eating Jamaican food ("I need it, I need it, I need it," he repeats) reminds him of home-cooked meals he would eat as a child, taking him to a simpler time and place. And of course, being at home in Toronto, provides the ultimate sense of comfort and safety.
In a male-dominated industry that can "suck the energy out of you," the Guyanese-Jamaican rapper also notes how crucial it is to make the time to reconnect with friends and family. In the middle of a long week, it becomes a means to reigniting that mental fire.  
"Usually I'm around a lot of guys in the studio. But I was raised around women, so when I'm in the salon or when I'm in the spa, I like to be around the female energy. So that's [what] just gets me back on my right track."
Realigning Cartier's own personal energy also reinvigorates his alter-ego, Jacuzzi LaFleur; a happy-go-lucky persona who contradicts the pugnacious rapper fans have come to know through his music.
"A lot of people don't like to smile. That's very weird. Happiness is a good thing, and Jacuzzi likes to be happy," he says with a grin. "I can't be grillin' all the time and so serious. That shit's wack, you know? Especially in this day and age, like, c'mon, we've only got one life to live."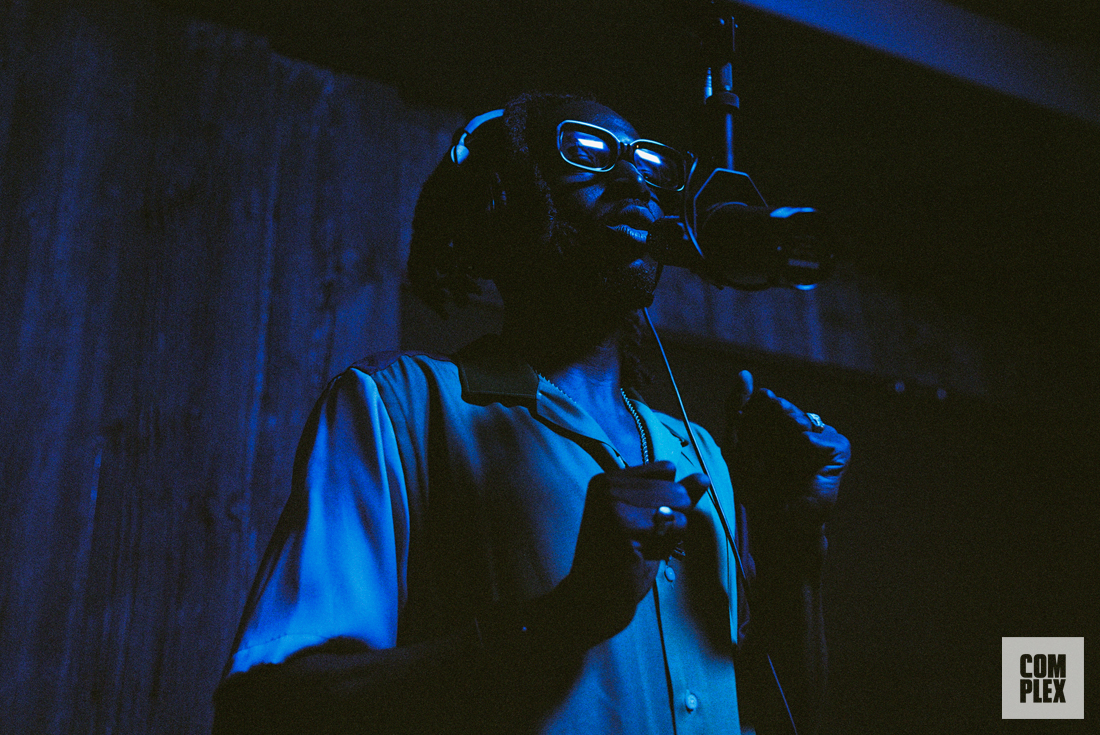 With two mixtapes under his belt, Marauding in Paradise in 2016 and Hotel Paranoia in 2017 respectively, Cartier's next order of business is his latest project, Fleurever. In the lead up to the highly anticipated project—which is out now—he dropped several singles, including "Godflower"; a track reminiscent of a Travis Scott or Mick Jenkins joint, but infused with the secret sauce that's uniquely Jazz.  
"I'm a soul searcher at the end of the day. The album is based around the ups and downs, the ins and outs of Jazz," he says. "I'm a lot less angry. I'm a lot less me against the world in this album because I feel like when I listen to my old stuff I'm just like 'Damn, what were you going through?' I let go of a lot of those demons. This was just more me having fun. I want to shed those layers off me and spread my new wings."
"I'm a lot less me against the world on this album… I let go of a lot of those demons."
In a reflective state, Cartier, who's known to be especially particular in the studio, says that despite making almost 200 songs for the project, it took the laid-back vibes of an AirBNB in High Park—a Toronto neighborhood near Lake Ontario—to find his vision.
"That was December of 2017. That's when we made the bulk of the album, when I was comfortable, when I was not pressed against time. When I was not in the studio [with] all these big ass buttons that nobody uses," he reveals. "Some nights, we'd do like five songs. Other nights, we'd just chill and vibe and get that spirit out. That's what I needed. I needed that new spark. I think that crib really changed my artistry. It changed the way I approach music."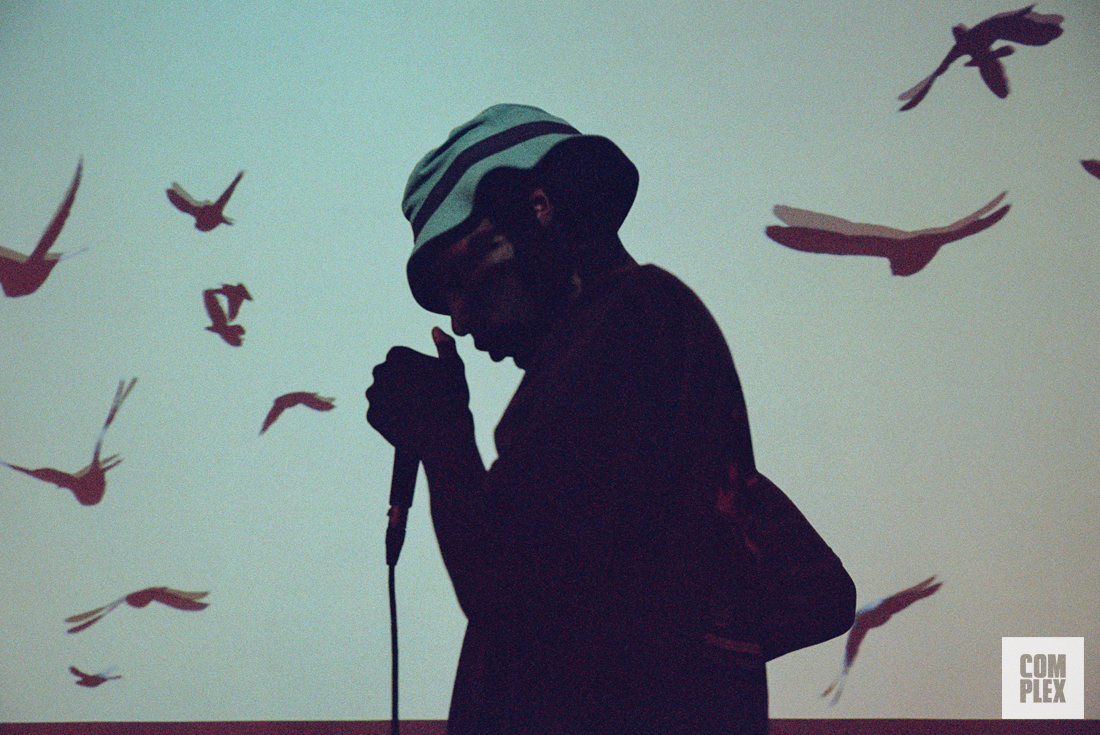 But just because Jazz has experienced a creative rebirth, it doesn't mean his passion or energy is sacrificed. If you want evidence, look no further than the high-octane banger, "Which One," which released in June.
Cartier's approach to Fleurever also included the conscious decision to work with Toronto producers. With Krinny, WondaGurl, KTOE, Daniel Worthy, 4th Pyramid, and long-time collaborator Lantz helping to shape the album's sound, Jazz is able to communicate that the city needs to shed its ingrained 'Screwface mentality,' and that its creatives must work together without reservation more frequently.  
"This community of music is so sacred, the sound that we have is so sacred," Cartier says as Keisha finishes twisting another braid. "Being in America and seeing how everyone works... for the greater good to feed the fam and feed everybody around you, [it's] just like, why don't we have that back home? Why are we pitted against each other? And then you start to think 'It's not us, it's the way we're raised. I learned [that] at the end of the day, in Toronto specifically, we can't keep going against each other 'cause no one wins."  
Yes, Toronto is changing around Jazz Cartier, but Jazz Cartier is trying to bring his own change to Toronto. If we know anything about the MC, it's that he pours his soul into making that happen. And for that, he deserves his flowers.
"Flowers don't last forever, but they're always there, and that's how I look at my trajectory," the rapper reflects. "That's how I look at my career. That's how I look at my fans and my songs. Over time, they bloom and they grow into themselves.
"I just realized I want all my flowers while I can still smell them because when I die, you [can] bring all the flowers to my grave, [but] what's the point? I don't want them when I'm dead. I want them now."
For episodes 2 and 3 of our 'Run The Show' series with Jazz Cartier, dropping Wednesday and Friday, stay locked to Complex.
Styling by Bobby Bowen; both red and blue pajama suits by Sies Marjan.