T.I. Met With Kanye Over Trump Comments: 'I Refuse to Just Give Up on Him'
T.I.: "The old Ye too important!"
Though Kanye West has always been a polarizing figure, his latest political musings have raised a great deal of concern among his fan base and friends. John Legend and Chance the Rapper are just some of the artists who've reached out to 'Ye following his recent support of Donald Trump. And now it appears T.I. has also made an attempt to change Kanye's controversial opinions regarding POTUS. 
Tip went to Instagram Friday morning, revealing he had spent all of Thursday hanging out with Kanye. Though he didn't reveal specifics of their meet-up, he suggested they discussed 'Ye's recent Twitter activity and his apparent alignment with Trump.
It sounds like T.I.'s efforts weren't immediately successful; however, he told his fans he remains optimistic and refuses to give up on his friend.
"Yesterday Spent the day wit Kanye... Long term work in progress, no doubt. Still Optimistic," he wrote on Instagram Stories. "Something From our discussion gon STICK... I refuse to just give up on him. The Old Ye Too Important!!!"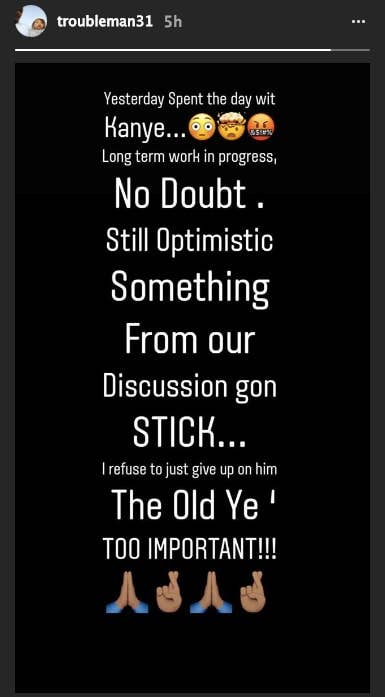 For the past several days, Kanye has received both criticism and praise for showing love to President Trump. He not only referred to POTUS as his "brother," he also told his followers that he wasn't going to let the "mob" keep him from loving Trump. For many fans, this whole situation is both confusing and stressful; however, it's reassuring to know that some of the people in his life aren't simply jumping ship despite their disagreements.