It appears that Drake is the latest celebrity to have their Twitter hacked, in what looks like a pretty major cyber attack on a number of celebs recently. On Monday, someone by the name of @2aiden3 took over the account and used the time in control to plug his own Snapchat page, which is sort of hilarious. 
Drake's unfortunate Twitter hack is only one of many that has happened on a number of artists and celebrities pages recently. Last month, Katy Perry's Twitter was hacked when a stream of hateful, bizarre messages began to appear on the singer's official Twitter page. The person behind the tweets took credit for the whole thing and told Perry's 89 million followers, "haha follow @sw4ylol #hackersgonnahack."
Over this past weekend, a hacker or hackers attacked several other artists including Bon Iver, Tame Impala, Keith Richards, and Tenacious D. Each artist took to their Twitter following the digital assaults to assure their fans that the outlandish tweets that had showed up on each of their accounts were not from them. Bon Iver's Twitter handle was changed to "@ihavelegcancer" and posted a derogatory comment about the death of boxing icon Muhammad Ali, according to Billboard. "Very sorry, everyone. We were hacked. Trying to fix the account now. Stand by," Bon Iver told fans following the incident.
It's a pretty risky move for the person or people behind these various hacks considering the very huge teams these many celebrities have lined up and ready to handle just these kinds of situations. @2aiden3, there's no doubt Drizzy (and his well-paid team) has their eye on you now, along with everyone else whose privacy has been violated. You can check out the tweets below. We've reached out to reps for Drake on this story and will continue to update as more details come in.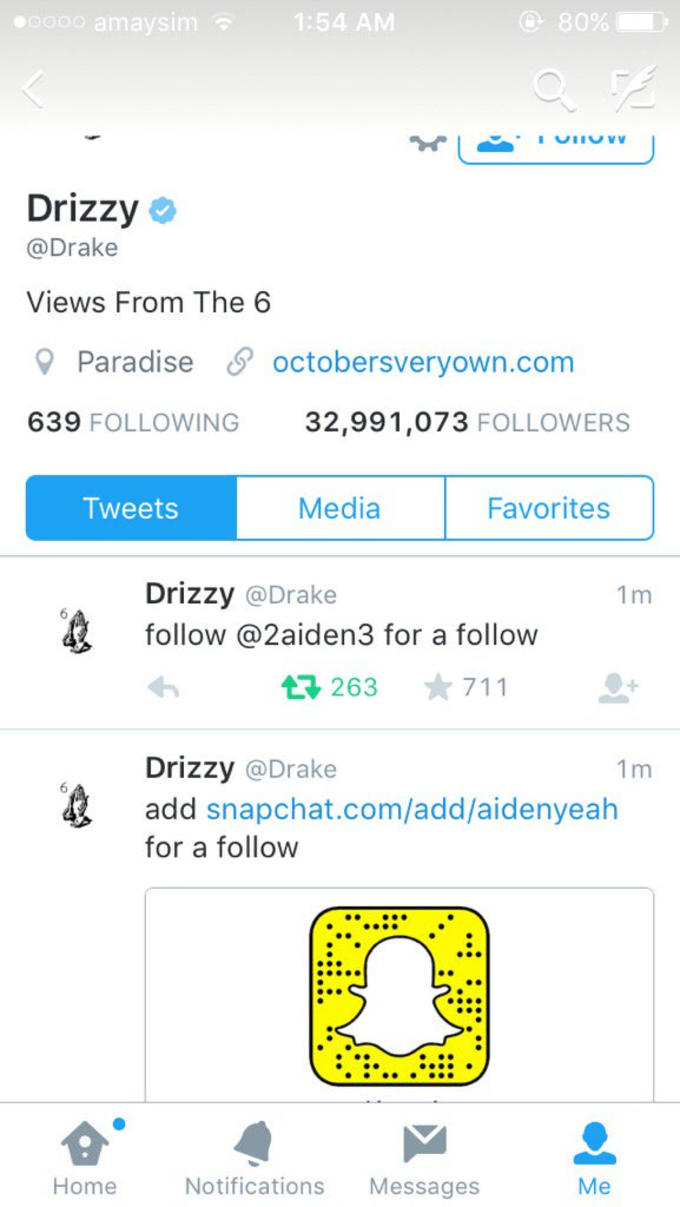 Very sorry, everyone. We were hacked. Trying to fix the account now. Stand by. @twitter @Support

— Bon Iver (@boniver) June 5, 2016
Earlier today Keith's Twitter account was hacked along with other verified accounts. The hateful tweets that were posted have been removed.

— Keith Richards (@officialKeef) June 5, 2016
WE had our Twitter account hacked. We can assure you that Jack is ALIVE and WELL and that this was a sick "prank".

— Tenacious D (@RealTenaciousD) June 5, 2016