Interview: Kareem "Biggs" Burke Talks About Roc-A-Fella's Legacy, Jay Z's "92 Bricks," and What He's Up to Now
The co-founder of Roc-A-Fella shares insight on the company's history. Complex Original
Image via Complex Original Kareem "Biggs" Burke is a mythical figure in the land of rap. Biggs has often been viewed as the silent partner behind Roc-A-Fella, the label that was the springboard for giants like Jay Z and Kanye West. While Hov was rapping, and Dame Dash was in business meetings, Biggs did his work behind the scenes in the studio. He also was the inspiration behind Jay's earlier raps. The 4.6 Range Rover? Biggs did it first. Platinum Rolex? That was Biggs. After investing in the soon-to-be Dynasty for purely business reasons, he soon found himself playing the role of record executive.
These days, the seldom seen Roc-A-Fella Records co-founder is doing something he's not used to: being in the spotlight. For those who don't remember, Biggs was incarcerated for the last several years due to marijuana trafficking charges. He's now a free man and is wasting no time getting back to business with his newly launched clothing line Fourth of November and his non-profit initiative New Canaan Society Inside which builds friendships with men in prison and connects them with the New Cannan Society to help with their transition back into society. We recently caught up with Biggs, who talked about Roc-A-Fella's legacy and working in the studio.
When you guys started Roc-A-Fella was the goal to make money, to make history, or both?
History while making money. By the time we talked about putting Roc-A-Fella together we already didn't think anybody was better than Jay after hearing "Coming of Age," "Black Gangster (a.k.a. 'This Life Forever')," and a few other songs. Actually, Jay did "Black Gangster" prior to Reasonable Doubt. Those lyrics were old but he put them back out on the Black Gangster soundtrack. That song and the "Dead Presidents" track that made Reasonable Doubt are my favorite Jay tracks.
The "I want money like Cosby" from the original is one of my all-time favorite lines.
That's funny because that was actually my saying. I used to tell people, "You ain't got no pudding, B. Where you're pudding at?" [Laughs.] That's where that line came from.
When that album first came out, people slept on it. Talk about the slow burn to platinum.
"Ain't No" was the first record to catch fire, then "Can't Knock the Hustle" was the second one, and the presence Biggie had on the album. Those took us gold, but at the time we were with Priority Records, so we didn't have a big label and they weren't putting much behind it. We used our own money to promote the album. When we got with a bigger machine it was easier to take it the next level. The next album, Vol. 1, went platinum.
we were following Puff at that time. We were following what they were doing, and then Hype put all those funny cameras on us and the shiny stuff.
Jay got a lot of shit for trying to go pop on Vol.1.
Yeah, we were following Puff at that time. We were following what they were doing, and then Hype put all those funny cameras on us and the shiny stuff.
I still like "Sunshine" but the video was a little much.
It was corny. [Laughs.] We know that, we look back and laugh. We all make mistakes. But the body of work was good, and that's what's important. We still had songs like "Streets Is Watching," "Face Off," and "Where I'm From" on there.
On the Rap Radar podcast you talked about songs you picked. You said you helped Jim Jones pick "Ballin" and you helped pick Kanye's "Through the Wire." As someone who got down with Roc-A-Fella more for business than for music, you have a good ear.
Well, I didn't pick "Through the Wire," I had actually picked "All Falls Down" as the second single which was the biggest song on the album. Kanye picked "Through the Wire" but I knew it was a hit, so I chased it. Def Jam didn't want to do anything with that song, so I went and got an independent company called Don't Think Twice and they broke the record for us.
You guys are mentors to a lot of people. Roc-A-Fella has a strong coaching tree.
Chaka's the President of Roc Nation, Ty Ty and J. Brown are chairmen, and Emory is the lifestyle specialist who runs the Roc Nation clothing division. At our peak, we might've had 12 acts that were all wellknown. We had Clue?, who was the first mix DJ to go platinum, we had Beanie Sigel, State Property, Peedi Crack, Young Gunz, Freeway, Cam, Jim, Juelz, Dipset, Jay, Bleek, Kanye. I don't think anybody was as powerful as that.
Did you sign State Property for street credibility and who brought them to the table?
A guy named Sadiq and the late Real Rolla brought Beanie to the table when we were in the studio recording a Jay and Too $hort track. Beans must've kicked 200 bars, we had never seen something like that before. He didn't stop rapping. Me and Dame went and got Jay, and Beanie rapped again, and Jay was like, "We gotta sign this guy." Unbeknownst to us those were the only raps he had. Beanie had only wrote three raps and those were the ones he spit. On the tape he says, "Yeah, I fooled them, they think I'm a rapper." [Laughs.] So when we had him in the studio, he didn't know what bars were or how to write a song. He only knew how to write those long verses. We showed him how to count bars and all that.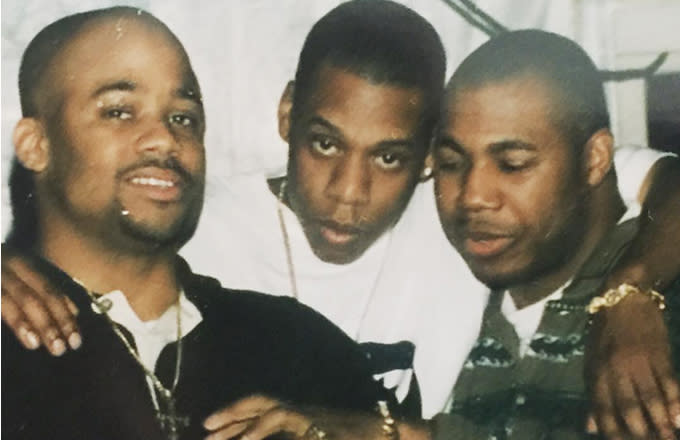 Can you give us some insight on Jay's famous "92 bricks" line from "Never Change?"
I'm not sure. You know what Jay says, "Believe half of what you see, none of what you hear, even if it's spat by me." [Laughs.] Back then it was another life, so he raps about certain things, but it's not to be glorified. It's about telling a story about what happens in the hood everyday.

You recently said Big L was the one recording the famous DMX/Jay Z battle.
Me and Big L went to junior high school together and me and McGruff went to the same high school. But that DMX/Jay battle was incredible, seriously. A guy named Steve Mack, who's a friend of ours, had a group named the Harlem Knights. He and Dame were arguing one day and he was like, Jay is wack, the Harlem Knights is this and that, so Dame brought Original Flavor's Tone Hooker and Roughness and Steve brought Waah, who in turn brought DMX because he was the best they had. Some people say DMX won and some say Jay won, it was that kind of battle. This had to be like 1992-1993.
People thought that you guys ended Roc-A-Fella because the relationships went sour. But the goal was always to sell the company eventually.
Once we did the deal with Def Jam the plan was to build to sell. There was a formula put in and it was a certain number times net, and probably the only regret was it should've been times gross but they weren't doing any deals like that. We wanted to sell in 2002 but we were having so much success they extended the deal for another three years. They didn't think Jay was going to last this long. They started to believe after Vol. 2 sold five million records.
I remember seeing all these Decks and there were probably eight clothing lines, Armadale, the Rocbox, and all the artists we were signing. I think we stretched ourselves too thin.
Did you guys have too much on your plates when you were starting companies and signing artists left and right?
Definitely. But it was a learning experience, that's business. I remember seeing all these Decks and there were probably eight clothing lines, Armadale, the Rocbox, and all the artists we were signing. I think we stretched ourselves too thin.
Did you want to be behind the scenes in the studio from jump?
It kind of played out that way. Dame had a couple groups signed already, so he handled the business, we knew Jay was going to be the rapper, and I brought the lifestyle to the table.
What's the line? "Biggs did it first, Jay put it in a verse."
We had a crew called the Best Out and Dame came to us like, "Look, we can do music, we can do amusement parks, we can do clothing. Everybody in Harlem follows us and the world follows Harlem." When he said that a lot of us were arguing about what to do and one person said he didn't want to be a partner, he just wanted to pay people to do the work for him. I called Dame the next day, so me and him got real close after that. I started to support whatever he and Jay wanted to do, whether it be videos or shows. I played the role of a road manager type of situation. Once I came back from St. Thomas, I got more involved with the company.
That was your ticket out.
Yeah. In '96 before we started, I had a Range and a platinum Rolex, so then Jay would talk about that in the songs. We were drinking Cristal. By the time we shot the "Ain't No" video we were already trying to stop drinking it. We were drinking so much Cristal, we wanted to find a new champagne.
There was a lot of Cris in the "In My Lifetime" video and I know you lived in St. Thomas before. Were you guys trying to show people how you were living?
The plan was to shoot a hot video and to do something different. I had all these resources down in St. Thomas and that was the lifestyle we were living, so we wanted to portray that. It wasn't just about talking about something, we were living it.
For such a lowkey guy, you lived lavish.
I always aspired to do things outside of what people thought was "urban." In '93 I was into the Robb Report, in '94 I was drinking Louis XIII—this is $1,500 a bottle. When I bought my first Rolex, Jay and Dame were like, "Why you spending $40,000 on a platinum watch? People are gonna think it's white gold." The people that know it's platinum are the people I care about was my answer. If you look at the bracelets we had early on, I designed all the jewelry. I put them on to VVS' and I took them to Tito.
Do you have any good Biggie stories?
I remember watching him smoke 60 blunts in the studio and Lil' Cease kept rolling up blunts when they were recording "Brooklyn's Finest."
You're planning an event centered around Reasonable Doubt, no?
That event is going to be my reiteration of Reasonable Doubt and what I brought to ing to shoit. I'm gow Reasonable Doubt through art using the clothing line. So Jay may do a concert, Dame may do his own thing. We think that it'll be better if we do separate things because it was such a big album. If we consolidate everything, might take away how powerful the album was.