Beyoncé's 'LEMONADE' Film Is Beautiful, Surprising, and Above All, for Black Women
Beyoncé delivered an ambitious project that serves as an ode to black womanhood. Complex Original
Image via Complex Original Of Beyoncé's talents, her greatest might be her ability to make so many black women feel good and recognized in a world that actively tries to make them feel everything but. She makes my sister feel powerful, and my nieces feel beautiful and capable of achieving anything. She comforts, excites, and empowers my female friends in ways no man ever could. More often than not, Beyoncé makes art explicitly for black women. Of course, the rest of us are welcome to partake and enjoy, but her mission is clear. 
Her short film, LEMONADE, which serves as the visual component of her album of the same name, is now the greatest example of this. LEMONADE is an hour-long account of personal heartbreak and perseverance that serves as an ode to black womanhood. It is for black women who have been handed lemons all their lives and manage to make something better of it all the same. 
The film is incredibly ambitious. It spans several locations, urban and rural, intimate and expansive. We watch her levitate; writhe in water; leap from a building; take bats to some presumably trifling man's car. She also rents a stadium that has hosted the Super Bowl like it's a PO box.
LEMONADE is an hour-long account of personal heartbreak and perseverance that serves as an ode to black womanhood.
There are other feats, too. Say, managing to wear black and yellow and looking stunning, as opposed to my normal association: a big ass bubble bee. Serena Williams, a spectacle for many wonderful reasons, makes an appearance, twerking for the Queen while Beyoncé pays subtle homage to the tennis star's illuminating cover on a recent issue of Sports Illustrated.
And the looks! So many looks. The styling, the makeup, and the hair are all impeccable. One minute Beyoncé looks like she stepped off the runway, the next it's as if she's fresh from knocking the teeth out of the mouth of a side chick. Minutes later, her attire and stage setup suggest she's summoning Satan for the turn up.
It's sensory overload in the best way imaginable.
And like the "Formation" video, it's black as fuck. Like that video, there are so many facets of blackness on display—Southern American blackness in particular. You might have to be from Texas or Louisiana to relate fully; I take immense joy in watching my fellow Houston native ride a horse down the street ever so casually. The same for the sight of marching bands and majorettes. This is everyday to many of us and it will never not be endearing how Beyoncé keeps how she grew up so close to her while also sharing it with the world.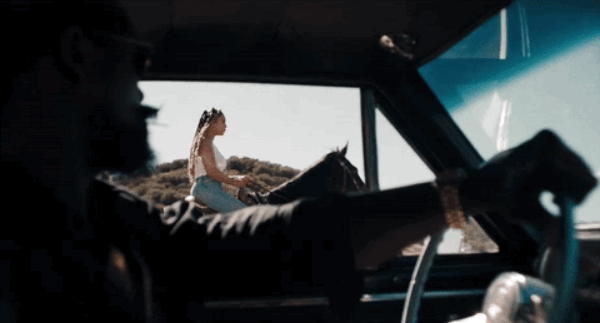 Now, like many, there are numerous moments in which one wants to shout out, "What the hell did you do to Beyoncé, Jay Z?!" Follow up question: Do we need to put you back in an elevator with Solange, big homie?
Beyoncé could be talking about him, her father, or all of the above. We may now know thanks to her own social media sadism that Rachel Roy might be the elusive "Becky." Rest in peace to her mentions for the rest of her life.
Becky can fall into the abyss, though. Again, this is about black women. All shapes, sizes, and hues of black women. And love. On "***Flawless," from her self-titled album, Beyoncé introduced some of her fans to Nigerian writer Chimamanda Ngozi Adichie. In LEMONADE, we hear adaptations of the poems "For Women Who Are Difficult to Love" and "The unbearable weight of staying (the end of the relationship)" from Somali-British poet Warsan Shire. 
What I might enjoy most about LEMONADE, though, is that for the first time since my childhood, a music video felt like an event. I've long wondered if younger fans will ever get to experience the days when we huddled around our TVs to watch Michael Jackson's moonwalk or the premiere of "Black or White" and "Remember the Time."  
Beyoncé was not the first to release a surprise album, but it was her doing so that changed the music industry. There is a feeling of déjà vu here. Releasing a short film isn't new, nor is tying a television special to an album release. However, both are anomalies in 2016. If anyone could pull it off now, it would be Beyoncé. And the content of this short film does feel unprecedented. 
She's managed to move the needle forward again by virtue of what's become natural for her: doing whatever she wants and forcing the masses to meet her there.