UPDATE: June Ambrose, a costume designer and creative director who has worked with Jay Z and Beyoncé in the past, weighs in on Twitter. There's no truth to the rumor, folks.
No truth at all to Jay Z and Rachel rumor, ridiculous!

— juneambrose (@juneAmbrose) April 24, 2016
See original story below.
Anyone who has listened to Beyoncé's latest album Lemonade or watched the special that aired on HBO last night almost certainly came away from the experience with a number of questions. Chief among them: "Is everything cool between Bey and her husband Jay Z?" The second question that springs to mind is "who is Becky with the good hair?"
In the song "Apathy," Beyoncé goes full on attack mode against a lover who left her scorned and along the way references someone named Becky with apparently has lovely locks that said person can run to. 
"So what are you gonna say at my funeral now that you've killed me? Here lies the body of the love of my life whose heart I broke without a gun to my head. Here lies the mother of my children both living and dead. Rest in peace my true love, who I took for granted. Most bomb pussy, who because of me sleep evaded. Her shroud is loneliness, her god was listening. Her heaven will be a love without betrayal. Ashes to ashes, dust to side chicks."
Just a few hours after Lemonade made its debut, and the identity of the mysterious "Becky" may have been revealed. In the wake of the release, fashion designer Rachel Roy posted a photo to Instagram with the caption, "Good hair don't care, but we will take good lighting, for selfies, or self truths, always. live in the light #nodramaqueens." Roy has locked her Instagram for the time being, but here's a screenshot of the post.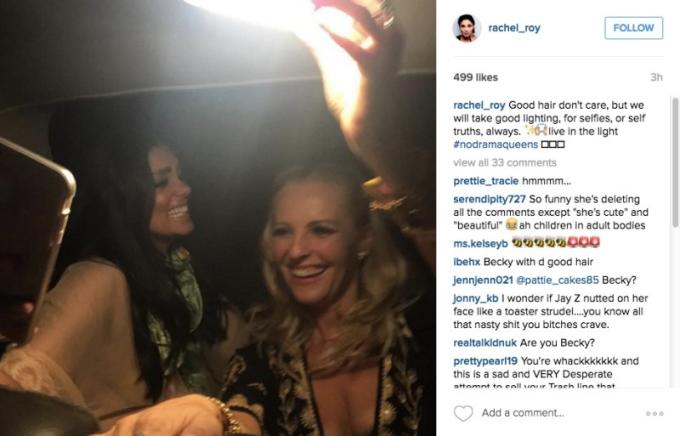 In 2014, there was speculation that Roy may have been the root cause for the famous elevator incident that found Beyoncé's sister Solange physically attacking Jay Z. Rumors spread that the event was sparked by Jay's growing closeness to Roy and that Solange was fed up with it. After a growing chorus of lemon and bee emojis flooded her social media accounts, Roy took to Twitter to denounce bullying and defend herself. 
I respect love, marriages, families and strength. What shouldn't be tolerated by anyone, no matter what, is bullying, of any kind.

— Rachel Roy (@Rachel_Roy) April 24, 2016
What do you think? Based on the evidence is Roy indeed "Becky with the good hair?"