The 1996 Project: Looking Back at the Year Hip-Hop Embraced Success
From the rise of female MCs to the loss of 2Pac, we remember the highs and lows, 20 years later.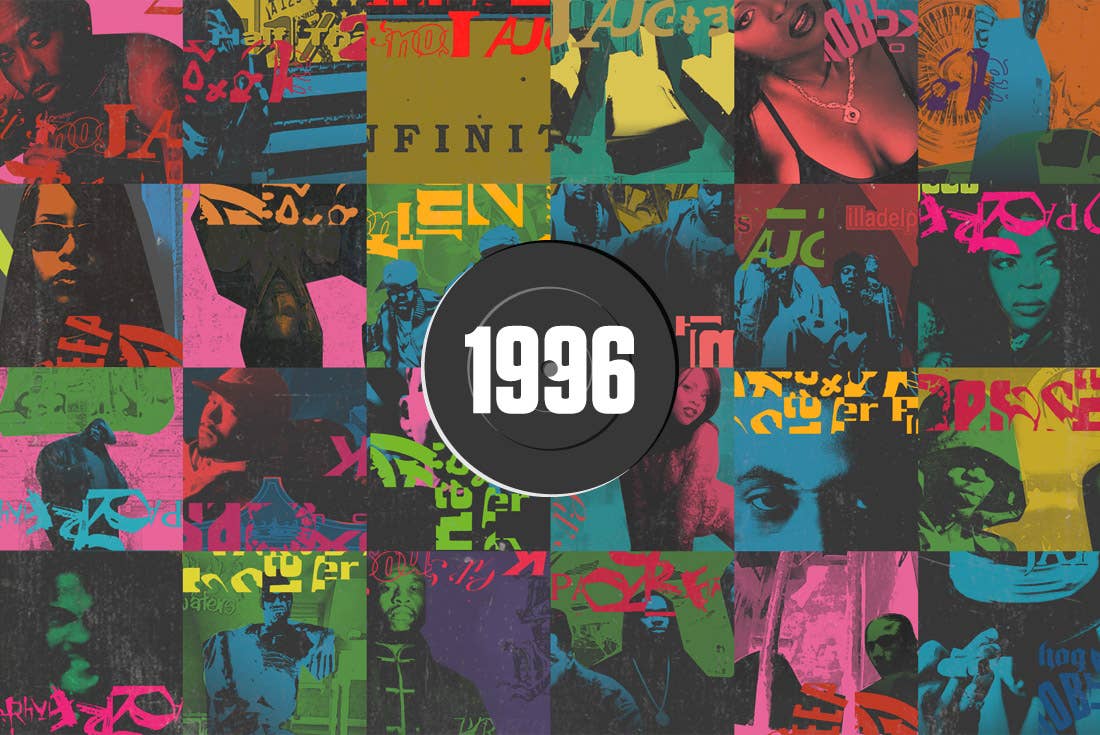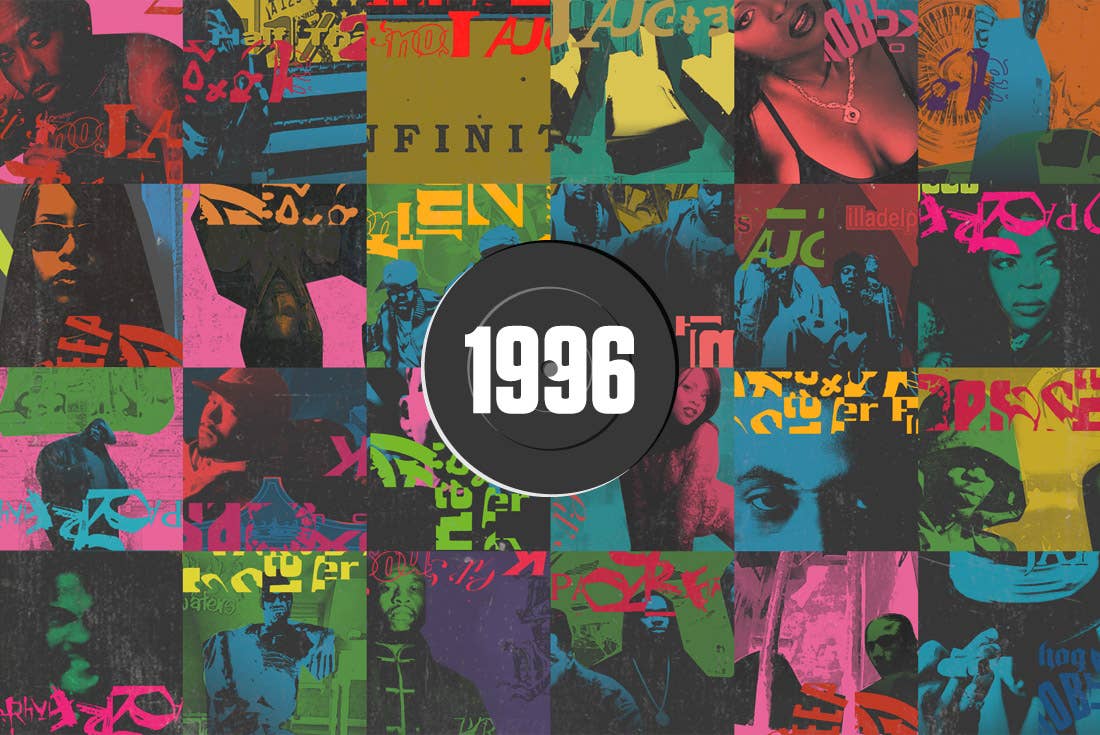 This story is part of Complex's The 1996 Project: Looking Back at the Year Hip-Hop Embraced Success.
The '90s is a beloved hip-hop era that can bring out the best and worst in fans. Those who grew up during the Bush II and Clinton administrations are no different than any other generation—they will debate and defend the music of their idealized youth until they're blue in the face, because if there's one thing that rap fans love—besides hot beats and rhymes—it is arguing and complaining.
 But how does one determine the most pivotal year in a decade that brought the masses shocking headlines, major shifts in culture, and some of the greatest songs of all time? Well, there's one year that, in Complex's humble opinion, sticks out like the old guy in the club. That year is 1996. And if you're going to talk about 1996, you have to start with the death of 2Pac.
At the time, 2Pac seemed indestructible. He had survived a shootout with police and a robbery that left him riddled with bullets. Some rappers rapped about street shit they had left behind while others faked it, but 2Pac was living the Thug Life for real—until it finally caught up with him on Sept. 7. 2Pac was among a group that beat down a Crip in the MGM Grand right after a Mike Tyson boxing match in Las Vegas. Later that night, in a possible act of retaliation, he was shot up inside a car driven by Death Row honcho Suge Knight. He died six days later in the hospital.
His murder momentarily put a stop to the so-called West Coast vs. East Coast war, which started as a Death Row vs. Bad Boy beef at the '95 Source Awards, and had continued mainly due to 2Pac's ongoing verbal attacks on Biggie and other enemies. Many rappers believed the media sensationalized the conflict. But tension had always existed between Los Angeles and New York from the days when the Rotten Apple looked down on everybody. The East Coast had an elitist attitude, but they earned that right. In '96, Ghostface Killah, Mobb Deep, Redman, M.O.P., and Busta Rhymes all released bangin' material. Mos Def and Sean Price of Heltah Skeltah were just beginning their careers. And Jay-Z's Reasonable Doubt maneuvered Jigga Man from Jaz-O hype man to the man who would be king.
De La Soul would change as well on their fourth album, Stakes Is High, going without Prince Paul and instead handling most of the production themselves, while giving a shot to a promising up-and-comer named Jay Dee (who also contributed to A Tribe Called Quest's Beats, Rhymes, and Life). De La made their most straightforward creation to date, relying less on abstract imagery, and directly addressing rap cliches and problems of the black community. Stakes Is High was praised, but it was also viewed by some as being less "creative" than previous De La efforts, showing that even when a hip-hop artist gets it right, fans can be crazy finicky.
As sales kept soaring (six rap albums reached No. 1 on the Billboard 200, a record high only to be outdone the following year), the underground insured that hip-hop would never be fully co-opted. Indie labels like Bobbito Garcia's Fondle 'Em Records (est. 1995) and Peanut Butter Wolf's Stones Throw Records kept vinyl as their preferred format at a time when some major label artists were getting their first websites. For every "Killing Me Softly" by the Fugees there was an independent hit like "Tried by 12" by East Flatbush Project. Artists like Prince Paul and Kool Keith (who re-invented himself as Dr. Octagon) embraced the freedom of being on smaller labels. Run the Jewels' El-P came up with Mr. Len and Bigg Jus in the group Company Flow and proved mainstream success on your own terms was possible if you paid dues.
"There was still the notion in '96 that the major labels had flooded the market with marginal artists and that many rappers were guilty of diluting their sound for mass appeal."
Although often described as a "Golden Era," there was still the notion in '96 that the major labels had flooded the market with marginal artists, especially "studio gangstas," and that many rappers were guilty of diluting their sound for mass appeal. That's why Ras Kass' mind-boggling look at history, "Nature of the Threat," and Chino XL's outrageous punchlines that were a precursor to Eminem stood out.
After grinding for so long, it appeared as if other regions and their distinct sounds would start gaining wider acceptance. Chicago's Crucial Conflict blew up the Box with the rowdy single "Hay" while Do or Die had one of the coldest street anthems of all time, "Po Pimp (Do You Wanna Ride)" with Twista and Johnny P. The South, whose influence would be unstoppable like Master P's No Limit tank, held it down with monster albums from UGK, the reunited Geto Boys, and OutKast.
The spotlight shined on women in hip-hop as well, a fact made all the more significant considering there are far fewer prominent female rappers 20 years later. Established artists like MC Lyte, Heather B., and Queen Latifah (who starred in Set It Off) rocked alongside the bright new generation of MCs like Lil' Kim and Foxy Brown, Da Brat, Bahamadia, and Lauryn Hill.
With the Shiny Suit Era around the corner, Jeru the Damaja's darts at Puffy and Foxy Brown on the keep-it-real "One Day" and the Roots' mockery of the played-out vixens and champagne scenario in every damn video in their own video for "What They Do" felt like the last stand against the inevitable jiggy avalanche. 2Pac's death was the sad confirmation that the culture had strayed too far from its foundation. But then, just days later, there was 'Pac smiling from heaven in the "I Ain't Mad at Cha" video, almost as if he were telling the world he was OK. Then came The Don Killuminati: The 7 Day Theory, convincing people that Makaveli was actually alive. Now larger than life, 2Pac upped the ante. Getting shot became a marketing gimmick. His seemingly endless catalog made seemingly endless amounts of money and inspired every other rapper to crank out songs. A good but not great rapper, 2Pac made people consider MCs for their influence on the culture rather than just mic skills. Far more serious, his murder, in one way or another, led to Biggie's death. Two iconic rappers and former friends gone six months apart from each other. Their souls kept alive by the love of the people—and the love of money.
The 1996 Project Tee is available now at shop.complex.com.
Want more from The 1996 Project? Visit the links below.
"Talkin' 'Bout Houston: Bun B and ESG Remember the Year the City Broke Out"
"Never Change: Is Jay Z the Same Rapper He Was 20 Years Ago?"
"The Best Rap Songs of 1996"