Meet the 24-Year-Old Mogul Who Made Muslim Women's Day a Viral Sensation
Get to know Amani Al-Khatahtbeh, the 24-year-old Muslim woman behind #MuslimWomensDay.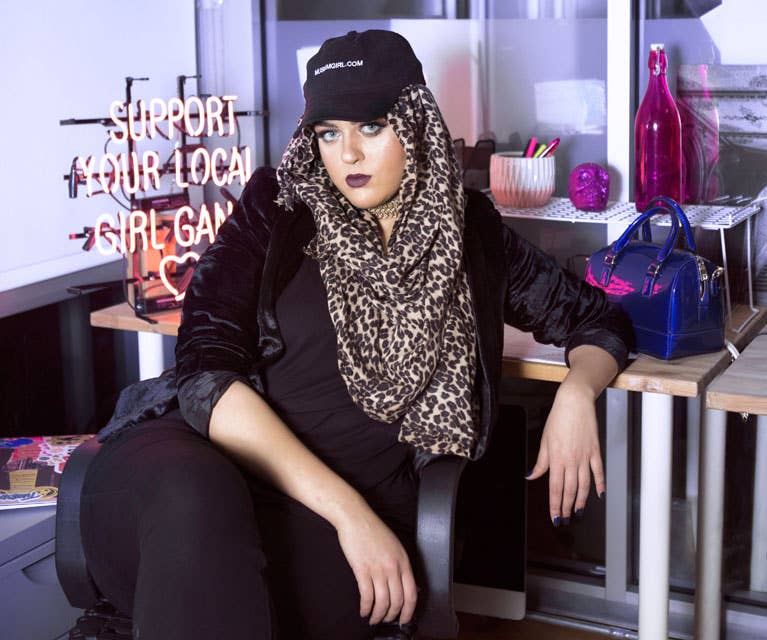 Direct from Artist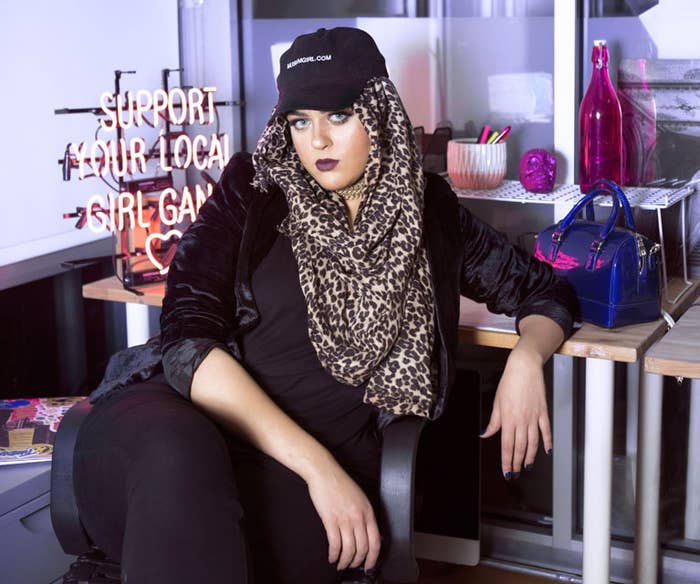 At just 24 years old, Amani Al-Khatahtbeh has solidified herself as a mogul. This year alone, she's appeared on the New York Times editor's list for her book Muslim Girl: A Coming of Age, was included in Forbes' coveted 30 Under 30 list, and was featured prominently in dozens of publications and newscasts across the country. In 2009, when she was just 17 years old, she launched MuslimGirl.com, which started as a blog to share her thoughts on being a Muslim woman in America. In 2015, Amani developed an in-house staff and saw her readership grow 90 percent. Since then, Amani and her Muslim Girl Clique have been outspoken advocates for Muslim women everywhere. They're also the masterminds behind today's worldwide #MuslimWomensDay viral trend. 
How did you come up with the idea of #MuslimWomensDay, as well as get so many publications on board?
It just felt really important that we rise up to this moment, with so many people talking about the Muslim Ban and the women's movement while Muslim women become more and more targeted. One of the biggest inquiries we've been getting has been, "What can we do to help, how can we change this?" It became obvious that MuslimGirl.com needed to be the platform to respond with something positive and effective that actively empowers Muslim women at a time when we really need it. We've been lucky enough to work with some really incredible allies in the industry, so it was only natural to get them on board, which wasn't hard at all—they were immediately excited to stand with us in making this happen. We actively collaborated on developing dope and unique story ideas with them to spread across different outlets so we could hit as many angles as possible.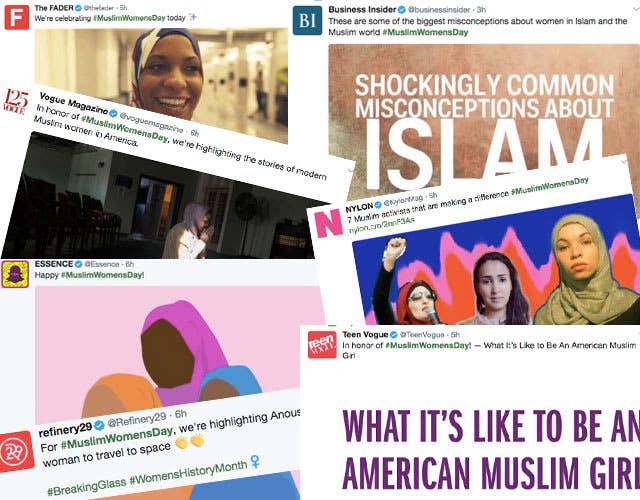 Are you surprised by the amount of support you've already seen today?
I can't tell you how nervous I was last night! I knew that if anyone could make a campaign like this possible, it would be our league of superwomen at MuslimGirl.com and our totally #squadgoals partnerships with some of the best digital brands and organizations that we could ask for as our allies. It reached a point where I was like, "Okay, we've done absolutely everything we could up until this point, now all we can do is leave it to tomorrow." I was so happy that by 8:30 a.m. in NYC, we were already trending on Twitter, and 9:30 a.m. we had shot up to top 5 worldwide on the platform. I think as of writing this we're still trending at #1!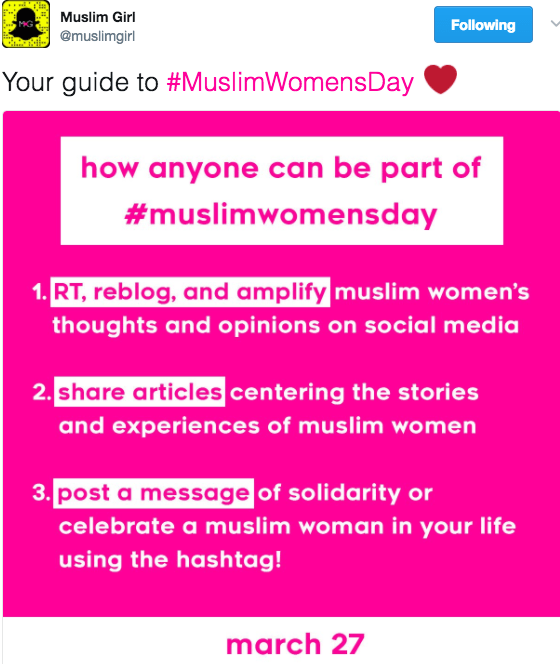 What can people do to get involved and celebrate Muslim women today?
Today is all about centering Muslim women, so do what you can to give space to their voices! One of the easiest and most powerful ways to do that on social media is by retweeting, reblogging, and sharing our thoughts and opinions. Our partners have dedicated a ton of effort to creating all new original content shining a light on Muslim women's experiences, so show your support by circulating these articles among your networks. Finally, join in the hashtag conversation! Post your messages of support and solidarity or upload a photo celebrating a Muslim woman in your life and why you appreciate her. Muslim women could really use the love right now!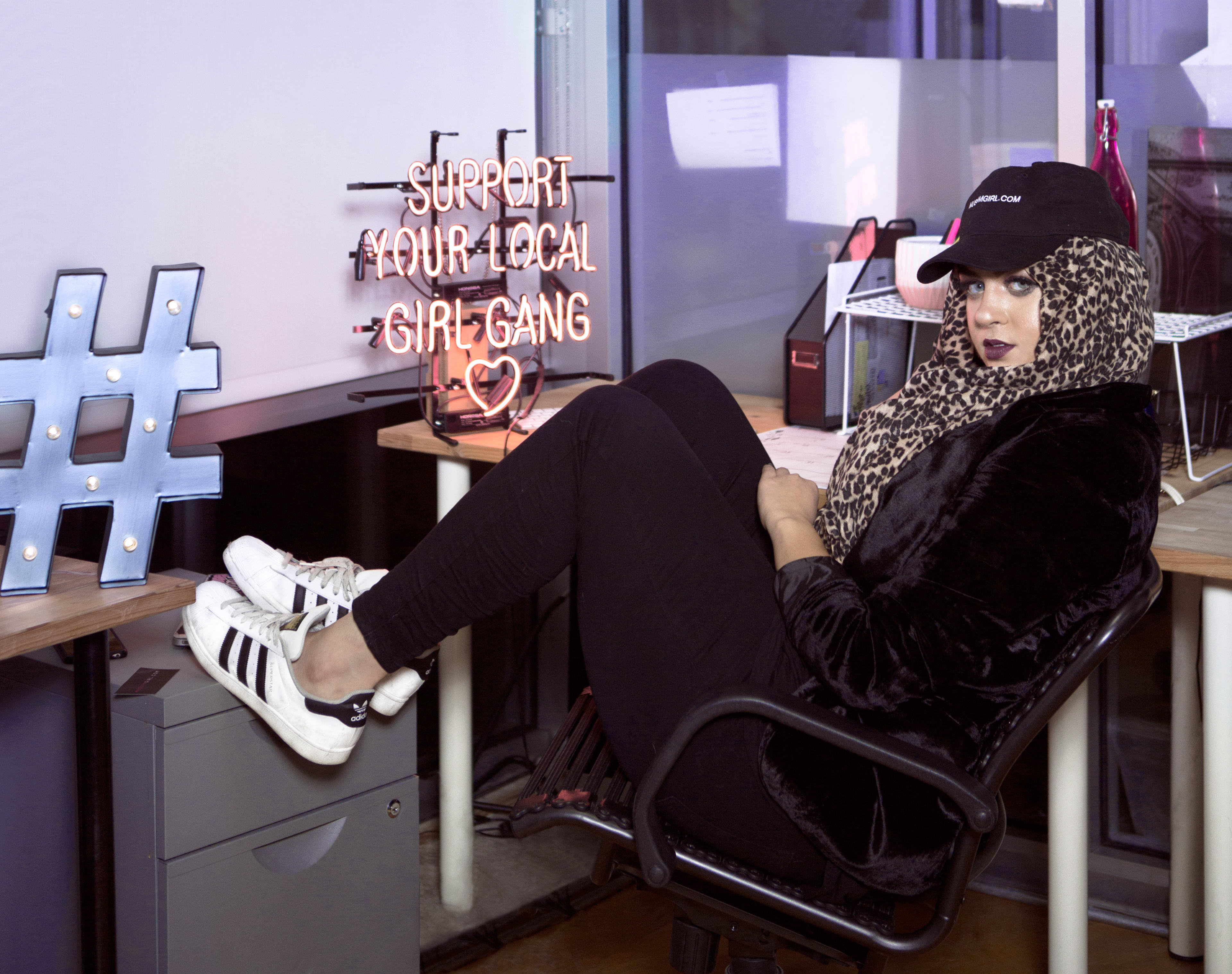 What is your goal after today ends?
My deepest hope is that Muslim Women's Day can be a launching pad for wider and more nuanced representation of Muslim women in Western media. Already, this day has created so many opportunities for Muslim women's hard work and experiences to get the visibility they deserve beyond your typical "Trendy Hijabi" or "Shattering Stereotypes" headlines. It's also created opportunities for Muslim women to get bylines in media outlets within which they might otherwise not have had the opportunity to be represented. One of my priorities was to personally spend time individually consulting on Muslim women-focused story ideas to shed some light on what the potential of our adequate representation could look like. The incredible interest and response shows that there's a desire to be more inclusive of our voices, and that's what fills me with so much optimism for the future.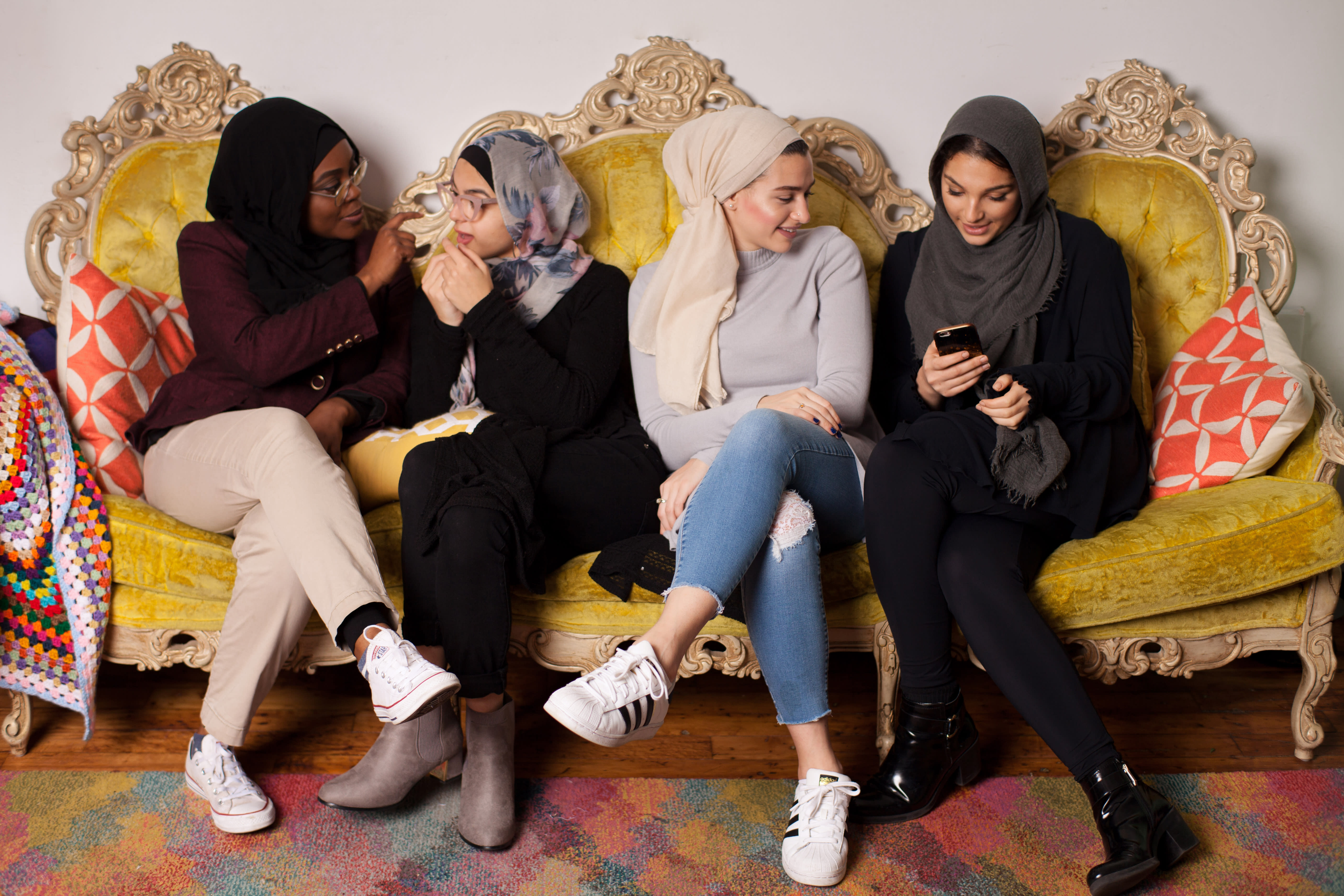 It's no secret that diversity in the media is a problem. What do you suggest more media publications do to give a voice to marginalized Muslim women?
Have Muslim women in your newsrooms! It's so important for our newsrooms to look like the world around us if we want to be truly inclusive. More Muslim women in the media means that not only will we have a seat at the table, but also their publications will be able to better identify pertinent stories and avoid tone deafness. It only makes the publication all the more better for it. Our stories have often been told by people who can't speak to our experiences, so of course the most authentic way to change that is by letting us be the ones to do the talking.
There was a lot of coverage for the Women's March on Washington and across the country. Is this something you can see happening for Muslim women specifically?
I hope so! The experiences of women of color are largely neglected in wider conversations of this nature, and issues impacting our communities rarely get widespread visibility. That's why it's important to have a day for ourselves. We're basically using the power of social media, the internet, and our influential allies to circumvent that and create a place in the conversation for ourselves.