Weeks have passed, each day droning on as we all continue our collective march toward inevitable extinction, and people still have a litany of questions about a recent mid-flight yelp of a "motherfucker back there" who is "not real."
We're talking about a viral clip that started making the rounds earlier this month in which a woman is seen yelling aboard a flight bound for Orlando while attempting to point out someone she loudly proclaims to be, quote, "not real."
As previously noted, the person recording the incident made the impromptu filmmaking choice of quickly panning toward the back of the plane to catch a would-be glimpse at "that motherfucker back there." Naturally, this resulted in multiple screenshot-accompanied mentions of the plane scene from the 2002 live-action version of Scooby-Doo.
Ideally, the folks at Mystery Inc. would have actually pounced on the opportunity to dig deeper into the ridiculousness. In lieu of that, we've both asked and answered a few questions that have been raised in recent weeks—including but not limited to, perhaps most glaring of all, who the hell is that?
What happened?
According to a statement shared with Complex by an American Airlines rep, the flight—traveling from Dallas-Fort Worth to Orlando—had to be returned to the gate due to "a disruptive customer." Upon arriving back, per the rep, local law enforcement officials were waiting at the gate, at which point this "disruptive customer" was taken off the plane. In a separate statement from a Dallas-Fort Worth Airport rep, the incident was described as "a disturbance onboard a flight" from someone who was later removed "at the request of the airline."
Carrot Top, the comedian, later said he was among those on the flight. In a series of since-removed Instagram updates, he said the woman seen in the viral clip a "fucking lunatic" who first became upset aboard the plane due to an incident involving "her earbud." This "little stunt," he said, caused a five-hour delay for travelers. "I hope you're having a relaxing evening behind bars," Carrot Top said in one upload.
Meanwhile, a TikTok user who says they were also on the plane alleged the woman in question "had been drinking" prior to boarding. The TikTok user also alleged that the woman, whose name has not been publicly revealed, had falsely accused a Black passenger of stealing her AirPods. The subsequent "not real" outburst, this person claimed, was directed at a flight attendant. However, these claims do not appear to have been widely mentioned elsewhere; neither the airline's official statement nor the airport's response mentioned such details.
Alright. Well, what didn't happen?
Despite a few claims baselessly purporting the opposite and/or taking a joke too seriously, Trippie Redd was not on this flight or otherwise involved with the subsequently shared viral footage.
Which motherfucker, exactly, is "not real"?
As touched on above, this has not been confirmed.
Makes sense. But who the hell is this person flippantly questioning someone else's relationship with reality?
This too has not been confirmed, leading to more than a few jokes about the woman screaming of a "motherfucker" who is "not real" actually being the one who's "not real."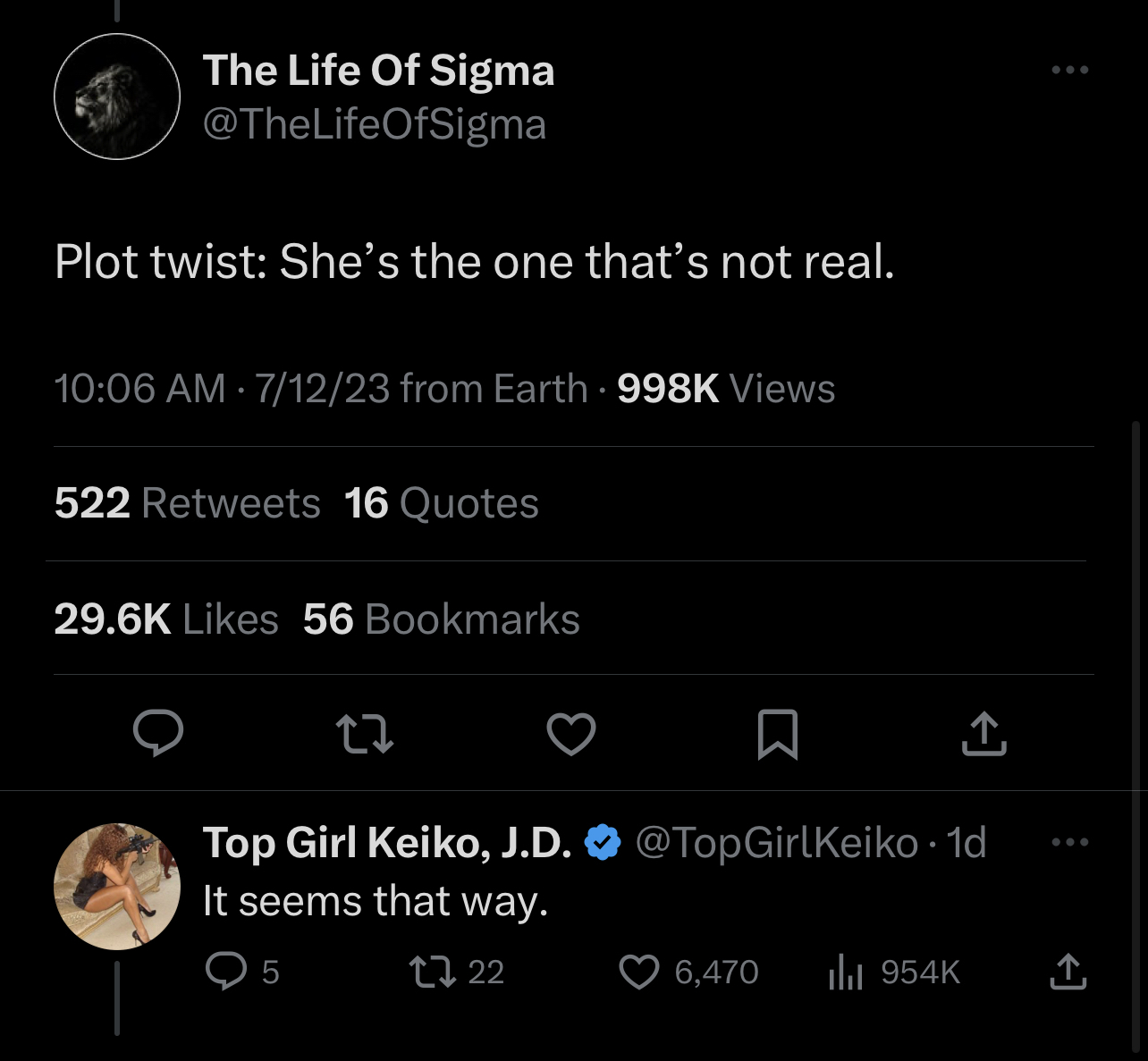 But what's "real" anyway? Is anything real? Am I real?
I don't know. Are you?