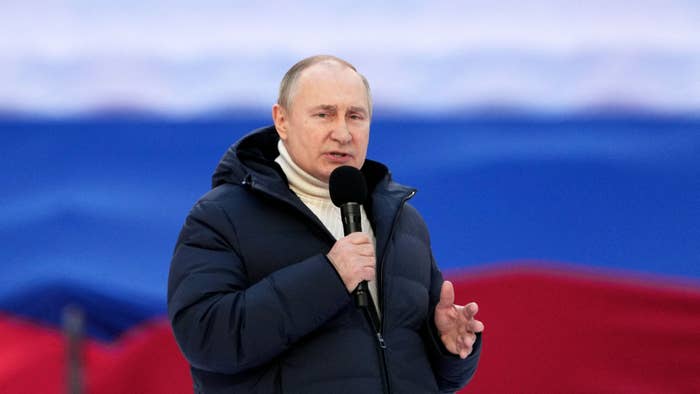 Amid Russia's ongoing invasion of Ukraine, Russian President Vladimir Putin has compared his country with Harry Potter franchise author J.K. Rowling.
In a speech that was televised on Friday, per a report from Politico, Putin referenced Rowling when arguing that the criticism she received over remarks widely slammed as transphobic is similar to what Russia is facing now.
"They recently canceled the children's author, Joanne Rowling because she is an author of books—which sold hundreds of millions of copies around the world—but didn't satisfy fans of so-called gender freedoms," Putin is quoted as saying of the West. In the same speech, Putin also compared so-called "cancel culture" with the Nazi book burnings, arguing that efforts are now underway toward "trying to cancel" Russia.
"They are now trying to cancel our whole 1,000-year old country, our people," Putin said, per Politico. "I'm talking about the progressive discrimination of everything to do with Russia."
Rowling later responded to the widely publicized remarks, saying in a tweet that she stood with Ukraine.
"Critiques of Western cancel culture are possibly not best made by those currently slaughtering civilians for the crime of resistance, or who jail and poison their critics," Rowling said when linking her followers to a 2021 BBC News article about Russian opposition leader Alexei Navalny.
Friday, President Joe Biden and European Commission President Ursula von der Leyen announced the launch of a task force aimed at reducing Europe's reliance on fossil fuels from Russia. The newly formed unit, per a White House statement, will work toward boosting energy security for Ukraine and the EU.