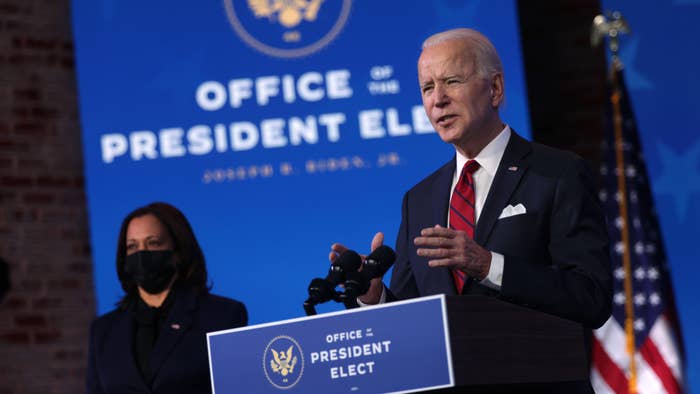 On Jan. 20, all the woes with which we've become terrifyingly intimate over the past four years will be swiftly washed away and replaced with a new pain-free edition of the human experience.
Just kidding. To put it succinctly, we have a long road ahead when it comes to partially crawling out of the current muck that's become synonymous with American life. In an ideal world, we'd now be days away from meaningful healthcare reform (i.e. that shit should be free) and the outright eradication of things that so often keep us all bound to jobs we don't even like to pay for necessities we don't even enjoy to participate in a society that's largely indifferent to both our successes and our failures.
Still, at least the failed steak salesman is getting the boot. And that's worth a toast or three as we aspire for better days ahead.
The next chapter begins, of course, with the inauguration of Joe Biden and Kamala Harris in Washington D.C. Below, we've rounded up some key details, ranging from how to watch the proceedings to what we can likely expect in the days and weeks ahead.
The swearing-in ceremony is slated to begin around 11:30 a.m. ET on Wednesday. Per Variety, we can expect performances from both Lady Gaga and Jennifer Lopez. Also confirmed, as of Monday afternoon, is Garth Brooks a.k.a. Chris Gaines a.k.a. the virtuoso whose catalog of classics includes the proven bar choir gem "Friends in Low Places."
The Biden-Harris administration has also announced a special Our White House: An Inaugural Celebration for Young Americans event that will run from 10:00 a.m. to 12:30 p.m. Those confirmed to appear during the livestream event, billed as the first-ever curated livestream for young Americans before and during the inaugural ceremonies, include Keke Palmer and Dr. Jill Biden.
Catch the inaugural ceremonies at the official Biden Inaugural site here and/or via all major networks and platforms. You can also watch on YouTube, Facebook, Twitter, Twitch, Amazon Prime Video, and elsewhere.
Aside from the more formal aspects of the inauguration, there will also be a New Radicals-featuring Parade Across America event and a primetime special hosted by Tom Hanks.  
Of course, given recent events, the exact timing of all of this could very well be altered prior to Jan. 20.
In an unsurprising break from tradition rooted solely in a refusal to accept defeat, failed steak salesman Donald J. Trump will not be in attendance. Trump's VP Mike Pence, however, is expected to show up. Barack Obama, Michelle Obama, Bill Clinton, Hillary Clinton, George W. Bush, and Laura Bush are also expected to be in attendance.
"I was told on the way over here that [Trump] indicated he wasn't going to show up at the inauguration—one of the few things he and I have ever agreed on," Biden told reporters after Trump confirmed his absence via a tweet from his official account, which has since been permanently suspended. "It's a good thing, him not showing up."
Thanks to the violent (and ultimately fatal) attack on the Capitol by a swarm of MAGA-supporting imbeciles earlier this month, federal officials have warned of the potential for additional security concerns in the coming days. Local leaders, meanwhile, have urged members of the general public to avoid the D.C. area entirely and instead enjoy inauguration happenings from the safety of home.
At the time of the ceremonies on Wednesday, per a local NBC outlet, a seven-foot unscalable fence will circle the Capitol. Armed National Guard troops will be patrolling the area, with a number of military vehicles taking to the streets. A publicly known concern, per the FBI, is the possibility of armed MAGA supporters showing up in D.C. on inauguration day.
According to D.C. police chief Robert Contee, this is the largest number of collaborating agencies he's ever seen for an event of this type. TMZ, meanwhile, reported on Monday that federal authorities were paying an estimated $10 million for ambulances and EMTs.
As mentioned above, Americans are being urged to enjoy inauguration livestreams from the comfort of home instead of attempting to make their way to D.C. or put together other potential outdoor celebrations elsewhere in the country.
The aforementioned parade, notably, will be set up as a virtual one instead of the traditional in-person experience due to the ongoing COVID-19 pandemic. Usually, a luncheon would also follow the inaugural ceremonies. Thanks to the pandemic, both the luncheon (and the usual inaugural balls) have been called off. 
In short, don't expect to see the usual crowds of celebratory Americans, as we're all still very much in the middle of this seemingly endless health crisis.
Per CNN, the Bidens' White House move-in will be preceded by an extensive pandemic-complicated cleaning, the total cost of which is estimated to be around half a million dollars. As you surely recall, the outgoing administration has (unsurprisingly) been a palpable cesspool for COVID-19 cases over the past few months.
That's hard to say, due in large part to the impact of the recent Capitol attack and ongoing pandemic concerns.
What we do know, however, is that Biden and Harris will be sworn in on the West front of the Capitol building. After these oaths of office are taken, Biden will deliver an inaugural address that's expected to see the former Obama era VP outlining "his vision to defeat the pandemic, build back better, and unify and heal the nation."
Later, for that aforementioned Hanks-hosted Celebrating America primetime special that's airing across practically every major social media service and cable network, we can expect performers including John Legend, Foo Fighters, Demi Lovato, Bruce Springsteen, and more.
As hinted at in the teaser of Biden's inaugural address, a key element of Biden's first 100 days in office will be righting the ship when it comes to the pandemic. Recently, Biden detailed a COVID-19 relief package that he's aiming to have passed through Congress within weeks.
Among the highlights of that proposed package are $1,400 checks (which have been rightfully criticized for not amounting to the previously promised $2,000), billions for vaccine assistance, an increased minimum wage, and more.
Other areas of focus for the new Biden-Harris administration will include efforts to roll back some of the damage of the Trump administration by way of renewing attention on climate change, immigration reform, police brutality, and more.