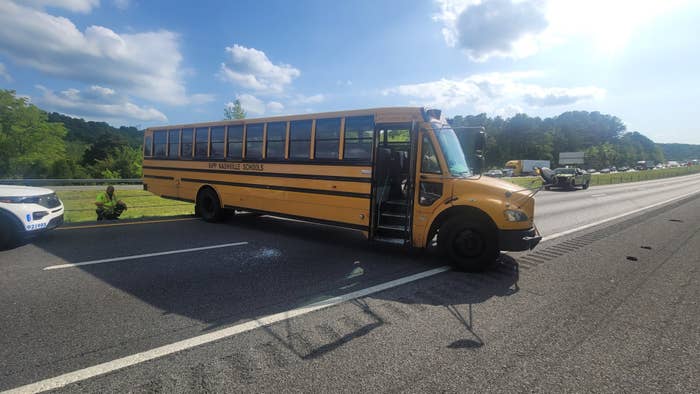 A Tennessee teenager is in custody after allegedly stealing a school bus and trying to run someone over before hitting the interstate.
Per a report from the Associated Press, the bus theft took place on Saturday in the Antioch area of Tennessee. The teen, who has not been identified aside from being confirmed to be 14 years old, is alleged to have stolen the bus from a school in the area that afternoon before "recklessly driving" the vehicle into the West Nashville region.
In a press release issued on Monday, the Metro Nashville Police Department described the teen as being "in state custody and living at an Antioch residence." Police said he struck a diesel fuel pump at a gas station just before 4 p.m. local time. At the same location, he's also alleged to have tried to run someone over in the bus. From there, the teen is said to have taken the bus onto the highway before ultimately hitting I-40. During this part of the journey, he hit a car, at which point police began to chase the bus on the interstate "as it traveled at speeds of 60 to 65 mph."
Police later put down a spike strip, which they say spurred the teen to slow down the bus and try to turn it around in the middle of the interstate. During the attempted turn-around, police say, officers broke through a glass door "and used a Taser" on the teen, who was then arrested.
The 14-year-old is now said to have been booked into a Juvenile Court facility on charges including vehicle theft, aggravated assault, reckless driving, evading arrest, driving with no license, leaving the scene of a crash, and failure to report a crash. Additional information has not been provided.
Amazingly, this isn't the first instance of a child allegedly stealing a school bus and being arrested in the process. Back in October 2020, an 11-year-old in Louisiana was reported to have been arrested after allegedly stealing a bus and leading cops on a 45-minute chase.