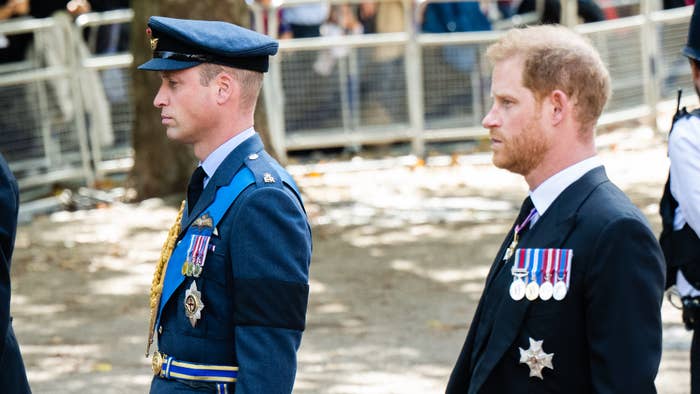 Prince Harry isn't holding back in his new memoir Spare—especially when it comes to Prince William.
According to Page Six, Harry comments on William's appearance, and the younger brother isn't too nice. In the book, Harry writes about going to his grandfather Prince Philip's funeral in 2021 and being puzzled when he looked at William, realizing he didn't really look like their mother, Princess Diana, anymore.
"I looked at Willy, really looked at him, perhaps for the first time since we were little," Harry, 38, recounts. He goes on to say William's hair was thinning at an "alarming" rate and "more advanced than mine." Harry is two years younger than 40-year-old William. Harry also writes about his older brother's "familiar scowl" that "had always been the norm" when they spoke.
Harry is leaving no stone unturned in Spare. On Thursday, an excerpt from the book leaked wherein Harry claims the two brothers got into an argument over Harry's relationship with Meghan Markle, with William supposedly calling her "difficult" and "rude." He then purportedly told Harry he was trying to "help" him, to which Harry took offense. William then allegedly attacked Harry.
"He set down the water, called me another name, then came at me. It all happened so fast. So very fast," Harry writes. "He grabbed me by the collar, ripping my necklace, and he knocked me to the floor. I landed on the dog's bowl, which cracked under my back, the pieces cutting into me. I lay there for a moment, dazed, then got to my feet and told him to get out."
Spare is set to publish on Jan. 10.