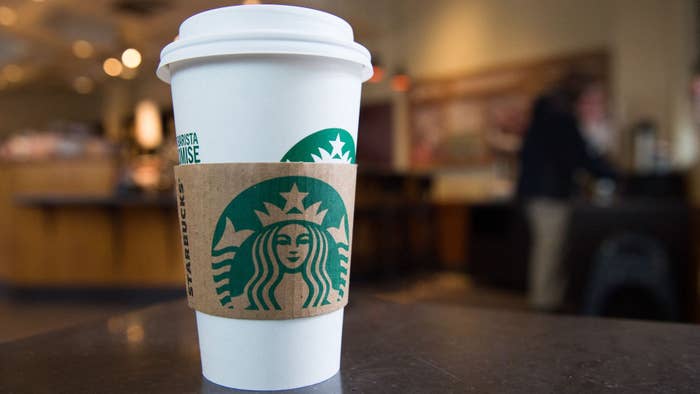 Starbucks is facing a hefty lawsuit after a Connecticut man claimed he accidentally drank cleaning solution instead of the coffee he thought he'd been served.
Per TMZ, Matthew Mitchell detailed in the suit that he visited a Starbucks in his state last August and ordered a standard black coffee. He said he drank his purchase without thinking twice, then began to feel a burning in his throat and chest. When he inspected the cup's contents, he claimed the liquid had a blue hue. Mitchell said he brought it back to the staff, and they told him a new employee had been in the process of cleaning out their coffee machines with Urnex, a common cleaning solution used at Starbucks locations.
According to Mitchell's lawsuit penned by his lawyer Joe Tacopina, the man is accusing Starbucks of reckless management, claiming the only way a staff member is notified that a cleaning is underway is by an upside-down plastic cup. Mitchell believes this isn't a thorough enough system, especially with novice workers around. The suit also says this type of incident has happened two times in the past and resulted in similar legal ordeals. 
Mitchell is seeking an undisclosed amount, saying he's faced emotional distress and anxiety since the incident over the potential long-term effects of ingesting Urnex. He also has medical bills that need paying.
"Our baristas take great care in crafting beverages and providing a safe experience for our customers," Starbucks told TMZ in a statement. "We take this obligation seriously and are reviewing Mr. Mitchell's claims."
The lawsuit comes after a similar situation unfolded at a Tennessee Cracker Barrel in 2014, finally going to trial this past January. In that suit, a man asked for water and was accidentally served a cup of cleaning solution, which he drank, leading to continued medical issues. He initially asked for $150,000 in damages, but the jury reached a verdict in just 30 minutes and awarded him $9.4 million. However, due to a Tennessee law, he only walked away with $750,000.