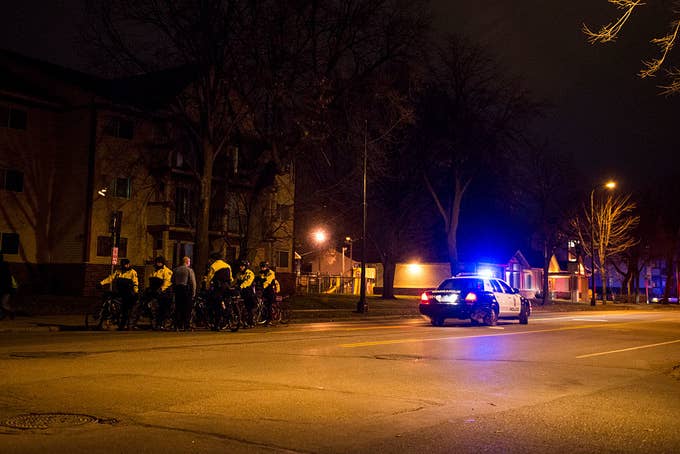 A man in north Minneapolis was fatally shot by police on Saturday night. Police say the man was firing a handgun while he was walking through a neighborhood.
CBS Minnesota reports that an anonymous 911 call gave a description of the man and claimed that he was firing a handgun. Shortly thereafter, a second 911 call provided similar details and added that the suspect was firing a silver 9mm handgun into the ground and into the air.
When officers arrived at the scene, a foot chase ensued and the suspect was shot. He was pronounced dead at the scene. Two officers were involved in the incident and both were wearing body cameras. Relatives identified the victim as 30-year-old Thurman Blevins, reports Star Tribune.
On Saturday night, about 100 people gathered at the scene in peaceful protest. Police Chief Medaria Arradondo quickly arrived at the scene at about 6 p.m. as news came out that the victim was black, according to StarTribune. No violence occurred or arrests have been made as of 11:30 p.m. Saturday night, although a couple people were detained for questioning. Some eyewitnesses in the crowd gave accounts of the shooting that differed from police claims.
One witness, Eva Watson, said Blevins did not have a gun and "he got killed for nothing."
State Representative Ilhan Omar wrote on Twitter that she was "disheartened by the news of Minneapolis Police Officers shooting & killing a young black man earlier today."
In response to the shooting, Minneapolis Mayor Jacob Frey released a statement: "I want to offer words that can help ease the pain that people in every neighborhood of our city feel tonight. But at the same time, I must recognize that whatever words I come up with will fall short of that goal."
The statement continued, "Regardless of what happened tonight—too many times, people from across Minneapolis and the Twin Cities have been stung by the pain of a life lost in the course of an encounter with law enforcement. Regardless of what happened tonight – the historical trauma inflicted on communities of color is never far from nearly every facet of our lives."
Arradondo stressed during a late-night news conference with Mayor Frey that the investigation, led by the Minnesota Bureau of Criminal Apprehension, will be "absolutely transparent" and footage from the body cameras will be released soon.