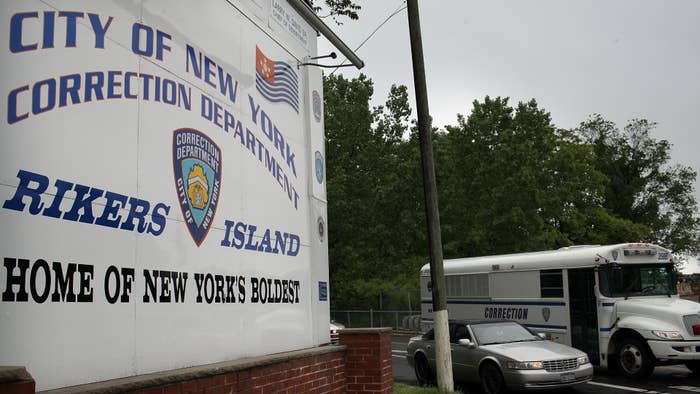 The New York City Department of Correction confirmed earlier today that a man who was being held at the Vernon C. Bain Center, located just north of the Rikers Island jail complex, was pronounced dead Wednesday morning after he was transported to a local hospital, The New York Timesreports.  
Stephan Khadu, 24, becomes the 12th inmate at Rikers to die this year, and, according to CBS News, he's the second within the last three days. Isaabdul Karim, 42, died in an infirmary Sunday night, while he was allegedly being considered for an early release since he qualified under the Gov. Kathy Hochul-signed The Less Is More Act, which aims to release anyone being held on "technical parole violations."  
"I am devastated to see that we have yet another death in custody and determined to stop this heartbreaking trend," Vincent Schiraldi, Department of Correction commissioner, said in a statement. "We are doing all we can to remedy the unprecedented crisis we are experiencing in our jails." 
Khadu had been behind bars since December 2019 when he was charged with conspiracy to murder, assault, grand larceny, among others, for his involvement with a Brooklyn street gang responsible for two killings and several shootings. He was being held without bond until he was scheduled to appear in court on Oct. 25.
In July, Khadu suffered a seizure, and spent seven days in the hospital. Prior to his death, Khadu "appeared to be in medical distress," which led to the jail calling for a medical transport. 
The dire situation at Rikers has come to the forefront in recent weeks, as the death toll continued to rise. Rapper 2 Milly shed some light on the jail's inadequacies, revealing that he couldn't shower for several days because of a lack of running water, and slept on the floor due to an insufficient amount of beds. 
Understaffing issues for correction officers at Rikers reportedly resulted in inmates assuming administrative duties, such as answering phones, and arranging transportation for court appearances, for more than 24 hours earlier this month.