Richard Branson Announces Plans to Launch Into Space Before Jeff Bezos
Richard Branson delivered a surprise announcement that he will be aboard Virgin Galactic's next flight on July 11, nine days before Jeff Bezos' launch.
Getty
Image via Getty/Gabe Ginsberg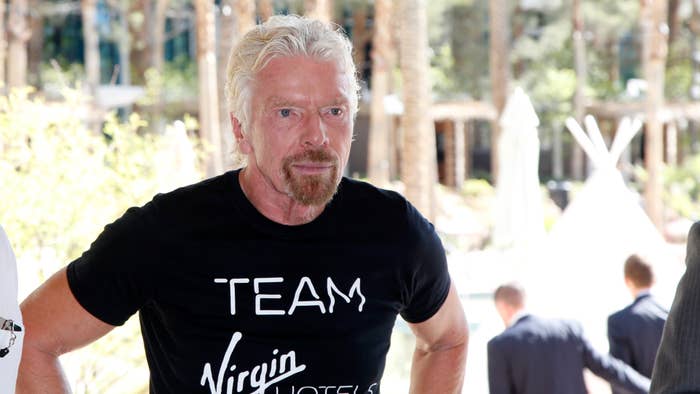 Richard Branson announced Thursday that he will be aboard Virgin Galactic's next test flight to space on July 11, nine days before Jeff Bezos is set to launch with his Blue Origin company on July 20. According to CNN, this latest development gives Branson unique bragging rights as the first billionaire to travel to space aboard a spacecraft he helped fund.  
Despite the sudden announcement that his spacecraft would coincidentally take off just days before Bezos, Branson had previously downplayed talk of a billionaire space race. "People have turned it into a race," he told CNN Business. "It would be very dangerous to say turn it into a race. And the moment we have every boxed ticked, I will go up and then we will invite some of the people who have signed up to go with us — but we honestly don't see it as a race."
Branson created Virgin Galactic in 2004 with the hopes of making space tourism a reality. The company has encountered a number of setbacks, including a 2014 test fight accident where a co-pilot died. "After more than 16 years of research, engineering, and testing, Virgin Galactic stands at the vanguard of a new commercial space industry, which is set to open space to humankind and change the world for good," he said in a statement. "I'm honoured to help validate the journey our future astronauts will undertake and ensure we deliver the unique customer experience people expect from Virgin." 
Late last month, Virgin Galactic received approval from the Federal Aviation Administration to launch paying customers into space. Over 600 people have reserved a spot, paying $250,000 per seat. The company is expected to make three more test flights in the summer and early fall before allowing passengers to soar with the stars.