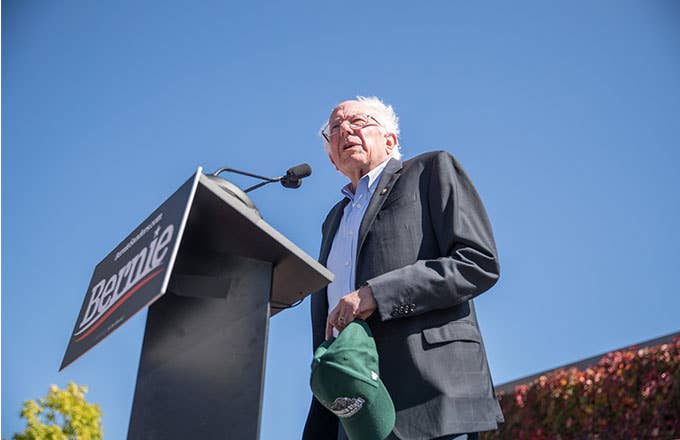 An amended version of Sen. Bernie Sanders' (I-VT) 2021 minimum wage bill that didn't pass is being pushed once more, hoping to make it this time. If it does, the country will raise working wages to $17 an hour.

In 2021, 8 Senate Democrats voted along with every house Republican to shoot down Sanders' proposal—originally called, "The Raise the Wage Act" which sought to increase minimum wage to $15. This time, The Vermont senator warns of political consequences to those who do not support the proposal.

"Nobody in this country can survive on $7.25. And maybe some of my colleagues in Congress might want to live for a month on seven-and-a-quarter and see what that's like," Sanders said during a press conference where he spoke about the proposal.

Sen. Sanders chairs the Senate Committee on Health, Education, Labor, and Pension. Per ABC News, he's working on securing votes in the Senate and House.

Sen. Joe Manchin (D-W.Va.) was one Democrat who voted against Sanders' proposal in 2021—instead pushing for an $11 an hour bump in minimum wage over a few years. That too, got turned down. To date, 2008 was the last time minimum has been changed on the country-wide level.

Machin is expected to have an uphill battle, per The Hill. With Sanders being popular among progressive Democrats, his support stands to benefit the controversial senator.

No support could have to do with what Sen. Sanders alluded to during his press conference on Thursday.

"And as you've heard today, this is a popular issue… I would hope every member of Congress understands that there will be political consequences," he added.

On an appearance on The View, Sen. Sanders cited inflation along with the pandemic as key motivating factors for pursuing the proposal once more.

During Thursday's press conference, he stood with an economist and several essential workers who would be directly impacted by the minimum wage increase.

"Haven't wages for low-wage workers naturally grown in the tight labor markets of the pandemic recovery?" asked Heidi Shierholz, the former chief economist for the Department of Labor.

In 2021 there were several reasons why The Raise the Wage Act didn't pass. Senate Minority Leader Mitch McConnell, (R-Ky.), accused Democrats of "pushing economic policies that would "drag down our recovery like the House votes for a one-size-fits-all minimum wage policy that would kill 1.4 million jobs."

Democrats, on the other hand, such as Sen. Mark Waner (D-Va), feared some corporations could "offshore" jobs if minimum wage were too high.

Sen. Manchin argued that a lot of states have already adopted higher minimum wages.

In the crucial swing state of Pennsylvania which was narrowly won by President Biden (and has typically been a Republican right-wing state), Sen. Bob Casey (D-Pa) says he's currently reviewing the proposal.

Pennsylvania's minimum wage is currently $7.25 an hour and Sen. Casey who is running for reelection, also sits on the Committee on Health, Education, Labor, and Pension.