Chiefs Coach Andy Reid Says He'll Go to White House If Asked: 'It's Quite an Honor'
Reid would make a championship visit to the White House if asked.
Getty
Image via Getty/Miami Herald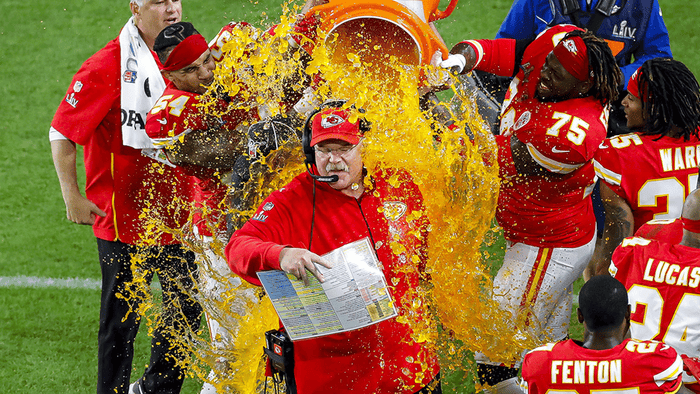 A little over a week ago Richard Sherman was asked about whether or not he'd make a hypothetical visit to the White House should the 49ers win the Super Bowl. 
For reasons that should be obvious if you watched the Super Bowl, that's no longer an issue. And instead that particular narrative will focus on which members of the Chiefs organization might attend.
As we wrote on January 24:
[T]he Chiefs could just win and then it'll be Pat Mahomes and Andy Reid having to field these questions.
Right on cue, shortly after the Chiefs hoisted the Lombardi trophy and had the postgame celebration under falling confetti and all the other stuff, head coach Andy Reid was asked about making the trip to D.C. 
After saying he "hadn't even thought" about it (which you could probably chalk up to him coaching well before this was a thing), he said he'd do it if offered.
"I mean, I'll be there," Reid said. "If they're inviting us, I'll be there. It's quite an honor."
Several Chiefs players were also pestered with this particular line of questioning.
"That would be great to go to the White House," said wide receiver Tyreek Hill, according to The Kansas City Star. "I've never been to (Washington) D.C., so that would be great." 
As for defensive end Frank Clark, he seemed less committed.
"It's a lot of stuff going on surrounding the White House and stuff like that," said Clark. "I know historically ... that's something you do as a Super Bowl champion. But we'll see, man. It's a lot of mixed emotions about stuff going on there. We'll see."
Defensive backs Bashaud Breeland and Tyrann Mathieu also couldn't escape the predictable line of questioning.
"It's going to come — we're Super Bowl champions," said Breeland. "We'll cross that bridge when we cross it. We had to get this game down first and now we know got a trip going to the White House."
"I'm here to represent the Kansas City Chiefs. I think my teammates feel the same way. Any time we get the opportunity to represent Kansas City the right way, represent our teammates the right way, I don't see any wrong in that," Mathieu added. 
The White House tradition, which had previously been something ignored outside of a little 30-second spot on SportsCenter, has become contentious since Donald Trump's inauguration in 2017. 
As we also wrote on January 24:
Previous teams/players to boycott the visit in recent years include Chris Long, Mookie Betts, Torrey Smith, Alex Cora, and the Golden State Warriors. Others that haven't visited the White House include the Philadelphia Eagles and the Virginia Men's Basketball Team.