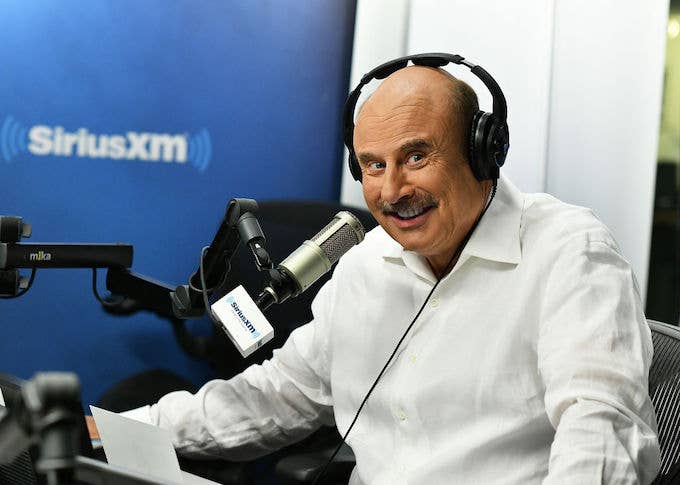 A woman claiming to be the sister of 16-year-old Treasure Richards, a black teen who went on Dr. Phil's show last week to pronounce that she was white and hated black people, is saying that the whole thing was a scheme and that her (purported) sister was just trying to become a meme.
Treasure covered a lot of ground in her few minutes on camera, but the CliffsNotes version is that she claimed to be white and superior to other African-Americans.
"I'm white. I'm a Caucasian because everything about me is different from an African American," she said. "I have naturally straight hair. My hair is not nappy; it doesn't require a weave. My nose is not giant, like African-Americans, my lips are perfect […] Most African-Americans speak ghetto. When it comes to black people, I think they're all ugly and I have nothing in common with them. I'm different from African Americans because I'm white."
For those of you whose lives are going too well to sit around keeping up with daytime TV, here's a five-minute refresher of the viral appearance:
Joining her to discuss her exploitable life outlook was her mother, Monique Richards, who said that this all began to show from an early age when Treasure avoided playing with black dolls and other black kids. Monique also stated that things got worse when her white husband died in 2006. Though that man was not Treasure's biological dad, she said she allowed her kids to think they were biracial because they had no other father figure in their lives. Monique added that she later told them the truth.
On top of that, Treasure also stated that "It makes me feel good to put down African Americans because it helps them stay in their place. I identify with the Ku Klux Klan because the way they believe is just so smart. White is right." If you're someone who approaches talk shows with some degree of skepticism (perhaps, say, if you were groomed by over-the-top Jerry Springer scenarios) you might have perked up an eyebrow at that statement.
As we mentioned above, someone who indicated that the whole thing was a farce was Nina, a 25-year-old woman who claims to be Treasure's older sister. In response to the episode airing Nina went on Instagram Live to say that her mom went on the show for her own financial gain:
"All Treasure known is Black all her life," Nina said to someone asking if Treasure really does hate black people. When another viewer asked, "Why would your mother go along with Treasure's bad idea?" Nina claimed that she was in on the ploy.
"Because she wanted to go to an all-expenses-paid trip to California. My mom is used to living a certain lifestyle; she hasn't lived that lifestyle in years. She lost all of her money, is broke, so she wanted to get this last hurrah in," Nina said. "Treasure is banned from every CVS in America, she's a middle-school dropout, such a hoodrat, sold fake hair online for high prices, delivered fake weave to people's home that was like bulls**t quality dollar store hair for like $50 and stuff like that. She had people looking for her."
When asked if she still talks to Treasure she said "Not now. But I had spoken to her recently. She told me when she came back from Dr. Phil and when this aired little stuff about Dr. Phil and being on set and how funny this was."
She also said "all Treasure's friends are Black," before adding "she was a sweet little girl. It wasn't until my mom neglected her and thrown her to the streets like she does all her kids that Treasure started acting like this." She ended the IG Live session by saying she was planning on calling Child Protective Services on her mom.
In an exclusive interview with Essence, Nina also said "I knew they were going to L.A., but I didn't know what it was about. They told us they weren't allowed to say what the show was about. I thought it was something she actually did in her real life."
Nina told Essence that she was mad that her dad's name was dragged in the mud during this alleged charade, and also that she was mad that his picture was shown on national TV. According to her, her mom lied when she said her kids weren't aware he wasn't their biological father. She said they were all aware, but that he was the guy who helped raise them.
"They disgraced my dad who I loved dearly. I haven't spoken to my mom since the episode aired," Nina said. "My mom and I have had a relationship very rocky because she's done a lot of evil stuff. Treasure always knew who her biological dad was, when it came to daddy (William), he was a very loving and kind man. All of that narrative of her not knowing she wasn't white, is fake. He loved us and was such a loving person and seeing his picture his picture slapped all over television was a disgrace."
She also told Essence her sister clearly had black friends, which she said can be proven by simply checking her Facebook. She also said that if you go on there you'll see that Treasure previously wrote in support of Black Lives Matter. Finally, she called out an unnamed Dr. Phil producer.
You can read her thoughts on the matter in their entirety over at Essence.